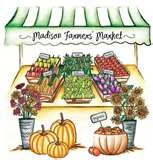 Farmer's Markets aren't just for spring and summer. There are wonderful fruits and vegetables such as root vegetables, squashes, apples, and other citrus that are wonderful purchases during the fall season. I was just reading that a local college is hosting a farmer's market through the end of September and into October. What a great opportunity to continuing buying fresh foods from local farmers!
One organization known for connecting family farmers to their consumers, is LocalHarvest. Director Erin Barnett said that while US shipping companies are becoming more efficient in delivery of produce from Argentina or Mexico, "it's more about buying directly from U.S. farms than reducing your carbon footprint in the winter. You're supporting more of a rural lifestyle that a lot of people have an affection for, as opposed to agribusiness. And you are able to ask the farmers questions about the food."
In 2008, 4 million people used LocalHarvest.org to find locally grown foods. LocalHarvest lists 2,000 community-supported agriculture programs, around 100 of which sell direct to consumers through its site; if you want to stay local, you can also find 10,000 farms and almost 4,000 farmers' markets.
Fresh
Broccoli
is known for its health properties in fighting cancer, as well as providing important vitamins.
Broccoli-Cheese Polenta Pizza
Serves 4

Olive oil nonstick cooking spray
1 log (16 ounces) precooked plain polenta, cut into 1/4-inch-thick slices
1 bag (12 ounces) broccoli florets
3/4 cup part-skim ricotta cheese
1/4 cup freshly grated Parmesan cheese
1 teaspoon grated fresh lemon peel
Ground black pepper
1 large plum tomato (4 ounces), chopped
1. Preheat broiler. Spray 12-inch pizza pan or large cookie sheet with olive oil cooking spray. In center of pizza pan, place 1 slice polenta; arrange remaining slices in 2 concentric circles around first slice, overlapping slightly, to form a 10-inch round. Generously spray polenta with cooking spray. Place pan in oven about 4 inches from source of heat and broil polenta 5 minutes or until heated through. Do not turn broiler off.
2. Meanwhile, in microwave-safe medium bowl, combine broccoli and 2 tablespoons water. Cover with plastic wrap, turning back one section to vent. Heat broccoli in microwave oven on High 3 minutes or just until tender. Drain.
3. In small bowl, combine ricotta, Parmesan, lemon peel, and 1/8 teaspoon pepper. Arrange broccoli evenly over polenta. Drop cheese mixture by tablespoons over polenta and broccoli; sprinkle with tomato. Broil pizza 3 to 5 minutes or until topping is hot.

Download this recipe.
Did you know that the United States grows more than 2,500 different varieties of
apples
? Neither did I! Apples store well and may be purchased throughout the winter months. Why not try some varieties that are new to you?
Quick and Easy Apples With Oatmeal Streusel
Cooking apples in the microwave, rather than the regular oven, yields plumper, juicier, less shriveled fruit -- and saves a big chunk of time!
Serves 4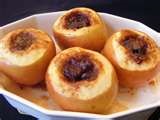 4 large Rome or Cortland apples (about 10 ounces each)
1/4 cup packed brown sugar
1/4 cup quick-cooking oats, uncooked
2 tablespoons chopped dates
1/2 teaspoon ground cinnamon
2 teaspoons margarine or butter
1. Core apples, cutting out a 1 1/4-inch diameter cylinder from center of each, almost but not all the way through to bottom. Remove peel about one-third of the way down from top. Place apples in shallow 1 1/2-quart ceramic casserole or 8" by 8" glass baking dish.
2. In small bowl, combine brown sugar, oats, dates, and cinnamon. Fill each cored apple with equal amounts of oat mixture. (Mixture will spill over top of apples.) Place 1/2 teaspoon margarine or butter on top of filling in each apple.
3. Cook apples, covered, on Medium-High (70 percent power) until tender, 12 to 14 minutes, turning each apple halfway through cooking time. Spoon cooking liquid from baking dish over apples to serve.

Download this recipe.
Fresh
Brussels sprouts
, on the other hand, are firm, tasty, easy to prepare and packed with nutrients -- only four little sprouts deliver more than a day's recommended
vitamin C
and tons of fiber. So even if you too fear the Brussels sprout, it's worth giving fresh varieties of the veggie a second shot.
Roasted Brussels Sprouts
Serves 6

1 pound baby carrots, scrubbed, stem trimmed
1 pound Brussels sprouts, ends trimmed and halved
1 1/2 cups pearl onions (fresh, peeled or frozen, thawed and drained)
3 garlic cloves, crushed
2 tablespoons olive oil
Kosher salt and pepper
1. Preheat oven to 400 degrees F. Combine carrots, Brussels sprouts, onions, garlic, rosemary and olive oil; the pan should be just large enough to hold the vegetables in one layer.
2. Roast in upper center of oven, stirring or shaking the pan periodically through roasting, until vegetables are brown tender, about 30 to 40 minutes total. Season with salt and pepper, and toss or stir to combine. Drizzle with extra-virgin olive oil if desired.
---
Contribute to the Cook'n Club!
DVO would love to publish your article, prose, photography and art as well as your cooking, kitchen and nutrition tips, tricks and secrets. Visit the Newsletter Submission / Win Win for All section in our Forum for more information and details.
---
---