In one of my very favorite food and recipe books, Nourishing Traditions (Sally Fallon), I read some interesting information about the lowly carrot. Did you know it is a native of Afghanistan and is a relative of celery, parsnips, caraway, cilantro, cumin, and dill? Me neither.
By food scientists it's considered one of the most useful, versatile and nutritious vegetables around. We see how popular it is because it shows up in soups, stews, casseroles, and pot pies. And the research says that three raw carrots, eaten daily, lower blood cholesterol and a single carrot a day cuts the risk of lung cancer in half among smokers.
This pretty vegetable is a rich source of carotenoids, B vitamins, phosphorus, calcium, and iodine, which is why it's a staple in the baby food department. Pureed carrots—yum. Or maybe not. UNLESS you roast it, add a little virgin olive oil, a bit of sea salt, and some sour cream. NOW we're talking. Try this recipe, courtesy of Nourishing Traditions:
 ROASTED CARROT PUREE (serves 4-6)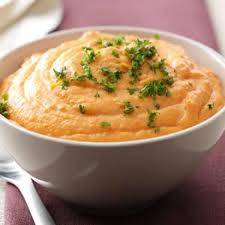 2 lbs carrots, peeled and cut into 1-inch pieces
¼  C extra virgin olive oil
¾ C crème fraiche (European-style sour cream)
½ tsp sea salt

Toss carrots with olive oil and stew in a baking pan. Bake at 400 degrees about 1 hour or until carrots become well browned and tender. Watch carefully that they do not burn. Transfer to a food processor and process with the cream and salt. This makes an unusual but delicious dip for raw veggies and crackers.

Download this recipe.
And of course, most cooks know pureed veggies make great soups. Carrots are no exception. Take a look at this creamy carrot soup recipe:
 CREAMY CARROT PUREE SOUP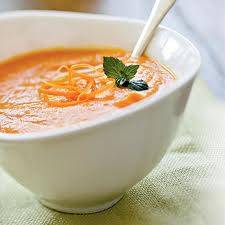 1 med. onion, diced
2 cup raw carrots, thinly sliced
4 cup chicken stock
1 cup cream
½ C sour cream
Sea salt to taste

Saute onions until transparent. Remove and place in blender. Do not run.  Saute carrots until tender-crisp. Reserve 1 cup carrots. Put remaining carrots with the onions in the blender. Add 1 cup chicken stock, and puree.  Combine cream and sour cream, puree, and remaining carrots in the top of a double boiler or in a microwave oven. Heat. Garnish with parsley or dill and season with salt to taste.
---
Contribute to the Cook'n Club!
DVO would love to publish your article, prose, photography and art as well as your cooking, kitchen and nutrition tips, tricks and secrets. Visit the Newsletter Submission / Win Win for All section in our Forum for more information and details.
---
---