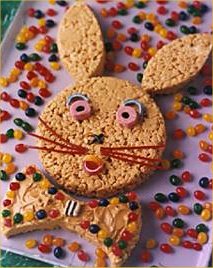 6 tablespoons butter or margarine
2-10oz packages of marshmallows
2 cups creamy peanut butter
10 cups crisp rice cereal
no-stick cooking spray
jelly beans, licorice gum drops, or decorative candy
Glaze (optional)
1/2 cup butter or margarine
1/2 cup brown sugar, packed
2 tablespoons milk
1 teaspoon vanilla
2 1/2 cups sifted powder sugar
Makes 16 servings.
In large saucepan, melt butter over low heat. Add marshmallows. Stir until completely melted and remove from heat.
Stir in peanut butter and mix well to incorporate.
Add rice crisp cereal and stir until well coated.
Press into two 9-inch pans, well coated with cooking spray and allow to cool.
Cut ears and bow tie from one cake. This is done by cutting two football shaped ears from the top and bottom of one cake layer, leaving a bow tie-shaped piece in the middle.
Position two ears at top of whole round cake and place bow tie under face.
Apply optional glaze, if desired. Decorate with jelly beans, marshmallows, licorice, and gum drops or any of your favorite cake decorations.

Approximate nutritional information per serving:
320 calories, 21g fat, 12mg cholesterol, 339mg sodium, 10g protein, 51g carbohydrates—but hey, it's EASTER for crying out loud! WHO in their right mind is counting!?
The Significance of Rabbits & Bunnies at Easter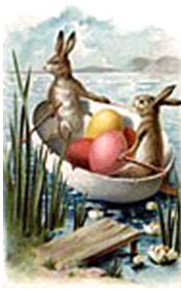 Rabbits and "Easter Bunnies" are a carry over from Pagan times where they symbolized fertility and new life. This has to do with the fact that rabbits are notable for the speed at which they are able to reproduce.
Another origin of Easter rabbits lies in the mythology of Eostre, the Anglo-Saxon goddess for whom the holidays is named. Eostre reportedly kept pet rabbits who, amazingly, laid colored eggs—two Easter symbols in one!
Many cultures have their version of the Easter Bunny and how he leaves eggs, candies or small treats for the children. The bunny has also been known to hide Easter eggs, much to the delight of children.
One particularly charming tradition comes from Germany, where children would build small "nests" in their caps or bonnets. When they awoke on Easter morning, the children would find that the Easter Bunny had filled the nests with colored eggs. Think of it as the Easter version of Christmas stockings. What a fun tradition to start with your family this year!
---
Contribute to the Cook'n Club!
DVO would love to publish your article, prose, photography and art as well as your cooking, kitchen and nutrition tips, tricks and secrets. Visit the Newsletter Submission / Win Win for All section in our Forum for more information and details.
---
---