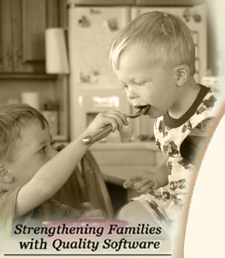 Cook'n Club Home
Subscribe Now!

Cook'n Forum
HomeCook'n Archive
Give-Aways

I have spent the last 2 hours reading your newsletter and wonderful recipes. I have already printed a whole bunch I want to try. I love them because they are using ingredients one has on hand. I love that and just wanted you to know how much we appreciate all your hard work in putting together this newsletter. Thank you very much.

Anna

Volume I - March 30, 2007
Something New for Easter Dinner—Again!
A Focus On The Family
by Patty Liston

---
Trying to find a few new recipes to enliven our holiday tables is always an adventure. We come up with a host of new ideas, and settle on 2 or 3 to experiment with. In spite of the fact that some recipes are a "hit" (Wow!) and others a "miss" (Groan), our families have gotten used to the fact that they are guinea pigs to our experiments. This Easter will be no exception.


After much personal deliberation and input from the family, (which doesn't take much deliberation at all), we have decided to try the following recipes Not wanting to be selfish and hoard all of the fun, we would like to share them with you as well. Let us know if these are a Wow! or a Groan in your home.


Variation on Stuffed Eggs

4 eggs
2 tablespoons cream cheese
2 tablespoons chopped onion
2 tablespoons diced cooked ham
1/4 cup seasoned bread crumbs

Preheat oven to 400 degrees F (200 degrees C).
Place eggs in a saucepan and cover with cold water. Bring water to a boil and immediately remove from heat. Cover and let eggs stand in hot water for 10 to 12 minutes. Remove from hot water, cool and peel. Cut eggs in half lengthwise and remove yolks.
In a small bowl, combine cream cheese, onion and ham until well mixed. Spoon mixture into eggs, covering tops. Place eggs in small baking dish. Spray with cooking spray and top with bread crumbs.
Bake in preheated oven 4 to 5 minutes, until golden and hot. Serve warm.
---
Easter Egg Breakfast Cups
1 (3 1/2-cup) bag frozen shredded potatoes, defrosted (we used Simply Potatoes)
1/3 cup vegetable oil or butter
1/2 teaspoon salt
1/4 teaspoon pepper
6 eggs
2/3 cup milk
1/2 cup finely diced onions
1/3 cup finely diced bell peppers
3/4 cup diced cooked breakfast sausage Shredded Cheddar
Chopped parsley for garnish (optional)

Heat the oven to 400°. In a large bowl, toss together the potatoes, 1/4 cup of the oil or butter, salt, and pepper. Spoon about 1/3 cup of the potato mixture into each cup of a 12-serving muffin tin. Press the mixture into the bottom and up the sides of each cup, then bake until golden brown, about 30 to 35 minutes. Remove the nests from the oven and allow them to cool.
Meanwhile, whisk together the eggs and milk. Heat a large nonstick saute pan over medium-high heat. Add the remaining oil or butter to the pan and heat. Add the onions and peppers to the pan and saute until both are soft and the onions are slightly golden, about 2 to 3 minutes. Add the sausage and cook until heated through. Add the egg mixture and stir until the eggs have set and small curds have formed. Season with salt and pepper to taste.
Remove the potato nests from the muffin tin and place them on an ovenproof platter or cookie sheet. Fill each cup with some of the egg mixture, top with a sprinkling of the cheese, and place the nests in a 375° oven until the cheese is melted, about 2 to 3 minutes. If you like, garnish each nest with a little parsley. Serve warm.
---
Contribute to the Cook'n Club!
DVO would love to publish your article, prose, photography and art as well as your cooking, kitchen and nutrition tips, tricks and secrets. Visit the Newsletter Submission / Win Win for All section in our Forum for more information and details.
---
---