Wheatless Baking: The Secret to Success!
I need to avoid wheat for a while in order to correct a hormone imbalance. As you may or may not know, baking without wheat flour can be tricky at first. I needed help. Luckily I found just how to navigate the confusing world of wheatless baking and cooking on a favorite site, Thrive Market (www.thrivemarket.com).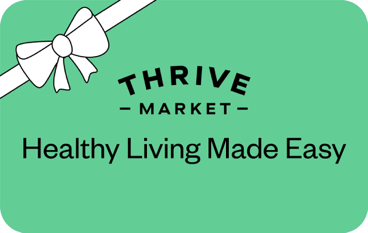 For instance, I wondered what flour(s) do I use instead, and how? The Thrive Market pros suggested it's easiest to start with coconut and almond flours. And they reassured me that it's both fun and (relatively) straightforward to use these in muffins, cakes, breads, and cookies.
The secret to success, though? Understanding how these flours operate. Flours have different weights and moisture content, for example, so it's often not quite as simple as swapping flours in 1:1 in your favorite recipes.
That said, let's look at the differences between coconut flour versus almond flour—two of the most common wheat-free baking choices out there (and THANK YOU!!! to the Thrive Market folks!):
COCONUT FLOUR
is made from dried coconut meat, a natural byproduct of coconut milk production. When coconuts are pressed for milk, bits of coconut meat remain, which are then dried at low temperatures and ground to a soft powder. It's naturally gluten-free and grain-free.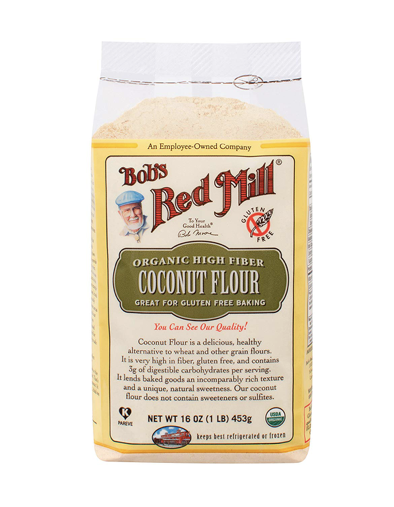 And you can substitute coconut flour for almond flour. However, it's important to know coconut flour is more absorbent than almond flour, so you'll likely need to adjust the amount of liquid you use, and increase the number of eggs in your recipe. Compared to other flours, coconut flour is known for offering protein and fiber, plus fewer carbs.
Coconut flour can be a welcome ingredient for paleo, gluten-free, and grain-free diets, but that doesn't mean there aren't downsides. Here are some of the most common challenges associated with coconut flour—plus how to avoid them:
It's a sponge. Coconut flour is known for being extra absorbent, which means it'll soak up a larger amount of liquid than you think is possible.
It can be dry. Coconut flour's high-absorbancy characteristic sometimes translates into dry baked goods. To counteract this effect, be sure to use plenty of eggs—egg whites' protein provides structure, and the yolks add moisture.
It might be gritty. No one likes a gritty texture in muffins or pancakes. To smooth things out, sift your flour before combining it with wet ingredients.
It can be heavy. Absorbing all that liquid can leave your baked goods feeling heavy. Here's a trick: Beat your egg whites until they hold stiff peaks, then gently fold them into your batter to help lighten up the end result.
If you're new to using coconut flour (or even if you're a seasoned pro), you might want to hone your coconut-flour skills with Thrive Market's very delicious pancake recipe: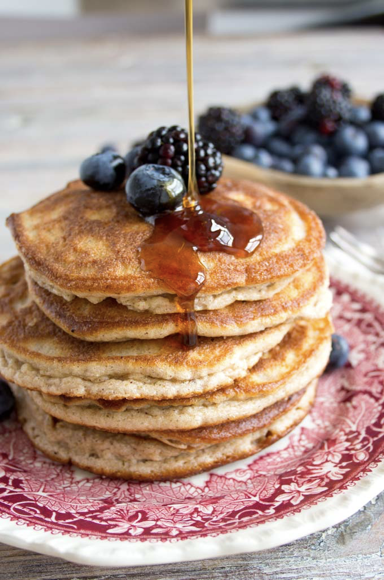 Coconut Flour Pancakes
Ingredients:
1/4
cup
coconut flour
1/2
teaspoon
baking powder
1
pinch
salt
3
tablespoons
Coconut Oil
melted
1
tablespoon
raw
honey
3
large
eggs
at room temperature
1/3
cup
almond milk
1/2
teaspoon
vanilla extract
zest of 1
orange
zest of 1
lemon
Coconut Oil
for frying pancakes
pure maple syrup, for serving
Directions:
1. In a large bowl, whisk together the coconut flour, baking powder, and salt.
2. In a medium-sized bowl, whisk together the coconut oil, honey, eggs, almond milk, vanilla extract, and orange and lemon zests.
3. Pour this mixture into the flour mixture and fold to combine, breaking up any large lumps in the batter.
4. Heat a tablespoon or so of coconut oil in a large skillet over medium heat. Pour small 1/4 cupfuls of batter into skillet and cook until the bottom has turned golden brown, 2 minutes.
5. Flip and cook until browned on other side. Continue cooking until all batter has been used, adding more coconut oil to the skillet as needed.
6. Serve warm with maple syrup.

Recipe formatted with the Cook'n Recipe Software from DVO Enterprises.
Add Recipe to Cook'n
ALMOND FLOUR
is exactly what it sounds like: flour made from almonds. It's typically made from finely ground blanched almonds (with the skins removed). It's also gluten-free and works for grain-free and paleo diets.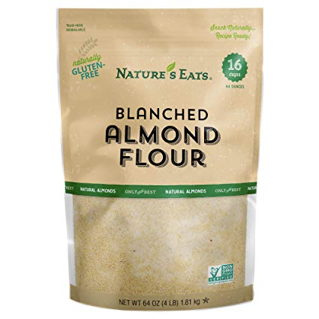 You also want to know that the terms almond meal and almond flour are often used interchangeably, as both are made with finely ground almonds. Almond meal the same as almond flour, but with a couple of key differences. Almond flour is often more finely ground and offers a more uniform consistency.
Almond flour is readily available in most grocery stores but you easily make your own. Just pulse a bag of blanched almonds in your food processor until finely ground. That's it! Then sift the almond flour to remove any large pieces and you're ready to bake. It adds tenderness and a slightly nutty texture to baked goods.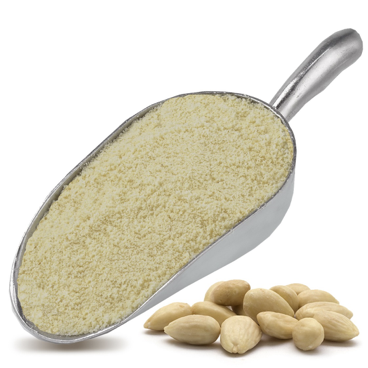 This is such a healthy flour and when you have the right recipe, it's easy to use. Here for your baking enjoyment is a terrific muffin recipe (also from Thrive Market). The Thrive testers begged for more of this moist blueberry muffin, and the folks at our house did too. See what YOU think: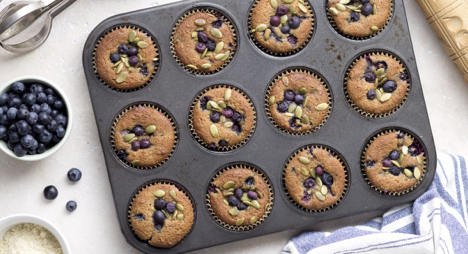 Almond Flour Blueberry Muffins
Ingredients:
2
cups
almond flour
1/2
teaspoon
sea
salt
1/2
teaspoon
baking soda
1/2
teaspoon
ground
cardamom
1/2
teaspoon
ground
cinnamon
2
large
eggs
1/4
cup
melted
ghee
1/3
cup
raw
honey
1 1/2
teaspoons
vanilla extract
1 1/4
cups
blueberries
Extra berries for muffin tops
Pumpkin seeds for muffin tops
Directions:
1. Preheat the oven to 350 degrees and line a muffin pan with baking cups.
2. In a large bowl, whisk together the dry ingredients, taking care to break up any large clumps of flour.
3. In a medium sized bowl, whisk together the wet ingredients, then gently but thoroughly combine the wet ingredients into the dry.
4. Fold in the blueberries.
5. Divide the batter between the 12 muffin molds, filling each three quarters of the way.
6. Sprinkle additional 2 or 3 extra blueberries and a few pumpkin seeds on each muffin top.
7. Bake for 25 to 30 minutes, or until tops are a deep golden brown.

Recipe formatted with the Cook'n Recipe Software from DVO Enterprises.
Add Recipe to Cook'n
Sources:
www.thrivemarket.com
www.amazon.com
www.cookingalamel.com
www.wellbees.com
www.sugarfreelondoner.com
www.thrivemarket.com

Alice Osborne
DVO Newsletter Contributor since 2006
Email the author! alice@dvo.com