Fresh Fruit Waffle Cones for the win!
I've been curating boards on Pinterest for about 10 years since it first launched in 2010. It is just such a convenient place to find, catalog, and share ideas. I use it for everything from home improvement ideas, to kid crafts, to recipes. I first pinned this fruit filled waffle cone to my "Just Eat It" pinboard in 2010, and I'm proud to say that I made it for the very first time this last week! I couldn't count how many times I've made and served fruit salad in that 10 years, and how SIMPLE it would have been to elevate that into these darling waffle cones somewhere in that time…. But, I finally did it! And it was just as easy and appetizing and exciting as I anticipated.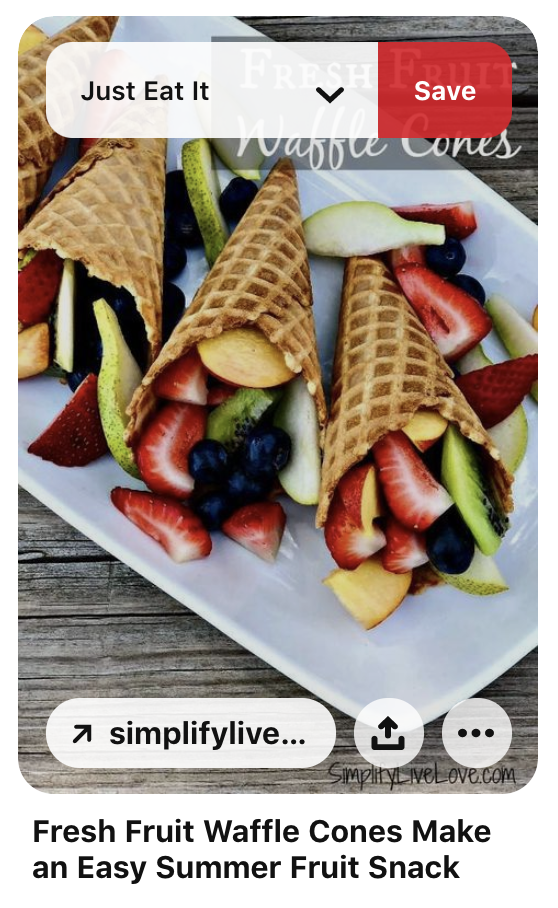 Obviously it's the portion sized waffle cones that make this side stand out, but I think the variety in color and texture makes fresh fruit waffle cones really look good. These pictured include peaches, strawberries, blueberries, kiwi, and pear. I also think blackberries or raspberries would offer a nice texture contrast, and I've made it with grapes and cantaloupe which offer a bright spot too! You could even use canned mandarine oranges to bring more color in a pinch.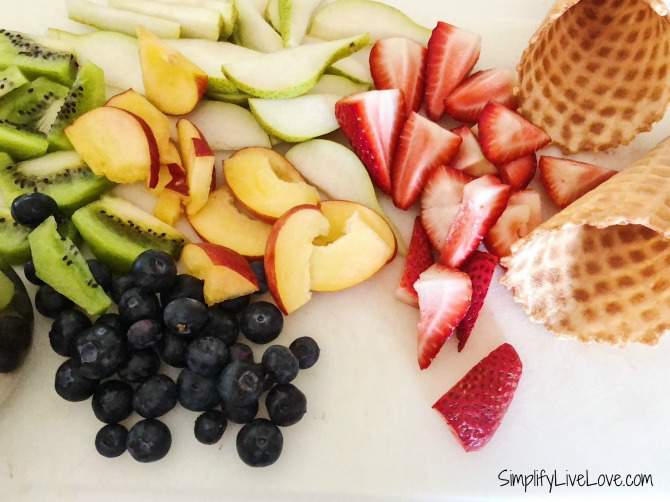 My advice would be to cut the fruit smaller than you think, so you can fit more in the cone without wasted space, and show off more color and texture! It is nice to offer this single serving because I've experienced plenty of kids taking far more than their share at a potluck setting, and running out of fruit early. This way you can have a count and make a more accurate estimate when serving these to a group.
I found the waffle cones themselves at Smart and Final, a bulk restaurant supply store. I think these cones can be a bit hard to find, so check there if you're near one! My kids are SO EXCITED to have anything in a waffle cone- it's all those positive associations with ice cream, ya know?!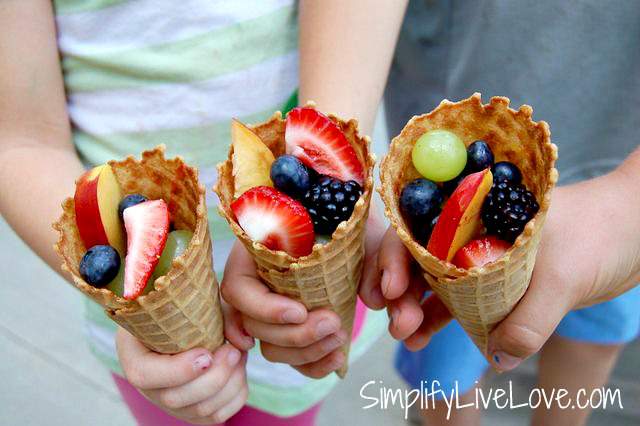 I hope it doesn't take you the 10 years it took me to try this summer favorite, or make something you've pinned years ago as well.
Sources:
https://simplifylivelove.com/fresh-fruit-waffle-cones/

Stefanie Hathaway
Monthly Newsletter Contributor since 2016
Email the author! stefanie@dvo.com
---
Subscribe to Cook'n Premium and get newsletter articles like this each week!