Another Fruit On the Barbie
One of my favorite things about summer is using the barbeque grill to make my favorite meats and vegetables. Something I have really been experimenting with lately though is grilling fruits. Why grill fruits? The heat of the grill caramelizes the natural sugars in fruits and brings out the flavors without having to add too much sugar. So far I have only tried a few fruits including pineapple, peaches, and bananas, but the possibilities are endless! Grilling other fruits like watermelon, cherries, pears, etc. is definitely doable and I have seen plenty of recipes and pictures of this floating around Pinterest. I have read plenty of recipes and articles to come to the conclusion that the more dense fruits like pineapples, nectarines, and peaches are the easiest and tastiest to grill.  Halving the peaches and nectarines and cutting the pineapple into thick slices will give you the best results. Another great tip for grilling fruit is to make sure and clean your grill really well before you grill. This will let the real flavors of the fruit come shining through.
Here is a chart that is helpful to know what temperature and how long to grill all the different fruits for. Feel free to branch out and try new fruits. I'm sure they are all delicious in their own way! I have seen beautiful pictures of kabobs filled with all different kinds of fruit and I cannot wait to try and grill that.
Many of these grilled fruits, especially peaches or nectarines, are absolutely divine served with a side of your favorite homemade vanilla ice cream! Below is my favorite recipe with pineapple.

Sources:
http://www.realsimple.com/food-recipes/shopping-storing/food/fresh-pick-cantaloupe-00000000038161/index.html
http://www.realsimple.com/food-recipes/shopping-storing/food/fresh-pick-cantaloupe-00000000038161/index.html
http://chowhound.chow.com/topics/433552
http://chowhound.chow.com/topics/433552li>
http://voices.yahoo.com/how-cut-store-freeze-watermelon-3467091.html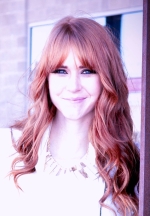 Mary Richardson
Monthly Newsletter Contributor since 2014
Email the author! mary@dvo.com
---
Recipe
Grilled Pineapple with Coconut Caramel Sauce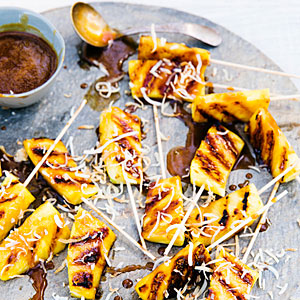 Ingredients
1 ripe pineapple

1 cup sugar

3/4 cup coconut milk

1/4 cup unsweetened shredded coconut, toasted
Directions
Total Time: 1 Hour
Soak skewers in water 30 minutes. Meanwhile, trim ends from pineapple, then stand it upright and cut off peel. Quarter pineapple lengthwise and cut out core. Reserve half the pineapple for another use. Cut each remaining quarter into 4 lengthwise slices, then cut each slice in half crosswise to make 16 thin wedges. Skewer each lengthwise.

In a small saucepan, combine sugar with 1/2 cup water. Bring to a boil, swirling to dissolve sugar; boil, swirling occasionally (do not stir), just until golden and honeylike. Remove from heat and slowly whisk in coconut milk (mixture will bubble furiously).

Heat a grill to high (450° to 550°). Using a pastry brush, coat pineapple pieces with caramel sauce. Grill just until marks appear, then turn to mark other side, 4 to 5 minutes total. Put skewers on a platter, sprinkle with toasted coconut, and serve with remaining caramel sauce for dunking.
Add Recipe to Cook'n