Elsie Engstrom's Pound Cake
Circa 1863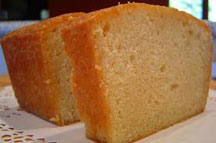 The Engstroms settled in Grass Valley, Oregon, over 100 years ago. Elsie Engstrom would have been my great, great grandmother. Her husband, after arriving from Sweden at 20 years old, worked his way in four years from New York to settle in Grass Valley. After being widowed, he met Elsie, also a widow, whom he employed for a year as his housekeeper. She was originally from Missouri, and brought with her a 16 year old daughter from her first marriage. They were then married with Great, great grandfather being at age fifty, and Elsie being 40 years old. They then had my great grandmother Helen, now Helen Engstrom Olds.
My great grandmother Helen is nearing 100 years old, and still lives in the sleepy little town of Grass Valley, in Sherman County, Oregon. She enjoys reminding people that she is one of the oldest living community members in Grass Valley. I would love to include a photo of her, but I am sure she could still give me a licking if she set her mind to it. She is one of the most adorable women I know, and the following recipe came from her family line. The Engstrom family settled an area in Sherman County, ranching cattle, and farming wheat with horsepower. They also raised chickens for meat and eggs. Grandma Elsie had a traveling cookset that was brought with them as they tilled and harvested the fields, they would cook and eat in the field while working. As best as I can figure, this recipe is at least 150 years old, prior to the city of Grass Valley even being incorporated.
This recipe, like many older recipes, comes in weights. This is why it was called Pound Cake. This recipe is Elsie's Pound Cake and a cake my great grandmother enjoyed as a child. Lucky for me there was an already written recipe for this, rather than translating a smidgeon of this and a dash of that, as I have done with other family recipes. I have changed some of the wording to fit our more modern lifestyle, and the blessing of regulated ovens and electric mixers.
---
Elsie Engstrom's Pound Cake
circa. 1863
Yield:
1 lg loaf or 2 sm loaves
Ingredients:
1 pound
butter
1 pound
sugar
1 pound
flour
12

eggs

, separated
1/4 teaspoon
nutmeg
2 teaspoons
vanilla extract
Directions:
Beat butter and sugar until creamed, add lightly beaten egg yolks. Beat well then add flour, nutmeg and vanilla. In separate bowl whip egg whites until stiff. Fold egg whites into batter with as little stirring as possible. Cook in moderate oven, (350 degrees F) in a buttered loaf pan, for approximately 55 minutes.

Recipe formatted with the Cook'n Recipe Software from DVO Enterprises.
---
I have no doubt that this was at times cooked in Steel Dutch ovens, and can imagine it being enjoyed on trips across the vast wheat fields of Sherman County, Oregon. A place I hold dear to my heart, and where simple, peaceful life is still enjoyed to this day. There is something so grounding about a place where working hard, enjoying one another and good food are central to life.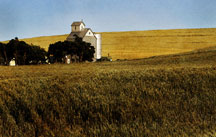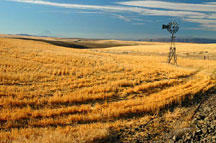 Sherman County, Oregon
What family recipes have been passed down through your lineage?
A special thanks to Barbara Ralston for her contributions to this article.
---
Sources:
http://forums.fatakat.com/thread1754247
http://www.flickr.com/photos/rainvalley/5912452400/
http://www.ofsn.org/Resources/OFSNCountyCorners/ShermanCountyCorner/tabid/174/Default.aspx
---

Sharon Ng
Monthly Newsletter Contributer since 2012
---
---
An unbeatable value with exclusive benefits for members only.
Get a newsletter like this each week when you join the Cook'n Club.