Homemade Pudding - Thinking Outside the Box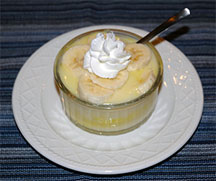 There are some things in life that just can't be duplicated, homemade pudding being one. Store bought or boxed puddings do not taste even remotely close to homemade. I am a pudding head! One of my most favorite comfort foods growing up was my mother's homemade pudding.
Whether you are making a cream pie, éclairs or just plain pudding, there is no contest. Homemade wins every time! After you have made pudding a few times and adhere to the tips for the perfect pudding, you'll start thinking outside of the box. It is so worth the effort, I promise.
For those of you who don't make homemade pudding, I can hear you already. "Pudding is so hard to make! It's time consuming and how do I make it so that it sets up right and isn't lumpy." Well, I'm going to give you a recipe for yummy, luscious homemade pudding (tips and all).
Pre-measuring your ingredients and making sure you have all your cooking tools before you start cooking is always helpful, but especially when you are working with sauces, pudding or anything that might scorch. Have your dry ingredients measured out as well as your butter, milk and vanilla. Before you do anything, separate the yolk from the white of the egg in a small bowl and beat the yolk slightly with a fork. NO EGG WHITES ALLOWED!
Have all your ingredients close by so you can work quickly. Pudding will scorch if you don't keep the temperature down, stirring constantly. I suggest having a clean bowl close by, and then when the pudding is done cooking in the saucepan, transfer it quickly into a clean bowl so that it doesn't keep cooking.
Tips: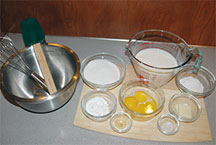 1. Premeasure all ingredients.
2. No egg white in the yolk (lightly beat yolks with a fork).
3. Have a clean bowl ready into which you will transfer the hot pudding from the saucepan. This keeps the mixture from scorching and cooking any further.
4. Use medium/low heat, stirring continually.
5. Temper the egg yolks (so you won't have scrambled eggs in your pudding).
6. To cool the pudding, place in a clean bowl and cover with plastic wrap to keep top of pudding from forming a film on top. Stir occasionally.
7. Use whole milk, cream or half and half.
---
Homemade Pudding to Die For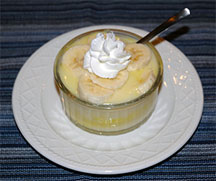 Ingredients:
1/4 cup
flour
1/4 teaspoon
salt
3/4 cup
sugar
2 tablespoons
cornstarch
3 cups

milk

or cream
3
egg yolk
2 tablespoons
butter
2 teaspoons
vanilla extract
Directions:
In a 3-quart saucepan, add one cup of milk and all of the dry ingredients, whisk and turn heat on to medium/low. Add the rest of the milk and continue stirring with the whisk. Cook for approximately 10 minutes or until the mixture is boiling. Continue stirring.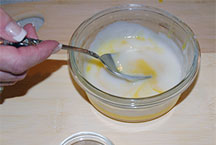 Add 1/2 cup of hot pudding to the slightly beaten egg yolk. Mix with fork. (This is the tempering process so you won't have scrambled eggs in your pudding.) Add egg mixture back into the pudding and cook for about 1 minute. Remove from heat and transfer to clean bowl to cool.
Add butter and vanilla and cover with plastic wrap. Place in refrigerator to cool. Serve warm or cold.
Suggestion: When making a cream pie or éclairs use half and half or cream.

Recipe formatted with the Cook'n Recipe Software from DVO Enterprises.
---
---
An unbeatable value with exclusive benefits for members only.
Get a newsletter like this each week when you join the Cook'n Club.