Finding Fun in Food Traditions
There are a lot of reasons that traditions are created. Some have just existed since... well, we don't know when, but we love them so we keep them. Sometimes new traditions find their way to us by accident and sometimes we go out looking for fun new ways to bring fun and meaning to our celebrations or every day life. Recently we have started a few new traditions around our household. Some were intended to become "traditions" and some were just fun things that caught on.
In September I saw a cute idea on Pinterest and decided to treat my son to the "donut cake" on the morning of his birthday. I got some donuts, stacked them up, decorated them a little, and placed the plate on the table for when he woke up. The kids loved it (it was donuts so that goes without saying, right?)! A few months later I was listening to my boys talk about my younger sons plans for his upcoming birthday. He mentioned how excited he was for his donut cake breakfast.
The two went on to describe all the times they had been treated to this "surprise" before. In their minds this was something we had been doing for ages. When I told them that we had only done it for Noah's last birthday they both argued with me and they were totally convinced that this was a thing we regularly do. We laughed about it, but you can bet that when his birthday rolled around there was a stack of donuts on that table! Now it is something the kids look forward and talk about so I think we will make it a tradition. If you can't fill your tummy with donuts on your birthday, then when can you?
It is as simple as that - Try something, love it, do it again... and a tradition is born! Whether is it picking their special birthday dinner, donut cakes for breakfast, or our silly Valentine's Day family dinner it is fun to hear my kids talk about them with anticipation. They look forward to these silly little things and are happy to be a part of them each and every time.
Here are a few little ideas to try. You never know which ones you will love and want to make your latest tradition.
---
~Birthday~

Birthdays are about feeling special and spoiled. These fun little ideas aim to do just that!
Birthday Breakfast Donut Cake: Just stack donuts (store-bought or homemade) into a cake shaped stack and decorate with candles and sparkles. It's a fun way to start the day!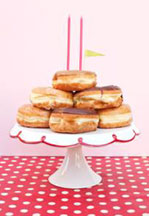 (Photo Credit: www.onecharmingparty.com)
Birthday Pancakes: Dress up normal old pancakes for the special affair.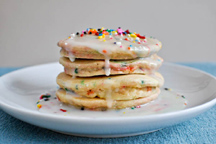 (Photo Credit: www.howsweeteats.com)
Lunch Date: Whether you are talking about your mom, your spouse, or your kids, everyone loves having one-on-one attention from the person that matters the most. Take the time to make a special lunch for the birthday boy or girl and spend some time talking about what the last year brought and your hopes for the year ahead. Honestly, this is even worth missing a bit of school for. Kids feel so special when they get to leave school for a little lunch and have Mommy's(or Daddy's) attention all to themselves. This is sure to be something they request year after year.
Birthday Dinner: Most families have some variation of this. In my husband's family you got to pick where you were going out for dinner. In my family you got to choose what meal Mom would cook for you. We have had to have a little flexibility here to make everyone happy. I always feel like I have won a great victory when a child chooses my home cooked food over a restaurant for their birthday!
Give and Get: My mom's birthday is on Valentine's Day and she would always give us little gifts on that day. As a child I thought it was funny that she gave gifts to us on her birthday. I was telling my son that story and he said he thought it would be fun to take a treat to a neighbor on his next birthday. We haven't done it yet (he has a few months to wait, but I agree with him that this could become a fun little tradition and since I am already baking on that day anyway, why not throw in something a little extra?
---
~Holidays~
Holiday food traditions are endless, but here are a few of my favorites.
Christmas Candy: Choose a wonderful candy recipe (in my family it is caramels) that you want to make each year. Don't stop at just making the candy. Make an event of it. Gather the family together, make sure everyone has a job and something to be a part of. This will make it lots more fun. Even wrapping caramels can be fun with the right people around!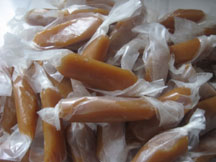 Cookie Exchange: Have a cookie exchange party and share your favorite cookies (and their recipes of course) with your friends. You can even easily make a cookbook with all the recipes from the party for all of your guests using Cook'n! Add a potluck lunch or dinner to that party and you have a perfect combination of fun, friends, and food!
Make It A Family Affair: Family is such a major part of the holidays, so make sure your family and your heritage are represents in your recipes too. See if Great Aunt Ethel has Great Great Grandma's stuffing recipe or use that special Christmas Ham recipe from Uncle Joe. Heaven knows Grandma always made the best cookies!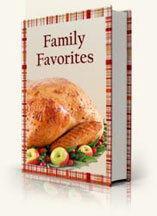 Make sure you save the recipes. They are treasures you will miss if they are lost. You can use Cook'n to save, organize and share them because family recipes need to be shared!
*Extra cool tip: Scan in any hand-written recipes and attach them as the photo to the recipe. Then the whole benefit can see that special, personal recipe without having the card itself.
---
~Every Day~
I really love these ideas for making every day life a little more fun.
Culture Night: We talked about this last month, but it is worth mentioning again. Choose one night a month to try different foods and learn about the culture, country, and people it comes from.
Family Movie Night: Once or twice a month (as often as works for your family) make an event of Pizza and a Movie. A simple homemade pizza and a rented movie make for a fun evening and if your family knows they can plan on it the last Friday of every month (for instance) they really do look forward to the time together.
Try It Tuesday: Every Tuesday try a new recipe. Something as simple as this can become a really fun tradition in your family and might even cut down on the moans and groans that often come with new recipes (at least at my table). If they know it is "try it Tuesday" and it is an event they can look forward to then hopefully they will be excited to try something new! If you love the new recipe then add it to your normal lineup. If you don't, well, you tried.
Traditions are meant to bring us closer together. Creating common celebration, experiences, and fun gives our families the chance to share, learn, and love, and that is what it is really all about! So, I hope whatever traditions you pick up along the way will bring love and laughter to your kitchen, home, and family!