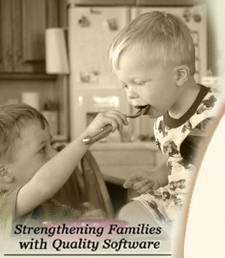 | | |
| --- | --- |
| Volume I | February 27, 2003 |
---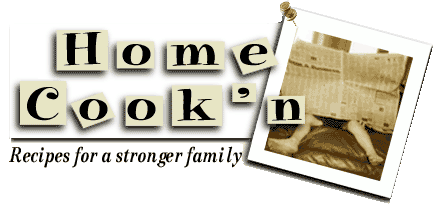 The Adventures of Cinnamon and Cocoa




You have the right to remain silent! Silently astonished, that is, because Flavoring Agents Cinnamon and Cocoa are pairing their many years of individual recipe infiltration into a joint recipe invasion. This unlikely duo is arresting the taste buds of many innocent bystanders. Though we've captured Cinnamon and Cocoa at work in the following capers, they are masters of disguise and may disappear into the food's framework before their presence is detected, misleading tingling taste buds on an all-out spice hunt. So if diners at your table start asking, "What is that flavor?" Stay calm. Don't panic. Just be aware that Agents Cinnamon and Cocoa are tracking down your diners, capturing them one by one. It's pointless to try to escape-they're too good!

Cocoa Cinnamon Spread
Makes 2 Cups

1/2 pound butter, softened
1/2 pound powdered sugar
1 to 1-1/2 Tablespoons cocoa
1 to 1-1/2 Tablespoons cinammon

Beat until smooth. Spread on toast, bagels, muffins, etc. Refrigerate.

Cinnamon Cocoa Meringue Drops
Makes 30 cookies

2 egg whites
1/2 cup almonds, chopped
1/2 cup sugar
1 tablespoon ground cinnamon
1 teaspoon cocoa
Preheat oven to 300 degrees F. Grease cookie sheets. Whip egg whites until stiff. Add almonds, sugar, cinnamon, and cocoa and stir until just blended. Drop by spoonfuls onto prepared cookie sheets and bake for 20 minutes, or until dry.


Secret Agent Meat Rub
For 3-1/2 pounds pork, beef, or chicken

1 tablespoon ground cinnamon
1 tablespoon chili powder
1 tablespoon brown sugar
1 teaspoon cocoa powder
1/2 teaspoon salt
1/4 teaspoon pepper
3 tablespoons olive oil
1 tablespoon balsamic vinegar

Combine all ingredients in a bowl. Rub paste over desired meat and seal in airtight container to allow flavor infiltration for at least 30 minutes. Grill or broil meat as desired.

Surprise Cinnamon Roll Filling

1 tablespoon butter or margarine -- melted
1/4 cup sugar
1 tablespoon unsweetened cocoa
1/2 teaspoon ground cinnamon

Spread dough with butter. Combine sugar, cocoa, and cinnamon. Sprinkle over dough. Roll and proceed as directed in recipe.

Irish Potato Candy
Makes 60 "spuds"

1/4 cup butter, softened
4 oz. cream cheese, softened
1 teaspoon vanilla extract
4 cups confectioner's sugar
2 1/2 cups flaked sweetened coconut
4 teaspoons cinnamon
1 teaspoon cocoa

Cream the butter and cream cheese until smooth. Add vanilla and confectioner's sugar, and beat until smooth. Mix in the coconut. Chill for about 30 minutes for easier handling. Meanwhile in a small bowl, combine the cinnamon and cocoa. Roll the chilled mixture into balls or potato shapes. Drop into the cinnamon-cocoa mixture and coat. Place on a cookie sheet and chill to set.

Cincinnati Chili

2 1/2 pounds ground beef
2 large onions, diced
4 cups cold water
1 6-ounce can tomato paste
1 1/2 tablespoons vinegar
1 teaspoon Worcestershire sauce
1 clove garlic, crushed
2 tablespoons chili powder
5 bay leaves
2 teaspoons cinnamon
1 teaspoon allspice
2 teaspoons cayenne pepper
1 1/2 tablespoons unsweetened cocoa
salt & pepper, to taste

In a large pot, brown beef until brown, add onions and water and bring to a boil. Reduce to a simmer and add tomato paste and remaining ingredients. Simmer 1-1/2 to 2 hours. Season with salt & pepper to taste. Remove bay leaves before serving. To serve, (1) eat plain (2) chili on spaghetti (3) chili on spaghetti with cheddar cheese (4) chili, spaghetti, cheddar, and onions or (5) chili, spaghetti, cheddar, onions, and kidney beans.



* DVO welcomes your kitchen hints and cooking or nutrition questions!
Email us
and we'll post your hints and Q/A's in upcoming newsletters! *
---
---
Copyright © 2007 DVO Enterprises, Inc.