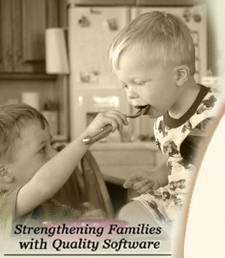 | | |
| --- | --- |
| Volume I | February 27, 2003 |
---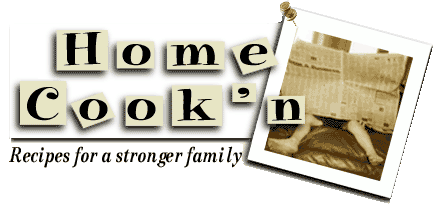 Jan's Grandma's Intense Apple Strudel
As a child, whenever we were able to visit my grandparents, my favorite place was in the kitchen following Grandma's every step. I watched as she would prepare this dough by hand (it took hours) and then the filling, and then the best part - she would let me help her pull the dough. OH...actually the best part was eating it!!! I am the only family member who can make this. -Jan G.

DOUGH:
3 cups sifted all purpose flour
1 egg, beaten
1 tablespoon Crisco
1 1/4 cups lukewarm water

STRUDEL FILLING:
8 to 10 apples, diced
Sugar
Cinnamon
Dash of salt

FARINA FILLING:
1 3/4 cups farina
1 heaping tablespoon Crisco
1/4 teaspoon salt
1/3 cup sugar
1 1/4 cups boiling water

IMPORTANT: Melt a good bit of Crisco in a saucepan and keep at low temperature on the stove. There are several times you will use this throughout making the strudel.

FIRST: Peel, core and cut apples in quartered sliced pieces. Put in bowl and sprinkle with cinnamon, sugar and a dash of salt. Let set and go to the next step.

NEXT: Prepare Farina Filling. Melt 1 heaping tablespoon (I'm talking about a dinnerware tablespoon, not a measuring spoon) of Crisco in heavy large saucepan. Stir in farina, salt and sugar. On another burner, start of kettle of boiling water. On medium-low heat, stir farina mixture until farina turns a pretty light to medium brown color - this takes at least 30 minutes of continuous stirring. When correct color is reached, measure 1 1/4 cups of boiling water and pour over hot farina. BE VERY CAREFUL!!! This will boil up and burn you if you are not careful. Stir very fast and continually until farina absorbs water and becomes a mealy texture. Set aside to cool.

PREPARE DOUGH: Mix dough (today, we can do it in an electric mixer with a dough hook). Mix dough for 6 to 11 minutes or until it begins to pull away from the side of the bowl. Turn dough out onto an OLD towel, wipe a little melted Crisco on top of mound of dough, cover with towel and let set for about 30 minutes.

Prepare your table: Put an old, clean tablecloth (be sure it's one you don't care about any longer), on table. You can use a round table or rectangle. Sprinkle top of tablecloth with flour.

NEXT STEP: Turn dough out onto table, put some warm, melted Crisco on your hands. Take the dough in your hands and carefully begin to spread it out, pulling on all sides of the dough. Once you get a very thin center started, put your hands underneath the dough and with your fingertips touching the dough, begin pulling the dough to stretch it to the outside of the table. Keep moving around the table, repeating this procedure, keeping melted Crisco on your hands, until the table is covered with a paper-thin layer of dough. Take a knife and cut excess thick dough from remaining out side edge and discard.

NOW: Take melted Crisco from the stove and a dinnerware tablespoon and sprinkle spoonfuls of Crisco on the dough. This is like spattering paint on a canvas. Next, take bowl of apples and with your hand, sprinkle apples to cover entire area of dough on table. Next, take pot of farina mixture, and with your hand, sprinkle farina mixture over apples.

NOW: Pick a side of the table to start from. Pick up an edge of the tablecloth and lift it quickly to turn in the first edge. Continue picking up on the tablecloth from underneath to cause the dough to roll across the table, encasing the filling as it goes. When you reach the end of the other side of the table, and there is no more dough to roll, place a large baking pan, greased with some of that melted Crisco, on the table beside the roll of dough. Pinch the ends of the dough together so filling won't fall out. Carefully begin lifting the roll into the pan, curving as necessary until the pan is full of a "snake-like" looking dough. Once again, with your hands, brush the top of the dough with a little melted Crisco (See, I told you this would be used a lot). Sprinkle top of dough with a little granulated sugar. Bake strudel in 350 Degree oven about 1 hour or until golden brown and it looks like it's done. Remove from oven and let pan sit on counter until cool. Cut strudel into pieces about 2 1/2 to 3 inches in length. Put in a large plastic container, sprinkle with powdered sugar and when COMPLETELY COOL, cover with an airtight lid. NOW YOU'RE DONE - Oh, by the way, did I tell you it takes nearly all day for YOU to make this, and about 15 minutes for your family to eat it. Believe me - it's worth the effort.


Do you have something to share with other Cook'n readers? Email your thoughts to us. Tell us about you and your family, and send us a picture. We'd love to hear from you...and who knows...perhaps you will be the star of the next newsletter!
---
---
Copyright © 2007 DVO Enterprises, Inc.