Find More Recipes

with Cook'n
Need some more quality, delicious recipes?
We've partnered with some of the strongest brand names in cooking and sold over 3 million copies. Check out all of the Cook'n Cookbook Titles
Once you have the Cook'n Recipe Organizer, you will be able to download any of our cookbook titles to the program.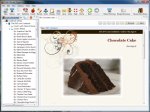 Each Cook'n recipe title will download onto the Cook'n Recipe Organizer software as a cookbook which you can use to organize recipes, meal plan, make grocery lists, analyze nutrition, download recipes, and publish cookbooks.
Download new recipes every week from this web site. Choose from our 50+ Cookbook titles or our recipe archive containing over 1000 recipes! You can also import recipes from other web sites with .dvo recipe files or certain kinds of cooking software such as MasterCook.

---
Learn More About How Cook'n Can Help You:

Organize Recipes
Menu Plan
Make Shopping Lists
Analyze Nutrition
Share Recipes
Print Family Cookbooks
Save Money
More...
---
"I only purchased Cook-n yesterday, but already I am in love with it! This is the program I have wanted for years. I read some of the letters to you from your satisfied customers, they spoke of other programs they have tried and were not happy with, and I realized how lucky was I to find your website before I found the others. Now I'm just trying to decide which cookbook to download next...I want them all! " -Sheryl
---
"Your feature which allows me to download recipes is just exactly what I was looking for in an interface." -Judy
---
"I really like Cook'n and look forward each month when I can download another free cookbook because I am part of the Cook'n Club. I enjoy the process of going through and deciding which one I will get this month! I started that process last weekend and was going through each one to see which one I would pick this time. Keep up the good work." -Nancy
Got a Question?
Send us a note and we'll get back to you ASAP.