El Tovar Dining Room's Black Bean and Crabmeat Cakes with Avocado Salsa
---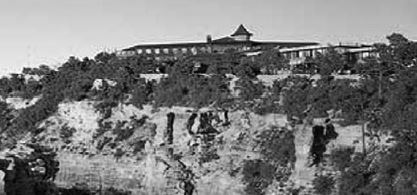 Serves: 8
Total Calories: 154
Yield: 16 cakes

Soak beans overnight in water. Drain beans and discard soaking water. Cook beans, onion, and garlic in chicken stock over low heat until tender, about 1 1/2 hours. Drain and cool. Run through a grinder on large die with cilantro. Add crabmeat and seasonings. Form into 16 equal patties. Dust with flour. Sauté a few minutes on each side until heated throughout. Top with Avocado Salsa.

Avocado Salsa:
Mix all ingredients together. Allow to sit for 1 hour before serving.


Fun Fact:
El Tovar Hotel, located on the rim of the Grand Canyon, opened its doors in 1905. In the past, the hotel has hosted such luminaries as Theodore Roosevelt, Albert Einstein, western author Zane Grey, and many others. Today, El Tovar is a Registered National Historic Landmark and still open to the public.