Do Sweet Potatoes Need Refrigeration?
Have ever wondered if sweet potatoes should be refrigerated? It's a good question that was answered by food researcher and editor for Martha Stewart Online, Nashia Baker. I appreciated her information; you might, too.
Like all food we bring home from the grocery store, sweet potatoes (all varieties) need to be properly kept so they're in the best condition for cooking. Here's what Nashia suggests: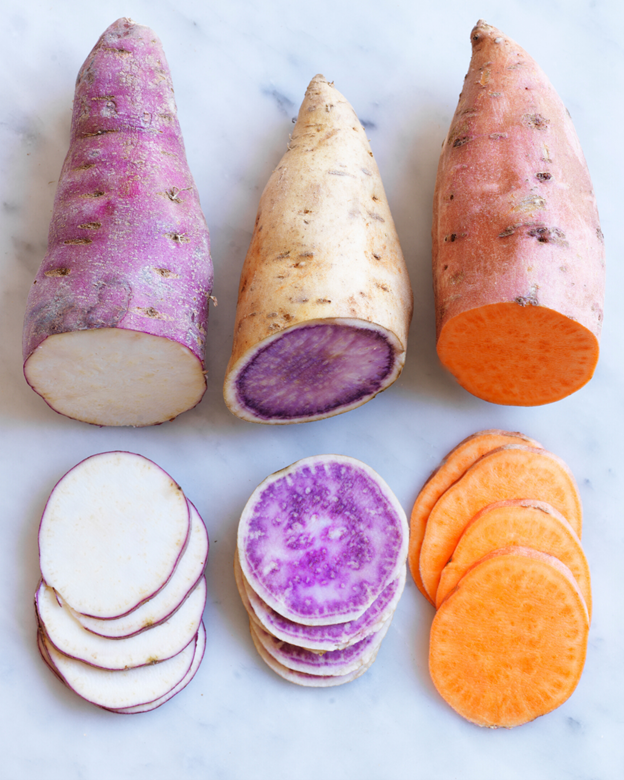 "You've probably noticed that like white potatoes, sweet potatoes aren't refrigerated in the produce section of the grocery store. There are good reasons for this. First, according to food safety researchers, if they're refrigerated, they end up with a hard center and unpleasant taste. Second, refrigerating raw sweet potatoes will cause their internal tissue to darken and promote overall deterioration."
So where should you store sweet potatoes? Nashia explains that they need a dark, well-ventilated area. This means you want to keep them in a pantry or in a kitchen cupboard. You can get away with storing sweet potatoes on your countertop, but be sure to keep an eye on them. No tuber does well in the sunlight. Storing them where sunlight will hit them causes them to sprout and quickly deteriorate in flavor and texture.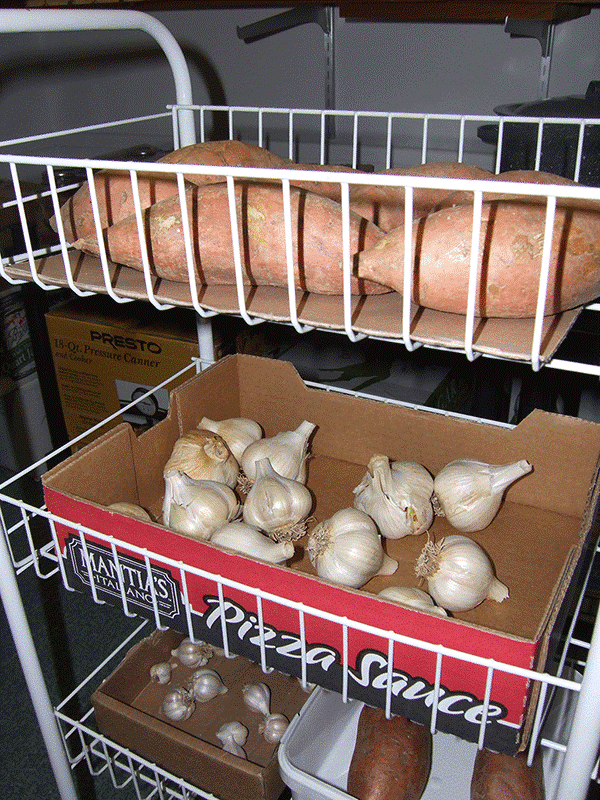 One more thing: If you see the potatoes starting to mold or decay, whether they are in the refrigerator or on the counter, you should compost or toss them in your trash. Even if you trim away the moldy or decayed parts, you won't be happy with the cooked result. Although they'd be safe to eat, mold and decay affect their overall flavor.
Lastly, we understand the obvious—cooked food SHOULD be refrigerated. The question then is, how long can cooked sweet potatoes stay in the fridge and still retain their flavor and vitamins? Research says 5 days is the maximum. If they can't be eaten before then, freeze them. This is a vegetable that freezes well and still tastes great when thawed.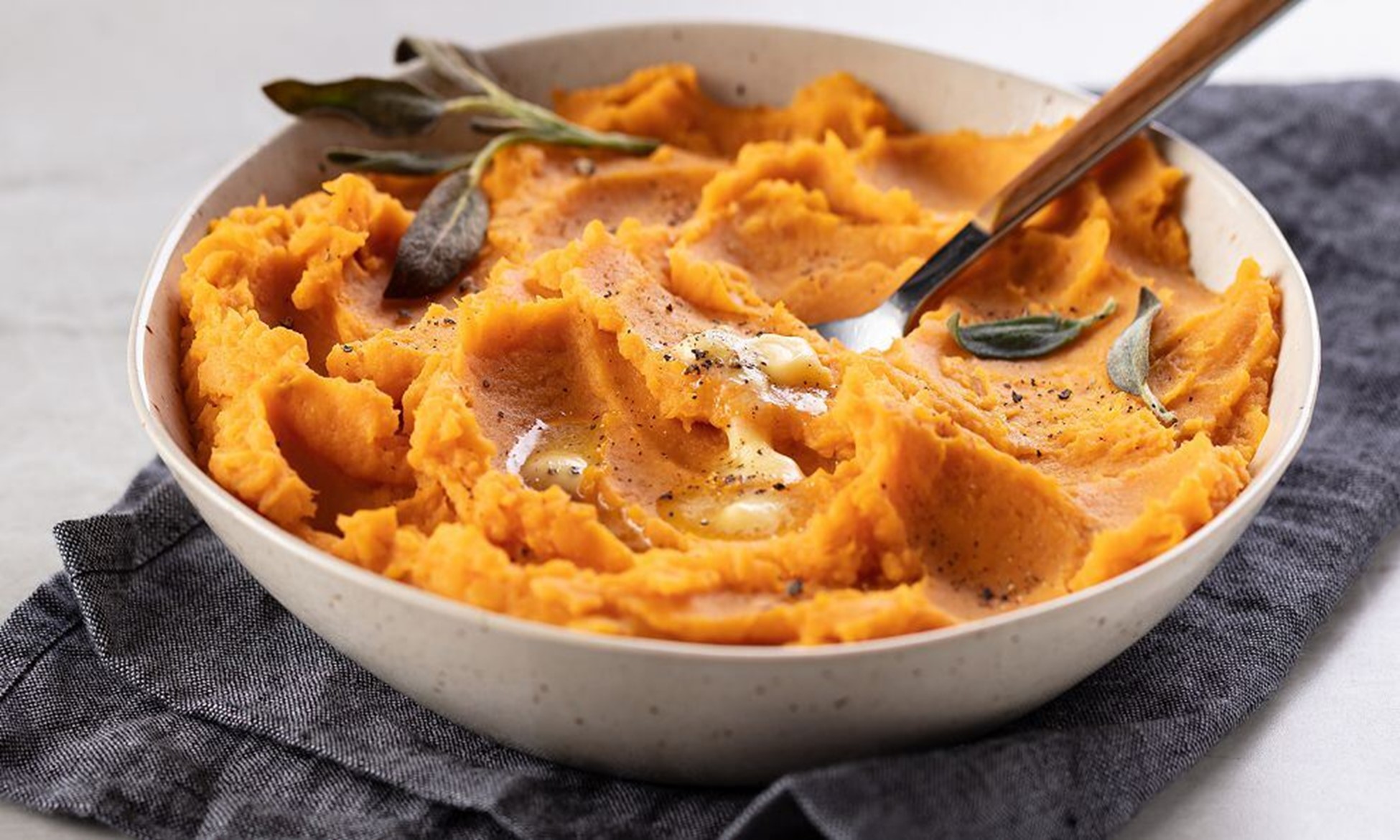 I'll conclude with one of our favorite recipes for a divine dinner roll that uses cooked sweet potatoes. I found this years ago on a lovely site, www.handletheheat.com. The site creator is a professional chef and cookbook author (Tessa) and says, "Sweet Potato Dinner Rolls are ridiculously soft and fluffy with a slightly crisp and chewy crust and a hint of sweet potato goodness."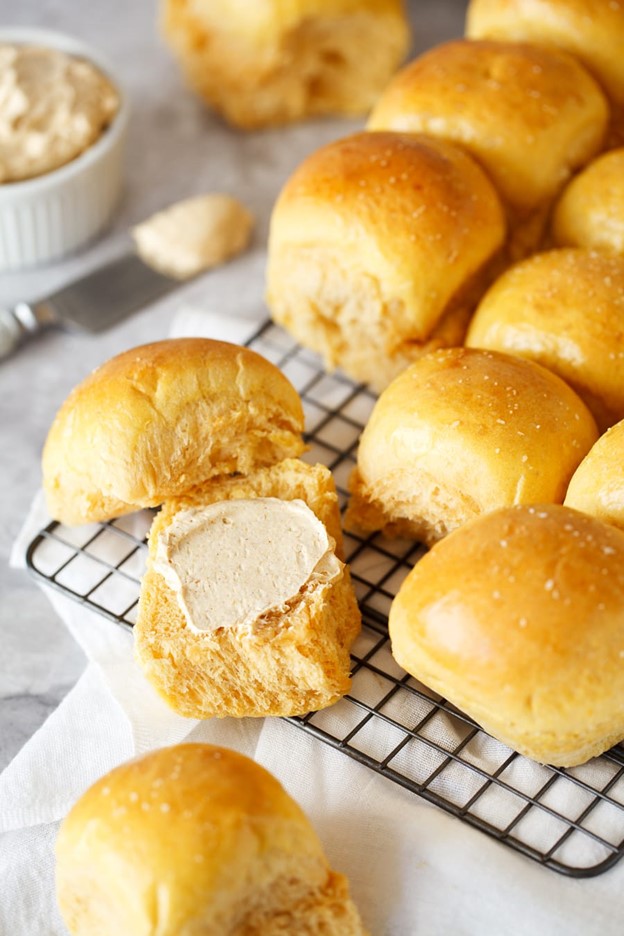 Sweet Potato Dinner Rolls
Ingredients:
1
medium-large
sweet potato
(250 grams)
1
cup
(240 ml) room temperature
buttermilk
OR whole milk
4
tablespoons
(57 grams) unsalted
butter
melted
2
whole
eggs
lightly beaten
2
tablespoons
raw
honey
2 1/4
teaspoons
(1 packet) instant
yeast
1 1/2
teaspoons
salt
4 3/4
(600 grams) bread
flour
TO BAKE:
1
large
egg
1
tablespoon
water
coarse
salt
Directions:
Prick the sweet potato all over with a fork. Place on a microwave-safe plate and microwave at least 4 minutes, turning halfway through, until a knife glides easily through the tender center. Cut in half and let cool before scooping out the flesh and discarding the skin.
Press the flesh through a potato ricer for the best texture. You can also puree in a blender or food processor. Or, mash very well until no lumps are remaining. You should have about 230 grams of sweet potato after removing the skin.
Combine the buttermilk, butter, eggs, honey, yeast, and sweet potato in the bowl of a stand mixer. Add the salt and 2 cups of the flour and stir with a wooden spoon until the dough forms a rough, shaggy mass.
Attach the dough hook to the mixer, turn to medium-low speed, and gradually add in the remaining flour, kneading until a mass of dough begins to forms. Continue kneading on medium-high speed for 4 to 5 minutes until a soft, smooth ball of dough is formed. The dough should feel elastic and slightly tacky to the touch. If the dough is unbearably sticky, add more flour 1 tablespoon at a time.
Lightly spray a large clean bowl with cooking spray and place the dough in the bowl. Cover the bowl lightly with plastic wrap. Let rise for about 45 minutes to 1 hour at room temperature or until the dough is big, puffy, and about doubled in size.
Bake the rolls:
Spray a 13×9-inch baking pan with cooking spray. Gently deflate the dough. Use a bench scraper, knife, or pizza wheel to divide the dough into 15 equal pieces. Shape each piece into a ball and place in the prepared pan. Beat the egg with 1 tablespoon water. Brush the rolls all over with the egg wash and sprinkle with coarse salt. Lightly cover the dough with plastic wrap and let the rolls rise for 30 minutes, or until about doubled in size.
Meanwhile, preheat the oven to 375°F.
Bake the rolls for 15 to 20 minutes, or until golden brown. Serve warm. Store leftovers in a plastic bag for up to 3 days.

Recipe formatted with the Cook'n Recipe Software from DVO Enterprises.
Add Recipe to Cook'n

Alice Osborne
Weekly Newsletter Contributor since 2006
Email the author! alice@dvo.com
Sources:
www.myfoodbook.com
www.bonnieplants.com
www.omahasteaks.com
www.handletheheat.com
---
Subscribe to Cook'n Premium and get newsletter articles like this each week!