Raspberry Lemon EVERYTHING: The Perfect Springtime Flavor Combination
Sometime in the last few months or so I have realized something pretty big has changed with me. I don't know when or how this happened but I don't see myself going back any time soon. What is this big change? I have ALWAYS been a chocolate girl. And caramel comes in at a close second. I have never really chosen fruity desserts over chocolate or caramel (or both) ones. Then, a pretty good indicator was that every time I ordered cheesecake from the cheesecake masters at Cheesecake Factory I no longer found myself ordering the dulce de leche or the chocolate tuxedo, which are my usual go-to's, but instead found myself ordering raspberry lemon cheesecake again and again and again. I just can't get enough of the stuff. Even though you could never really describe cheesecake as "light", the raspberry lemon one certainly feels much lighter to me and is so refreshing.
Thinking about this I go so excited I had to look up other raspberry lemon ideas since this is such a perfect combination. These flavors just remind me so much of spring of spring and summer and I am all about getting into spring and summer flavors now! I saw so many delicious takes on this fantastic combo.
Healthy Options for Raspberry Lemon Combination
Heaven knows there are about a million different desserts recipes you can find for these, but there are a couple healthy ways you can enjoy this wonderful combination as well. I really like infused waters and raspberry lemon happens to be my favorite.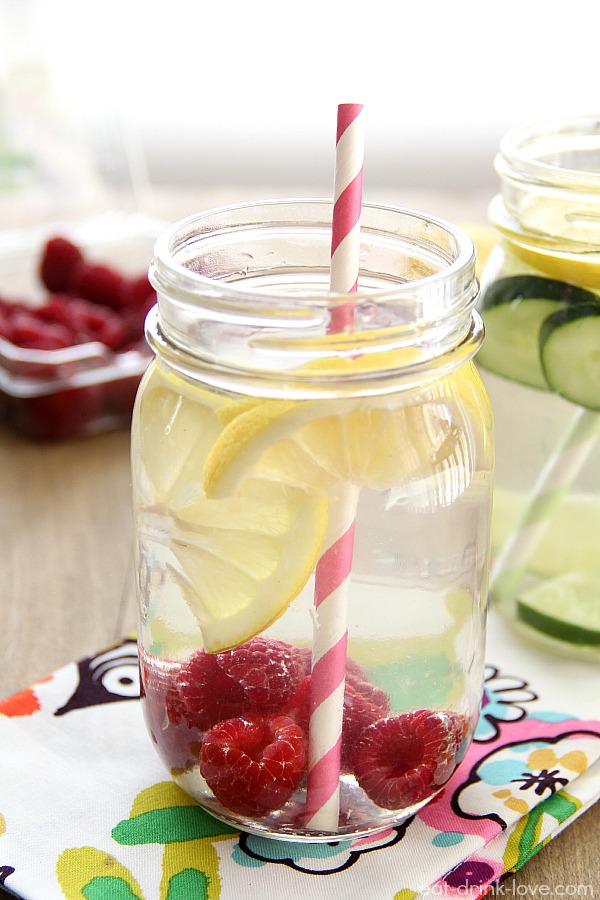 Or how about a delicious berry salad and feta cheese salad with raspberry lemon vinaigrette?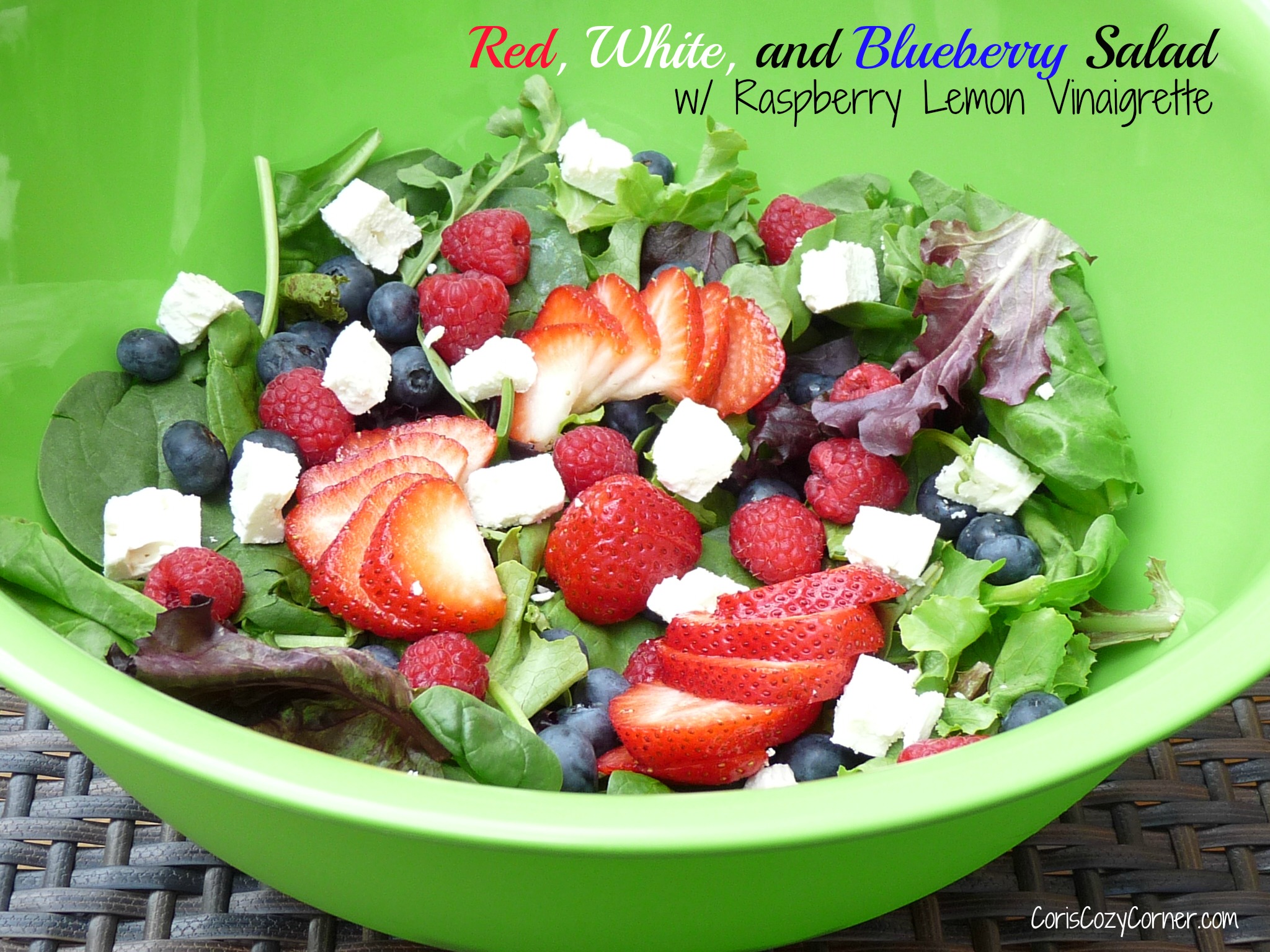 That sounds so light and refreshing for summertime? You can find the recipe for that at coriscozycorner.com if you are interested in that dressing.
Ok, I guess now that we did our duty and showed the yummy healthy options first, now it's time to bust out the really good stuff. The stuff that really makes my mouth water just thinking about it.
Take this for example: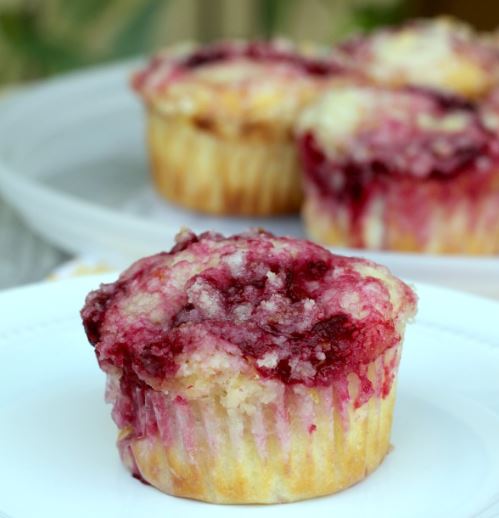 I absolutely love baking muffins with my daughter. We can't wait to try these tangy muffins soon from thisgalcooks.com!
Or if cookies are more your thing, there are always these: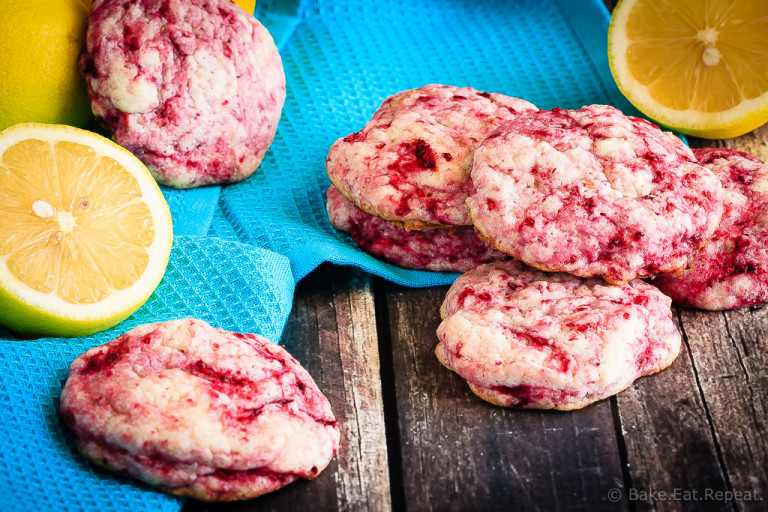 A soft, chewy lemon flavored cookie filled with raspberries just really can't be bad! I just love the way the raspberries kind of melt into the rest of the cookie. It makes such a beautiful cookie. I think this flavor of cookie would be so light and fun for a spring or summertime party and different than your standard classic (albeit classic for a reason! ;) ) chocolate chip cookie.
And finally, we've got these beauties…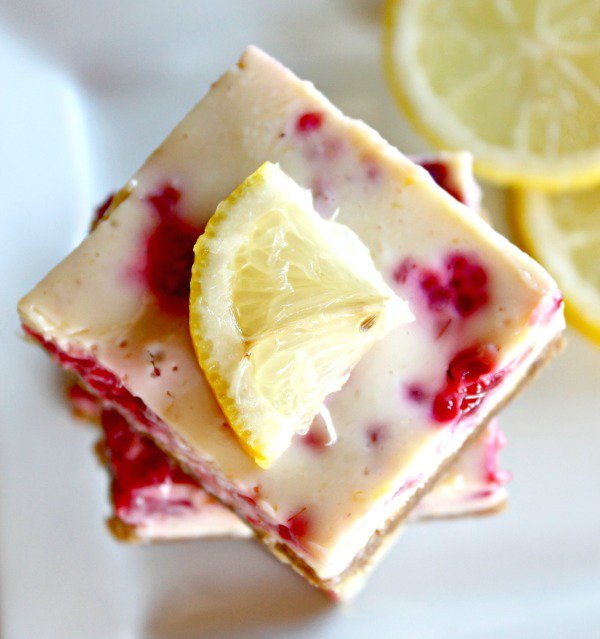 I mean…..wow! This was the recipe I actually did try myself and can give you my full approval! I am a lemon bar fanatic so when I saw the addition of raspberries, which are also a favorite of mine, I couldn't WAIT to try them! They did not disappoint. You'll definitely have to try out this recipe if you are a fellow lemon bar lover like myself.
I'm so excited for spring and summer and all the lighter, yummier foods we tend to gravitate towards during these warmer months. Anybody else with me?? Have you had your fill of winter this year?
Raspberry Lemon Bars
Ingredients:
Crust:
- 1 ½ cup graham cracker crumbs
- 6 tbsp. salted butter, melted
- ¼ cup sugar
- Zest of one lemon
Filling:
-2 large egg yolks
-1(14 oz.) can fat free sweetened condensed milk
-1/2 cup fresh lemon juice
-1 teaspoon lemon zest
-6 ounces fresh raspberries (you could use froze, just thaw them)
Instructions:
Preheat oven to 350 F. Spray an 8x8" baking dish with cooking spray. Set aside.

In a medium bowl, combine the graham cracker crumbs, melted butter, sugar, and lemon zest. Stir until graham cracker crumbs are moist.

Press crumbs into the prepared pan, pressing the crust mixture one inch up the side of the pan.

Bake for 10 minutes. Remove from oven and allow to cool to room temperature.

Once the crust is cool, combine the egg yolks and condensed milk until well mixed. Stir in the lemon juice and lemon zest. Stir until mixture begins to slightly thicken. Gently fold in the raspberries. Fold carefully so you don't break the raspberries.

Pour the lemon raspberry filling evenly over the graham cracker crust. Bake for 15 minutes, or until just set.

Cool to room temperature, then chill for at least one hour before serving. Cut into bars and serve. Keep bars in the refrigerator up to five days.
Add Recipe to Cook'n
Sources:
www.sixsistersstuff.com
www.bakeeatrepeat.ca
www.coriscozycorner.com
www.eat-drink-love.com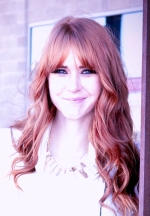 Mary Richardson
Weekly Newsletter Contributor since 2014
Email the author! mary@dvo.com