The Double Boiler Goes High Tech: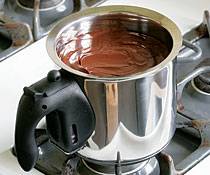 If you enjoy making chocolate desserts, you might want to invest in this new All-in-One Double Boiler by Bonjour. Unlike traditional two-pan double boilers, this 1-1/2-quart pot has an interior water chamber sealed between stainless-steel walls.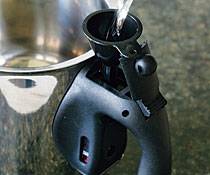 Via a hole in the handle, you fill the chamber with water, set it on a burner, and wait for a whistle to signal that the water is boiling. You then turn down the heat and add ingredients to melt or cook gently over the indirect heat of simmering water.
We liked how it melted chocolate with no scorching and delivered even, low heat for cooking a hollandaise sauce. It's also convenient that the water is sealed in its own compartment, preventing any accidental drips (water can cause chocolate to seize up). In a nutshell, here are its features:
• Store and clean one pot instead of two
• Funnel for easy filling of interior water chamber
• Equipped with comfort grip handle and flame guard
• Whistle sounds when water is fully heated
• 1˝ quart capacity
The compact, easy-to-store double boiler ranges anywhere from $35 to $40 when you look online for it. We found it for $35 at this
Kitchen Store
. But just google All-in-One Double Boiler by Bonjour and all sorts of outlets will show up.
Blender vs. Processors Research & Contest Winners
Forum name: Midnight
is the winner of our favorite Smoothie Maker for sending in her research and conclusion. THANK YOU Midnight! Read her great response…
---
There are several differences in my opinion.

1. Power:
In some cases a home food processor has more power than ones blender, thereby letting the cook do more rough blending without burning out the motor.
2. Design:
The design is a major factor. The food processor is made to let the cook scrape down the sides and even get under the blades and then continue to blend, where as the blender does not need as much scraping down the sides, but one can not get under the blade unless they remove the total bottom.

3. Blending Process:
In many cases it is easier to do a rough grind/chop in a processor than in the blender. In the blender the bottom will become a lot more blended long before the food that is at the top of the blender makes it way down to the bottom of the blender.
4. Versatility:
Many food processors will come with different attachments, thereby letting the cook shred or slice. The blender is made to do only one thing and that is blend.
In my opinion if one does mainly liquid and the final result will be liquid or a liquid base batter, the blender is the way to go. The blender is also better for pouring out a liquid base product as well (ie: juice or pancake batter). If one uses mostly dry ingredients and the final result will be dry or a stiffer batter/ dough the food processor is the way to go.
Final thought, if one had to choose between only having one or the other appliance then the food processor allows for more versatility and thereby being the best choice of the two.
---
And we also want to send Steve Howard, our "DVO Token Male Cook", a Smoothie Maker to thank him for getting this whole
blender or food processor
thing started, by asking his timely question.
So thanks to Steve and Midnight… now we know!
---
Contribute to the Cook'n Club!
DVO would love to publish your article, prose, photography and art as well as your cooking, kitchen and nutrition tips, tricks and secrets. Visit the Newsletter Submission / Win Win for All section in our Forum for more information and details.
---