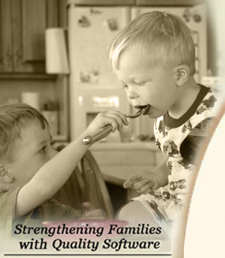 Cook'n Club Home
Subscribe Now!

Cook'n Forum
HomeCook'n Archive
Give-Aways

I have spent the last 2 hours reading your newsletter and wonderful recipes. I have already printed a whole bunch I want to try. I love them because they are using ingredients one has on hand. I love that and just wanted you to know how much we appreciate all your hard work in putting together this newsletter. Thank you very much.

Anna

Volume I - February 1, 2008
Simple Tips, Simple Recipe
by Patty Liston


You may have read these ideas before, but if you are like us, you've forgotten just exactly what to do to get flufflier rice or how to get those stubborn muffins out of a tin. Some things just bear repeating!
May we suggest that you print and cut out these ideas. Just tape them to the inside of a cupboard for a handy reference. The only thing you will have to remember is which cupboard you taped them to!
Simple Tips: Quick Kitchen Techniques
From: Simplify Your Life, Fine Living
Busy lives mean little time for cooking, so here are a few tips to make the most of your time in the kitchen:
Make peeling a boiled egg easier by piercing the end of the egg shell with a sharp needle before you boil it. The small amount of air released will make the egg easier to peel.


Make rolling out a piecrust simple by freezing the rolling pin first. Just a few minutes of cold will make dough slide off the pin.


Don't throw out over salted soup. Half a potato thrown in to the pot will soak up the salt and return the soup's flavor.


For fluffier, whiter rice, add a teaspoon of lemon juice per quart of water before you cook.


Perk up soggy lettuce by soaking it in cold water and lemon juice. Add the leaves to the water mixture and put the bowl in the fridge for about an hour.


When cooking carrots, peas, beets or corn add a small amount of sugar (like a half teaspoon) to the water to help maintain the natural sweetness of the vegetables.

Kitchen


Place a tray of water on the bottom rack of the oven when broiling meat. The meat drippings will fall into the water, not on the oven.


Sprinkle oven spills immediately with salt. Once the oven has cooled, whisk and wipe.


If you have trouble getting muffins out of the tin, place the tin on a wet towel.


Use white vinegar in water to make glasses and crystal sparkle.


If you have one glass stuck inside another, no problem! Dip the bottom glass in hot water and fill the top one with hot water.


The least expensive refrigerator deodorizer is, surprisingly enough, two charcoal briquettes.


Dishcloths need to be disinfected? Toss them into the microwave for ten to twenty seconds and that will kill the germs.

Southwestern Pasta Salad
Servings: 8

1/2 (16 ounce) package rotini pasta
1/3 cup vegetable oil
1/4 cup fresh lime juice
2 tablespoons chili powder, or to taste
2 teaspoons ground cumin
1/2 teaspoon salt
2 cloves garlic, crushed
1 1/2 cups whole kernel corn
1 (15 ounce) can black beans, drained and rinsed
1/2 cup diced green bell pepper
1/2 cup diced red bell pepper
1/2 cup fresh cilantro leaves
1 cup chopped roma (plum) tomatoes

1. Bring a large pot of lightly salted water to a boil. Add pasta and cook for 8 to 10 minutes or until al dente; drain.
2. In a large bowl combine oil, lime juice, chili powder, cumin, salt and garlic. Stir in pasta and set aside to cool to room temperature, stirring occasionally.
3. Stir in corn, beans, green pepper, red pepper and 1/2 of the cilantro leaves. Spoon onto a platter and garnish with tomatoes and remaining cilantro. Serve chilled or at room temperature.


---
Contribute to the Cook'n Club!
DVO would love to publish your article, prose, photography and art as well as your cooking, kitchen and nutrition tips, tricks and secrets. Visit the Newsletter Submission / Win Win for All section in our Forum for more information and details.
---
---