It's coming! Giants vs. Patriots. Beats us who will win (Patriots?), but a sure winner will be these delicious refreshments. A variety of well-chosen "munchies" are sure to please anyone who is cheering on the game. Enjoy!
Chicken-Apple Sausage Bites with Hot Sweet Mustard
Michael Chiarello
Servings: 9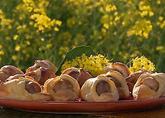 1 package frozen puff pastry, thawed
1 egg, well beaten
3 chicken apple sausages, cooked and cut into thirds
1 cup spicy Dijon mustard
1 cup spicy whole grain mustard
1/2 cup honey
Preheat oven to 400 degrees F.
Line 1 baking sheet with parchment paper and place 1 sheet of puff pastry on it.
Cut the sheet of pastry into 9 equal squares, each about 3 by 3-inches.
Brush each square with the egg and place 1 piece of sausage in the middle of each pastry square. Fold the corners of the pastry inward to come together in the middle. Pinch the corners together in the center. Cover with plastic wrap and chill until ready to bake.
When ready to bake remove the plastic wrap from the trays and brush the pastry with the remaining egg-wash. Bake until the pastry is golden brown, about 10 to 12 minutes.
Meanwhile in a small mixing bowl mix the mustards together with the honey until well combined. Serve the sausage bites hot from the oven with a bowl of Hot Sweet Mustard on the side.

Download this recipe.
Chili Dog Nachos
Rachael Ray
Servings: 8

1 tablespoon vegetable oil, 1 turn of the pan
1 pound ground sirloin
Salt and pepper
2 hog dogs, sliced into 1/2- inch pieces
1 small onion, chopped
2 teaspoons Worcestershire sauce
2 tablespoons chili powder
2 teaspoon ground cumin
1 (8-ounce) can tomato sauce
1 sack yellow corn tortilla chips
1 sack, 10 ounces, shredded yellow Cheddar
Sour cream, garnish
Salsa, garnish
2 scallions, chopped
Heat a medium skillet over high heat. Add oil then beef, and begin to brown and crumble with a wooden spoon, about 2 minutes. Season with salt and pepper, then add chopped hot dogs and continue browning, another 3 minutes. Add onions and seasonings, Worcestershire, chili powder, and cumin. Cook another 3 to 5 minutes. Add tomato sauce and simmer 5 minutes more.
Preheat broiler. Arrange corn chips on a platter or in a casserole dish. Top the chips with the cooked chili dog topping. Cover the chili dog sauce with cheese. Melt cheese under hot broiler, 2 minutes, until melted and bubbly. Garnish with sour cream, salsa and chopped scallions.

Download this recipe.
Hot Jalapeno Crab Dip
Emeril Lagasse
Serving: 8
1 pound lump crabmeat, picked over for shells and cartilage
1 teaspoon chopped garlic
1/2 cup chopped pickled jalapenos
1/4 pound Monterey Jack cheese with jalapenos, grated
1 teaspoon Worcestershire sauce
1 teaspoon hot sauce
1/2 teaspoon salt
1/2 cup mayonnaise
2 ounces Parmigiano-Reggiano cheese, grated
1 recipe Toasted Croutons, recipe follows
Preheat the oven to 350 degrees F. Combine the crabmeat, garlic, jalapenos, Monterey Jack, Worcestershire, hot sauce, salt, and mayonnaise in a medium-size mixing bowl. Toss gently to mix. Spoon the mixture into a medium-size mixing bowl. Sprinkle the Parmesan cheese evenly on the top of the crabmeat mixture. Bake until golden brown and bubbly, about 25 minutes. Remove from the oven and let sit for about 5 minutes before serving with the croutons.
Toasted Croutons:
1 loaf French bread (about 8 inches in diameter and 15 inches long), ends trimmed and cut crosswise into 1/4-inch thick slices
5 tablespoons olive oil
1/4 teaspoon salt
1/4 teaspoon freshly ground black pepper
Preheat oven to 400 degrees F. Line a baking sheet with parchment paper. Arrange the bread slices on the baking sheet and brush them with half of the olive oil, then sprinkle them with 1/8 teaspoon of the salt and 1/8 teaspoon of the black pepper. Turn the slices over, and brush them with the remaining oil, and sprinkle with the remaining salt and pepper.
Bake for about 6 minutes, then turn the baking sheet around in the oven to ensure even browning. Bake until the croutons are lightly browned, about 6 more minutes. Remove from the oven and let cool completely before serving.
Yield: about 32 croutons

Download this recipe.
Homemade Potato Chips

Paula Deen
Servings: 5-6
Peanut oil, for frying
2 potatoes, thinly sliced
Salt
In a large heavy saucepan, fill oil no more than halfway and heat the oil to 350 degrees F.
Add the potato slices in batches. Fry until light golden brown, about 2 to 3 minutes. Drain on paper towels, season with salt, and serve.

Download this recipe.