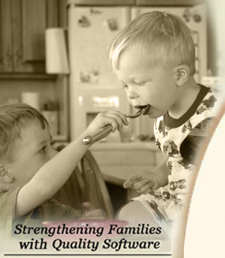 Cook'n Club Home
Subscribe Now!

Cook'n Forum
HomeCook'n Archive
Give-Aways

I have spent the last 2 hours reading your newsletter and wonderful recipes. I have already printed a whole bunch I want to try. I love them because they are using ingredients one has on hand. I love that and just wanted you to know how much we appreciate all your hard work in putting together this newsletter. Thank you very much.

Anna

Volume I - March 24, 2007
SMART Ideas! Using Your Freezer...
by Alice Osborne


"Chopped Onion Make-Aheads"
Some recipes call for half an onion. We sometimes lose the other half because it was forgotten in the refrigerator and dries out. Chop and freeze the other half right away, and it's saved and ready for the next recipe. Smart, huh?
"Storing Fresh Ginger"
To store fresh ginger in freezer: peel and grate fresh ginger in food processor and put in ice cube trays and later store the cubes in freezer. Fresh ginger every time out of your freezer! Smart, huh?
"Healthy and Handy Baby Food"
Homemade baby food for infants or toddlers: After making a Big pot of home made soup.. blend it in a food processor and freeze in ice cube trays. They make the perfect serving size for babies and you can use as many as you need without defrosting it all. After they are frozen you can place them in a container and start all over again till your container is full! There you have your veggies and protein all in one and ready to go. Really smart, huh?
"Healthy Homemade TV Dinners"
Make your own homemade TV dinners for the freezer using leftovers from dinner—the 3-section reusable plastic containers work well. A protein, vegetable & starch complete a healthy meal. If all 3 sections aren't full, wait for leftovers from another meal to complete the frozen dinner container. To create a delicious "new" dinner, pop frozen sections out onto a dinner plate and reheat in the microwave. NEVER reheat in plastic containers (polycarbons found in the plastic leach into foods; scientists think they are a direct link to various types of cancers). Smart, huh?
Learn more time-saving freezer meal tips with
Cook'n Freezer Meals
!
(If YOU have a smart idea, won't you share it? Life is so much easier and we accomplish so much more when we pool our resources. And after all, we're all in this together. So email
patty@dvo.com
or
alice@dvo.com
with YOUR Smart Ideas!)
---
Contribute to the Cook'n Club!
DVO would love to publish your article, prose, photography and art as well as your cooking, kitchen and nutrition tips, tricks and secrets. Visit the Newsletter Submission / Win Win for All section in our Forum for more information and details.
---
---