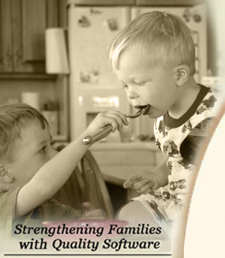 Cook'n Club Home
Subscribe Now!

Cook'n Forum
HomeCook'n Archive
Give-Aways

I have spent the last 2 hours reading your newsletter and wonderful recipes. I have already printed a whole bunch I want to try. I love them because they are using ingredients one has on hand. I love that and just wanted you to know how much we appreciate all your hard work in putting together this newsletter. Thank you very much.

Anna

Volume I - March 24, 2007
Help! It's 3 O'Clock in the Afternoon and I'm Tired!
by Patty Liston


Tell us we aren't the only ones to get the "blah's" in the middle of the afternoon. In the "good old days", we may have reached for a caffeine laden drink, or the latest rich and creamy chocolate bar to sustain us through the remaining hours of the day. Alas, with the advent of more creative and healthy eating, those days are gone—even if the "slump" remains.

Here are some alternatives recommended by the Nutrition Center that we have discovered help us perk up when we are pooped out!

WATER Sometimes what feels like fatigue is just dehydration (often made worse by too much coffee). Drink 8 ounces of water, take a quick walk around the block or the parking lot (fresh air is an energy booster, too), then down another 8 ounces of water when you get back.

WATERMELON Like cookies and candy, this is high in sugar, which metabolizes quickly. However, watermelon's way is healthier: instead of guilt, you get fiber, a hit of vitamins A and C, plus all that fresh, juicy flavor for almost no calories (fewer than 50 a cup). To make your new zip last longer, eat it with some protein and a little fat-as in low-fat cottage cheese or a fistful of sunflower seeds.

BRAZIL NUTS These nuts are off the charts in mood-lifting selenium and strong in fatigue-fighting magnesium, too. Just 6 give you 4 grams of protein and healthy plant fats, a combo that will keep you going far longer than you would think!

A MEXICAN BAKED POTATO Spuds are high on the glycemic index-that is, they give blood sugar a quick boost-which is bad for diabetics but good in moderate doses for other people in need of an energy surge. Heap on some salsa and top with a dollop of low-fat sour cream to enhance the effect.

A FEW DRIED DATES They are traditionally used in the Sahara to provide quick energy to camels. Like potatoes, they are high glycemic snack, but rich in minerals too, especially potassium. Split the dates and fill with a little low-fat cream cheese to slow the sugar absorption.

PB&J ON WHOLE WHEAT The all-American sandwich is also an all-around pick-me-up, thanks to its amazingly complex mix of carbs, good fats, protein, and whole grain fiber. Just make it a one-slice fold over to cut the calories down to about 200.






---
Contribute to the Cook'n Club!
DVO would love to publish your article, prose, photography and art as well as your cooking, kitchen and nutrition tips, tricks and secrets. Visit the Newsletter Submission / Win Win for All section in our Forum for more information and details.
---
---