We're Lucky To Have Lucky Charms for St. Patrick's Day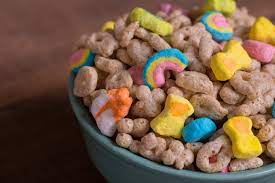 St. Patrick's Day is coming up, and I always like to pull together a few festive dishes to celebrate! While some serve a dinner of corned beef and cabbage, my kids would take one look and say "bleh!"
While most nights I just make them eat whatever I make, for holidays I usually serve something a little more kid-friendly. St. Patrick's Day dinner might be "green spaghetti" (spinach and parmesan) or a salad bar (lots of green lettuce!)
I also like to throw in one or two fun treats, and one of the quickest and easiest ways to have a festive treat for St. Patrick's Day is to utilize the king of leprechaun cereals- Lucky Charms!
Sure, a bowl of Lucky Charms could count as a treat, but you can have so much more fun with them!
Make your favorite Rice Krispie treat recipe and substitute the rice krispies for Lucky Charms!
Sprinkle on top of pudding- especially a green pistachio pudding! You could even layer it to make it more like a trifle.
Buy or make some green Jello, dab on some whipped cream and top with a healthy sprinkling of cereal.
Top your favorite ice cream with this leprechaun tastiness!
If you're still dealing with cold weather, top your hot chocolate with Lucky's marshmallows instead!
Blend a shake with pistachio ice cream and a little bit of milk, or even just use vanilla ice cream and throw in a couple cups of Lucky Charms! When you're serving the milkshakes, make sure you top them with some extra cereal!
Toss it in with a batch of muddy buddies for the easiest (and tastiest) treat ever!
Make your own snack mix, with a healthy helping of Lucky Charms. Some add-in ideas could be yogurt covered raisins, dried cranberries or blueberries, pretzels, peanuts, etc.
Tweak your favorite chocolate chip cookie recipe. Crush some cereal into a fine powder (without the marshmallows) and substitute for some of the flour. Add in marshmallows and white chocolate chips instead of regular chocolate chips for some very lucky cookies!
Decorate your favorite cake recipe or cupcake recipe with fun patterns created with the cereal and marshmallows! (Or just marshmallows if you buy one of those giant special bags on Amazon that just have the marshmallows!)
Make your own homemade festive bark- melt white chocolate, spread it out in a pan and sprinkle generously with Lucky Charms!
If you want a couple more ideas, I've included a few recipes for you to enjoy!
These Oreo truffles are super easy to make, and look so delightful!
Lucky Charms Oreo Truffles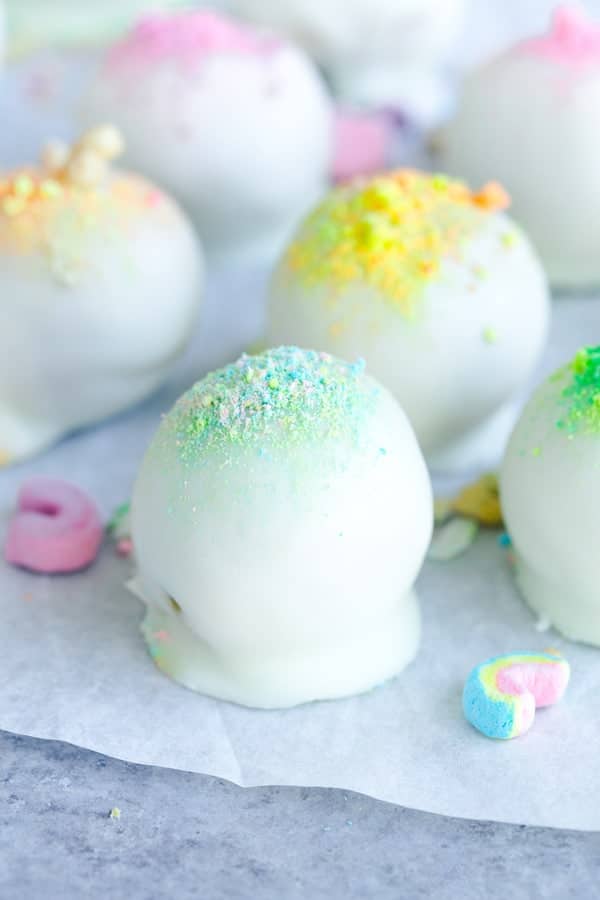 Prep time:
Yield:
["25","25 truffles"]
Serving size:
25
Calories per serving:

32




Ingredients:
1
package
(about 15 ounces) Golden
Oreos
1
cup
Lucky Charms
, the more marshmallows the better!
8
ounces
cream cheese
at room temperature
1
package
vanilla
additional Lucky Charms
marshmallows
for crushing and topping
Directions:
Place Golden Oreos in a large food processor and pulse until it resembles fine crumbs.
Add Lucky Charms and pulse until chopped coarsely.
Transfer Oreo/Lucky Charms crumbs to a bowl and add cream cheese.
With a spatula or electric mixer, combine the cream cheese and crumbs until one uniform dough is formed. I like to use my hands for this, too.
Form into 1-2 tablespoon sized truffles. The size of the truffles depends on your preference!
Place truffles onto a parchment paper lined baking sheet and refrigerate for at least 30 minutes – or up to a couple of hours. This will help when dipping them. You can also speed up the process by placing them in the freezer for 15 minutes.
Once chilled, melt almond bark according to package directions.
Dip each truffle into melted almond bark and return to baking sheet. Immediately crush one Lucky Charms marshmallow between your fingers on top of the truffle. The almond bark dries quickly – so be sure to do it immediately after you dip it!
Serve and enjoy!
Store truffles in the refrigerator.
Source:
sgreensnchocolate.com

Recipe formatted with the Cook'n Recipe Software from DVO Enterprises.
Add Recipe to Cook'n
These had me at "cookie dough". An automatic yes from me!
Lucky Charms Cookie Dough Bars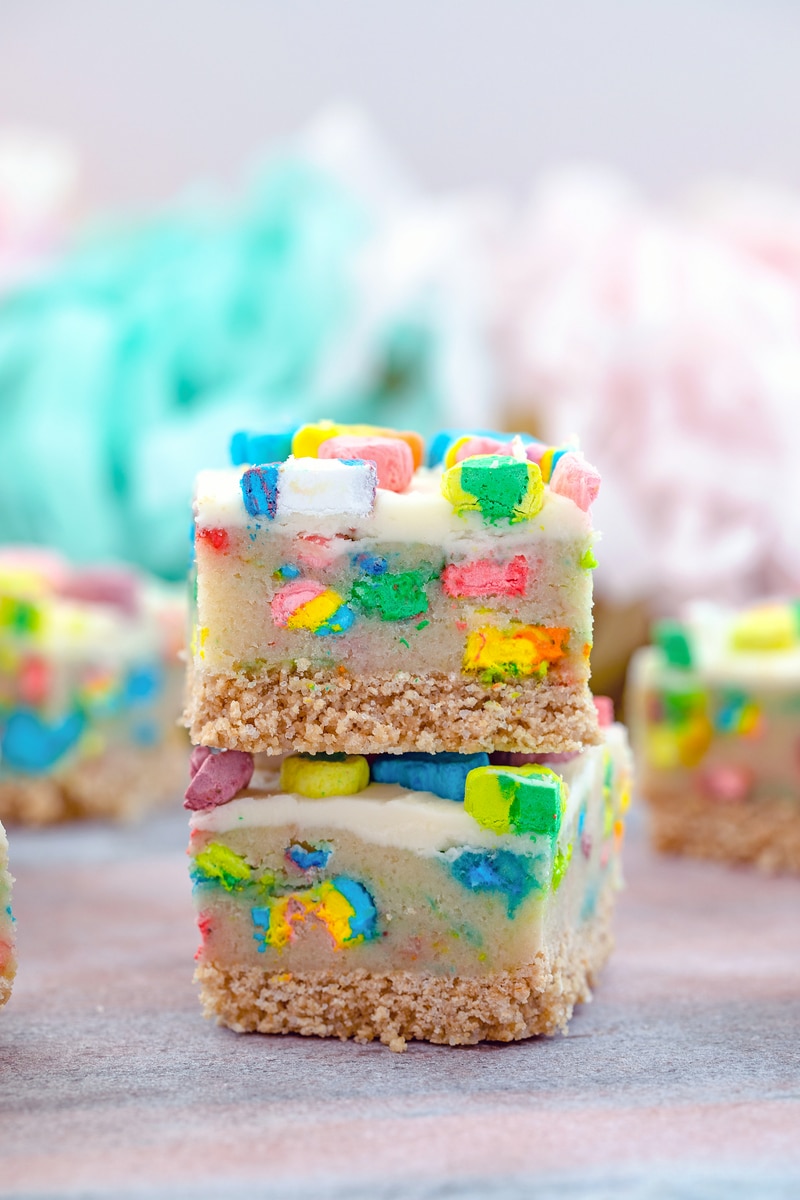 These Lucky Charms Cookie Dough Bars are a magically delicious dessert consisting of three layers: a sweet and buttery cereal crust, a marshmallow packed cookie dough middle, and a simple buttercream frosting top.
Prep time:
Serving size:
16
Calories per serving:

345




Ingredients:
3
cups
toasted
oats
from Lucky Charms (no marshmallows)
1/4
cup
granulated sugar
1/2
cup
(1 stick) unsalted
butter
, melted
3/4
cup
( 1 1/2 sticks) unsalted
butter
, room temperature
1
cup
granulated sugar
2
tablespoons
vanilla extract
1/4
teaspoon
salt
1 1/2
cups
Lucky Charms
marshmallows
2
cups
all-purpose
flour
(see note about baking)
5
tablespoons
whole
milk
4
tablespoons
unsalted
butter
, room temperature
1
cup
confectioners' sugar
2
teaspoons
vanilla
vanilla extract
1/8
teaspoon
salt
1/2 3/4
cups
1/2-3/4 Lucky Charms
marshmallows
Directions:
Cereal Crust
Put toasted oats cereal and sugar in a food processor and blend until it turns into fine crumbs. Pour in melted butter and pulse a few times until well blended.
Line an 8x8 baking pan with foil and lightly coat with cooking spray. Pour cereal crumbs into baking pan and press down into even layer on bottom of pan.
Place pan in freezer for 30 minutes while you prepare the cookie dough.
Lucky Charms Cookie Dough and Assembly
In the bowl of a mixer or in a large bowl with a hand mixer, cream butter and sugar on medium speed until light and fluffy, 3-4 minutes.
Add vanilla and salt and blend until combined. Stir in Lucky Charms marshmallows.
With mixer on low, slowly add flour to bowl until well combined. Keep mixer on low and add milk in until dough comes together.
Remove pan with cereal crust from freezer and press cookie dough into an even layer over crust.
Spread buttercream frosting over the top of the cookie dough and smooth evenly with a spatula. Press additional marshmallows onto the top of the frosting.
Place pan in fridge chill for at least 45 minutes. Once chilled, remove bars from pan by lifting foil. Using a sharp knife, slice into squares. You can cut large squares and get about 16 or small squares and get about 36.
Buttercream Frosting
In the bowl of an electric mixer or in a large bowl with a hand mixer or whisk, beat together butter and confectioners's sugar.
Mix in vanilla extract and salt. You can add food coloring if you want to make the frosting a fun color, but I kept mine white.
Notes
To ensure flour is safe for eating (raw flour can cause foodborne illness), you can toast it. Just spread flour on a baking sheet and bake at 350 degrees for about 5 minutes.
I recommend keeping these bars in the fridge in an airtight container.
Source:
swearenotmartha.com

Recipe formatted with the Cook'n Recipe Software from DVO Enterprises.
Add Recipe to Cook'n
This cheesecake looks delicious, and simple to make! It's no-bake, so a lot harder to mess up!
Lucky Charms Cheesecake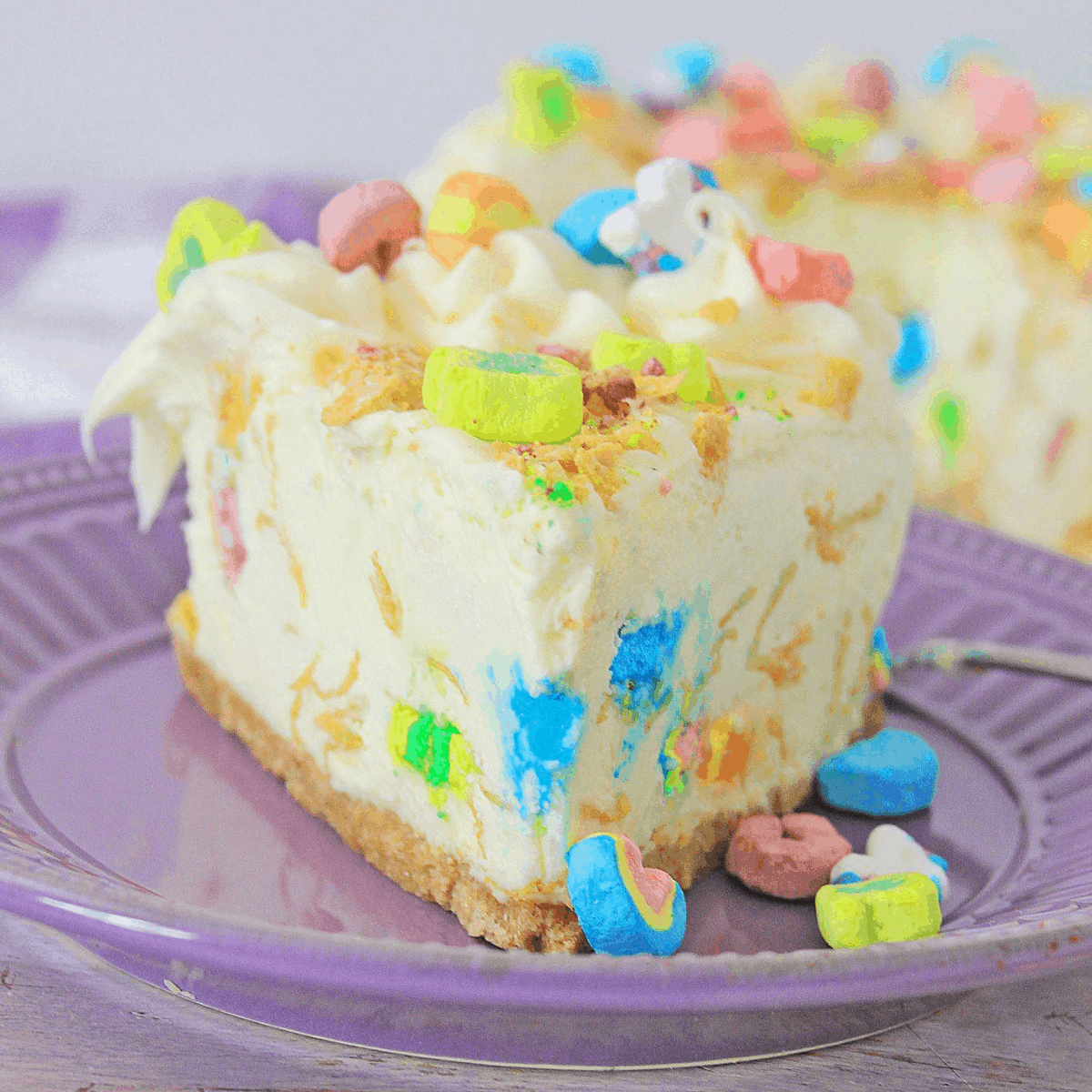 Prep time:
Yield:
["8","8 Slices"]
Serving size:
8
Calories per serving:

790




Ingredients:
11
graham crackers
, one entire sleeve
1/3
stick
butter
melted
2
tablespoons
granulated sugar
32
ounces
cream cheese
softened, equivalent to four blocks
1/2
cup
heavy cream
1
cup
granulated sugar
1/2
cup
powdered sugar
4
ounces
instant vanilla pudding
1
teaspoon
vanilla extract
1
tablespoon
lemon juice
1
box
Frosted Flakes with Lucky Charms
marshmallows
1
can
Vanilla frosting
Directions:
Crust Directions
Place the graham crackers in a blender or food processor, and pulse until they're crumbs.
Pour crumbs in a bowl, add sugar, and melted butter ,and stir well to coat crumbs
Line a 7 inch Spring-form pan with parchment paper, and place the graham cracker crumbs in the pan.
Press the crumbs evenly into the pan, smoothing the crust with the back of a spoon, and making sure the crust is even in the pan.
Place the pan in the freezer.
Cheesecake Directions
In the mixing bowl of a stand mixer, place the softened cream cheese, and add the heavy cream, and Instant Jello pudding.
Blend on low until all ingredients are mixed.
Add the sugar, powdered sugar, Vanilla extract, and the lemon juice, and mix until blended.
Turn mixer on high, and blend until cheesecake batter is smooth and creamy.
Stop mixer, and scrape down the sides, and blend again.
Pour the Lucky Charms frosted flakes cereal into a large bowl. Pick out the colored marshmallows, about 20 or 30, and a few flakes.
Place them in the cheesecake batter, and gently fold into the cheesecake with a spoon.
Place unused cereal, back in the package, and in box.
Place the Vanilla frosting in the refrigerator, and leave it to chill until time to decorate the cheesecake.
Remove the pan from the freezer, and pour the cheesecake into the pan, on top of the crust.
Smooth the cheesecake batter out evenly in the pan.
Place the pan back in the freezer, and allow it to sit in the freezer for at least 2 hours, or overnight for best results.
When you're ready to serve the cheesecake; remove the cheesecake from the freezer.
Remove the Spring-form from the pan.
Place the vanilla frosting in a piping bag with a large star tip.
Pipe large dollops of frosting all around the edge of the cheesecake.
Sprinkle the Lucky charms marshmallows and frosted flakes, generously all over the top of the cheesecake and dollops of frosting, making sure to place the colorful marshmallows on the frosting for a pretty presentation.
Cut into 2, or 3 inch wide pieces, serve, and Enjoy!
Source:
smamasonabudget.com

Recipe formatted with the Cook'n Recipe Software from DVO Enterprises.
Add Recipe to Cook'n
And last, but not least, this colorful fudge! I love how colorful this is!
Lucky Charms White Fudge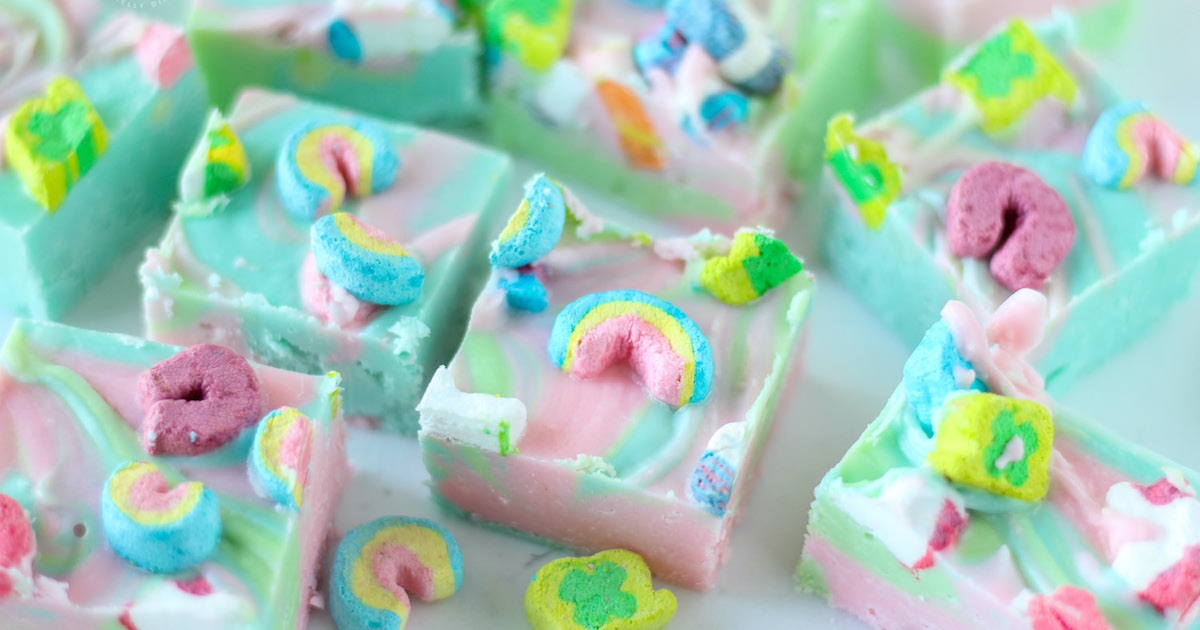 A swirly twirly white chocolate rainbow treat!
Serving size:
1
Calories per serving:

1,280




Ingredients:
1
cup
white chocolate chips
1
tub, vanilla
ready-to-spread frosting
8
ounces
almond bark, vanilla
1/2
cup
marshmallows
from Lucky Charms cereal
Directions:
Directions
Line the baking dish with parchment paper Melting the chocolate chips and CandiQuik in 30 second intervals, stirring between, until smooth Add the entire tub of vanilla frosting to the melted white chocolate Microwave again for 30 more seconds Mix to ensure the melting chocolate is combined with the melted frosting Once everything is melted and smooth, separate it evenly into 3 bowls Quickly stir in food coloring until the desired shades are achieved. Work quickly as it hardens rather quickly. It can be reheated in the microwave if needed! Add the colored melted fudge into your parchment lined baking dish in various ways. Add 1/2 of your marshmallows on top Use a knife or the handle of a spoon to swirl the colors together When you're happy with your swirling design, add the second half of the marshmallows on top Place the dish in the refrigerator for an hour Remove the fudge from the refrigerator Pull the fudge out of the baking dish The parchment paper will easily peel off the sides of the fudge Cut it into squares using a sharp knife Cover and store leftover fudge in the refrigerator
Source:
ssmartschoolhouse.com

Recipe formatted with the Cook'n Recipe Software from DVO Enterprises.
Add Recipe to Cook'n
Whatever you choose to make, have a very "lucky" St. Patrick's Day!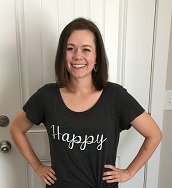 Camille Hoffmann
Monthly Newsletter Contributor since 2014
Email the author! camille@dvo.com
Sources:
https://fox8.com/news/fda-opens-investigation-into-over-100-lucky-charms-illness-reports/
https://blog.chickabug.com/lucky-charms-recipes-st-patricks-day/
https://greensnchocolate.com/lucky-charms-oreo-truffles/
https://www.smartschoolhouse.com/easy-recipe/lucky-charms-fudge
https://wearenotmartha.com/lucky-charms-cookie-dough-bars-no-bake/
https://mamasonabudget.com/lucky-charms-cheesecake/#recipe
---
Subscribe to Cook'n Premium and get newsletter articles like this each week!