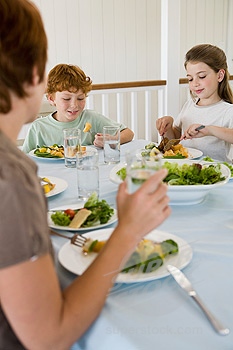 In this ever-increasingly busy world dinner has become a task rather than an enjoyable event for so many families. If that is the case around your dinner table then today is the day to take dinner back!
Cooking simple meals does not mean that you have to leave out flavor or good ingredients. You can create wonderful family favorites with just a few things on hand and very little time. I can't give you more hours in the day, or less to do in the 24 you have, but I hope that these recipes can help you enjoy meal time a little more – simply and deliciously!
Chicken and Rice Crock Pot Meal
2 cans of chicken broth
Water
1 can of cream of chicken
1 package Uncle Ben's chicken flavored rice or wild rice mix
1lb cooked, diced chicken breast
Your choice of veggies
Put the two cans of broth in the crock pot with equal parts water.
Add the cream of chicken and the seasoning mix from the mix and stir well.
Add the chicken and veggies. Make sure the veggies are cut up in pretty equal pieces to ensure even cooking.
Cook on low for 6-8 hours.
The rice is up to your preference. If you want a firmer rice, add it in about an hour before you are going to serve the meal. If you want don't care, add it immediately. It gets mushy that way, but not in a bad way.
Serves 4-6.
Beef Mushroom Noodles
1 pkg egg noodles (cook according to pkg)
1 large can cream of mushroom soup
1 pound hamburger, cooked and drained
1 envelope Lipton Onion Soup Mix.(optional)
Combine the drained hamburger meat, mush. soup, and lipton mix. Bring to boil. Pour over cooked egg noodles. Mix well.
Serves 4.
Sticky Sweet and Sour Chicken
6 Boneless chicken breasts
1 pkg Lipton Onion Soup Mix
1 8 oz. Bottle of Wishbone Russian Salad dressing
1 1/2 cups Apricot preserves
Place in crockpot on low 6-8 hours or until chicken is done. Can also be cooked in oven at 350 for 1 hour if preferred. Serve with rice and steamed vegetables.
Serves 6.
Easy Chicken Enchiladas
1 (8 ounce) package cream cheese
1 cup salsa
2 cups chopped cooked chicken breast meat
1 (15.5 ounce) can pinto beans, drained
6 (6 inch) flour tortillas
2 cups shredded Colby-Jack cheese
Preheat the oven to 350 degrees F (175 degrees C). Lightly grease a 9x13 inch baking dish.
In a small saucepan over medium heat, combine the cream cheese and salsa. Cook, stirring until melted and well blended. Stir in chicken and pinto beans. Fill tortillas with the mixture, roll and place into the prepared baking dish. Spread cheese over the top.
Cover with aluminum foil.
Bake for 30 minutes, or until heated through. Garnish with your favorite toppings such as lettuce and tomatoes, or sour cream.
Serves 6.
Crock Pot Pork and Cabbage
4 cups shredded red cabbage
1 onion, chopped
1/2 cup brown sugar
1/2 cup apple cider vinegar
1/2 tsp. salt
1/4 tsp. pepper
3 pound boneless pork shoulder roast
Combine cabbage, onion, brown sugar, and vinegar in 4 to 4 quart slow cooker. Sprinkle roast with salt and pepper and brown in heavy skilllet, about 5-6 minutes total, turning until browned on all sides. Place pork in slow cooker; cover, and cook on Low for 7-8 hours until pork registers 160 degrees F.
Serves 6
Shrimp Kabobs and Salad
1 lb. uncooked medium shrimp (about 32) shelled and deveined
2 red or yellow bell peppers, cut into chunks
8 oz. pkg. button mushrooms, cleaned and trimmed
1/2 cup Italian salad dressing, divided
10 oz. pkg. mixed salad greens
On each of 8 metal kabobs, thread shrimp, pepper chunks, and whole mushrooms, allowing a bit of space in between each ingredient.
Measure out 1/4 cup Italian salad dressing and set aside for salad. Brush kabobs with remaining salad dressing and grill or broil 4-6" from heat for 4-6 minutes until shrimp are cooked, turning once and brushing once with salad dressing.
Toss salad with reserved salad dressing and serve with kabobs. Serve kabob on top of salad for a delicious contrast.
Serves 4.
Hawaiian Haystacks
1 can chunked chicken, drained
2 cans cream of chicken soup
White rice
Chow Mein noodles
Toppings of choice (suggestions: pineapple, mandarin oranges, green onions, celery, bell peppers, onions, tomatoes, cheese, olives – whatever you like!)
Over medium heat, combine canned chicken and soup until well blended. Scoop over rice, add chow mein noodles, and then heap on the toppings! Everybody gets their own custom meal with very little effort.
Breakfast burritos
Uncooked tortillas
6-8 eggs
½ pound sausage or bacon, cooked and chopped into small pieces
2 cups grated cheese
onion (optional)
salt and pepper to taste
The fresh cooked tortillas add so much to this meal so if you can get them at your local store I highly recommend it. Cook tortillas on griddle in order to cook two at a time. Scramble eggs and add cheese and cooked meat in at the end. Roll into fresh tortillas and enjoy with ketchup or salsa.
Serves 4.
Mustard-Crusted Salmon
1 ¼ pounds center-cut salmon fillets, cut into 4 portions
¼ teaspoon salt, or to taste
Freshly groud pepper to taste
¼ cup reduced-fat sour cream
2 tablespoons stone-ground mustard
2 teaspoons lemon juice
Lemon wedges
Preheat broiler. Line a broiler pan or baking sheet with foil, then coat it with cooking spray.
Place salmon pieces, skin-side down, on the prepared pan. Season with salt and pepper. Combine sour cream, mustard and lemon juice in a small bowl. Spread evenly over the salmon.
Broil the salmon 5 inches from the heat source until it is opaque in the center, 10 to 12 minutes. Serve with lemon wedges.
Serves 4.
---
* DVO welcomes your kitchen hints and cooking or nutrition questions! Email us and we'll post your hints and Q/A's in upcoming newsletters! *