Deliciously Easy Fruit Salads
For Any Taste
By Camille Rhoades
If you are anything like me you spend half the year longing for all of the wonderful fruits that will fill your trees, farmers market, and grocery store each spring and summer. It is no wonder that fruit salad has become a standard at any summer potluck.

Fruit salad can be as easy as a few of your favorites fruits all sliced up and tossed in a bowl or as intricate as about anything else, but today I would like to share some crowd pleasing favorites that can be made without a lot of fuss.

Pistachio Fruit Salad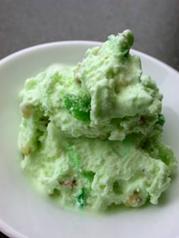 1 (20 ounce) can crushed unsweetened pineapple
1 (1 ounce) package instant sugar-free pistachio pudding mix
1 (15.25 ounce) can unsweetened fruit cocktail, drained
1 (11 ounce) can mandarin oranges in light syrup, drained
1 cup reduced-fat whipped topping

Drain pineapple, reserving juice. In a bowl, whisk together reserved juice and pudding mix for 2 minutes (mixture will be thick). Stir in the pineapple, fruit cocktail and mandarin oranges. Fold in whipped topping. Cover and refrigerate until serving. Serves 6.

Fruit Salad in Seconds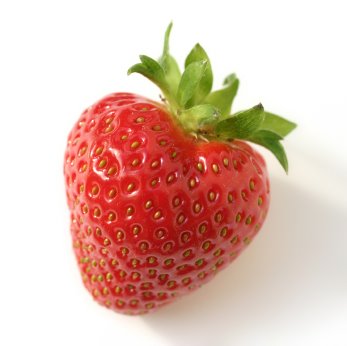 1 pint fresh strawberries, sliced
1 pound seedless green grapes, halved
3 bananas, peeled and sliced
1 (8 ounce) container strawberry yogurt

In a large bowl, toss together strawberries, grapes, bananas, and strawberry yogurt. Serve immediately.

*Try adding different fruits to suit the tastes of your family. Also try it with a cup or two of Cool Whip for a sweeter version! Serves 12.

Fudge Stripe Fruit Salad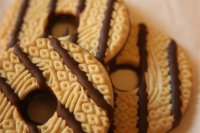 1 cup buttermilk
1 (8 ounce) container Cool Whip
1 small box instant vanilla pudding
1 pound strawberries, cut
2 bananas, sliced
1 bunch grapes
1 small can Mandarin oranges, drained
1 large can pineapple tidbits, drained
1 package fudge stripe cookies, broken up

Mix buttermilk and vanilla pudding together. Fold in Cool Whip. Add fruit. Mix in cookies , saving a few to sprinkle on the top before serving. Refrigerate until ready to serve.

Serves 6.

Tart and Tasty Fruit Salad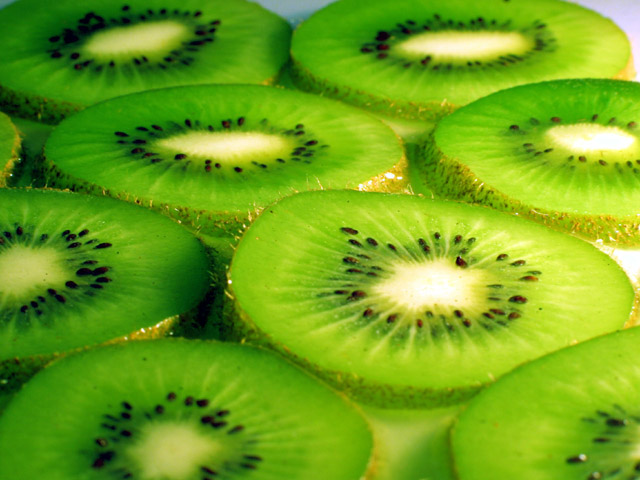 Cut up fruit in whatever combination and quantity you want. Recommended fruits in this salad are nectarines, peaches, strawberries, grapes, kiwi, apple, mangos, raspberries, and about anything else you like!

Cut them into small pieces and mix them in a bowl. Squeeze in juice of 1 lime (more if it is a very large batch) and add 2 or 3 teaspoons of sugar. Mix it all in and enjoy!

*This recipe is very simple and ready to be made your own!

Snickers Caramel Apple Salad
Ok, so "salad" might be a reach with this one, but you will love it!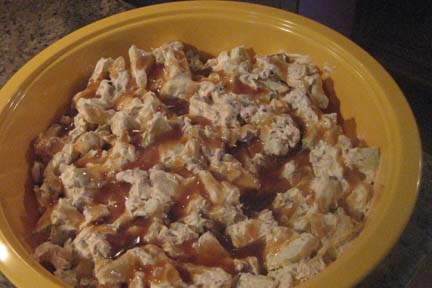 6 (2 1/4 ounce) Snickers candy bars, chill and chop
6 apples, cored and chopped into bite sized pieces (Granny Smith and/or Red Delicious)
1 (12 ounce) container Cool Whip
1 (5 ounce) box instant vanilla pudding or butterscotch pudding mix (dry mix – do not prepare!)
Garnish for extra flair
1/2 cup caramel ice cream topping or caramel apple dip (optional)
1/2 cup chopped peanuts, can also sprinkled on top (optional)

1. Mix cool whip and dry pudding mix together.
2. Chop apples and chilled Snickers.
3. Mix together.
4. Heat caramel sauce a bit in the microwave- just enough to drizzle, not enough to heat up salad.
5. Drizzle caramel sauce over salad and sprinkle peanuts on top.
6. Chill for at least an hour-- Voila!

Serves 12.

Sunday Best Fruit Salad

1 (20 ounce) can pineapple chunks, juice reserved
2 apples, peeled and cored
1 (21 ounce) can peach pie filling
2 bananas, peeled and diced
3 kiwis
1 pint strawberries

1. In a small bowl, toss the chopped apples in reserved pineapple juice. Allow to sit for 5 to 10 minutes.
2. In a large salad bowl, combine the peach pie filling and pineapple chunks.
3. Remove apples from pineapple juice and add to pie filling and pineapple mixture. Add chopped bananas to reserved pineapple juice and let sit for 5 to 10 minutes.
4. Peel and slice kiwi and 1/2 of strawberries. Chop the other 1/2 of strawberries and set aside.
5. Remove bananas from pineapple juice and add to pie filling mixture. Add chopped strawberries; toss together.
6. Arrange kiwi slices around the edge of the serving bowl and alternate with strawberry slices. Chill and serve.

Serves 8.

Simple Waldorf Salad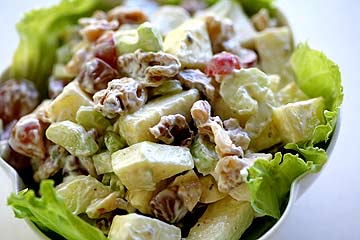 1 (20 ounce) can crushed pineapple
1 cup sugar
2 eggs, beaten
Dash salt
1 cup chopped celery
2 medium red apples, chopped
1 cup chopped pecans
1 cup heavy cream, whipped
Lettuce Leaves

Drain pineapple, reserving the juice. Set pineapple aside. In a saucepan, combine juice with sugar, eggs and salt. Cook, stirring constantly, over medium-low heat until slightly thickened. Remove from the heat; cool. Stir in pineapple, celery, apples and pecans. Fold in whipped cream. Pour into a 9-in. square pan. Cover and freeze until firm. Let stand at room temperature for about 15 minutes before cutting. Serve on lettuce-lined plates if desired.

Serves 12.





---
Join the Cook'n Club!An unbeatable value with exclusive benefits for members only.
Enjoy articles like this and many other benefits when you join the Cook'n Club.