The Best of the Best from the



Mountain West Cookbook
By Gwen McKee, Barbara Moseley

---

List Price: $17.21

Your Price:

$13.56

You Save: 20%

---

NOTE: You must have Cook'n installed to use this download!

---

343 of the most exceptional recipes available from Colorado, Utah, and Nevada, ranging from appetizers to desserts.
Recipes that are easy to follow and produce outstanding results the whole family will love.
Photographs and illustrations showcasing the beauty of the Mountain West region, popular tourist attractions, historical sites, and more.
Fascinating history and trivia about the region scattered throughout.
New Cook'n Theme included.
Save time and money by using Cook'n
The Best of the Best from the
Mountain West Cookbook
Drink in its breathtaking beauty . . . bring home its spectacular taste.
Since 1982, Gwen McKee and Barbara Moseley have been searching for and bringing you the best recipes. In this eleventh volume of their Best of the Best Regional Cookbook Series, you'll find interesting recipes that entice you to try them: Crested Butte Chili Cheese Supreme, Garlic and Chili-Rubbed Buffalo Steaks, Wagon Wheel Cookies, Dutch Oven Pot Roast, West Coast Wranglers Camp Out Quickie, etc., etc., etc. Whether it's for a camp out, a condo, or your cousins, these recipes are all bursting with adventuresome flavor that's sure to please.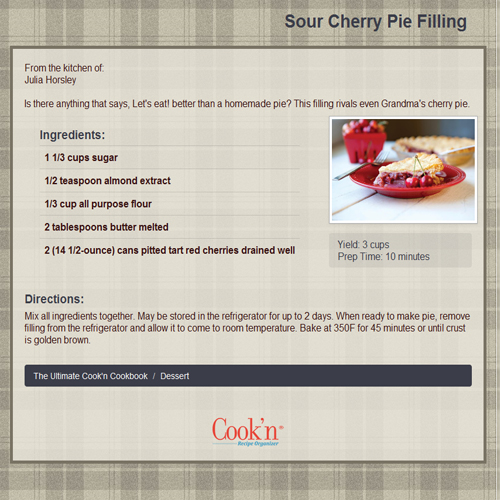 New Plaid theme included. (Recipe pictured not included in this cookbook)
Recipes Included:
A
A Cowboy s "Real Chili Got No Beans in It, Ma am" Chili
A One-Pot Breakfast
All American Buffalo Chicken Wings
All American Marmalade Glazed Ham
All-In-One Cinnamon Rolls
Almond Shortbread
Amaretto Bread Pudding
American Indian-Style Chipotle Cornbread
Angel Feathers
Angel Food Cake
Apple Crisp
Aunt Phoebe s Goulash
Avocado, Grapefruit, and Arugula Salad
Award-Winning Hot Fudge Cake
Awesome Amaretto Cheesecake Loaf
B
BBQ Salmon with Potatoes and Peppers
Bacardi Rum Cake
Back at the Ranch Spicy Cheese Biscuits
Backpack Muesli
Baked Brie with Caramelized Apple Topping
Baked Chili
Baked Chukar
Baked Tortellini Soup
Balloon Buns
Barbecued Beef Ribs
Basil Shrimp Fettuccine
Basque Apple Cake
Basque Stew
Basque Vegetable Soup
Beef Stew with Potato Dumplings
Best in the West Beans
Best-Ever Thumb Print Cookies
Black Forest Cheesecake
Blackberry and Apple Pie
Blueberry Whiskey Sabayon
Boulder Black Bean Soup
Braided Cream Cheese Bread
Braised Beef Short Ribs
Breakfast Potato Boats
Breakfast Sausage Bread
Broccoli with Dill Cheese Sauce
Broccoli-Cauliflower-Cheese Soup
Broiled Herbed Scallops
Brown Rice Casserole
Brunch Casserole
Bunkhouse Pork Chops in Ranch Sauce
Butterfinger Balls
C
Caesar Salad
Calico Corn Salad
Caramel Dumplings
Cattlemen s Club Twice-Baked Potatoes
Cheese-Topped Orange Roughy
Cheese-Topped Zucchini
Cherry Chocolate Surprise Cake
Chicken Alfredo
Chicken Pastry Pillows
Chicken Piccata
Chicken Rellenos
Chicken Salad Cassidy
Chicken in a Nest
Chicken with Chocolate
Chile Relleno Eggs with Stewed-Tomato Sauce
Chili
Chinese Chicken Corn Soup
Chocolate Chunk/ White Chocolate Chip Cookies
Chocolate Divine Dessert
Chocolate Nog
Chocolate Pound Cake
Chocolate Scotcheroos
Chocolate-Covered Cherry Cookies
Christmas Nut Crunch
Chuckwagon Soup
Cinnamon Breakfast Squares
Cinnamon Surprise
Cocktail Meatballs with Madeira Sauce
Coconut Banana Cream Pie
Coconut Chews
Cold Grand Marnier Souffle
College Lasagna
Colorado Chicken Casserole
Colorado Coffee Cake
Company Casserole Quiche
Conestoga Chicken
Cornbread Spanish-Style
Corned Beef
Cowboy Caviar
Cowboy Cheese Bread
Cowboy Cider
Cowboy Stew
Crab Cobbler
Crab Rangoon
Crab-Stuffed Mushrooms
Craisin Salad
Cranberry Glazed Roast Turkey
Crazy Chocolate Caramel Cookies
Cream of Corn Soup
Creamy Almond Puff Bars
Creamy Baked Halibut Steaks
Creamy Spinach Dip
Crested Butte Chili Cheese Supreme
Crunchy Potatoes
Crustless Crab Quiche
Crusty Shrimp and Crab Salad Sandwiches
D
Dancing Palomino Spice Cake
Danish Apple Bars
Dante Blue s Alfredo Blue
Darned Good Skillet Supper
Date Bars
Deep-Dish Beef Pie
Deon s Chicken Pies
Deviled Crab
Dill Bread
Dixie s Buttermilk Pie
Dove Creek "Pinto Bean Capital of the World" Beans
Dried Cherry Buttermilk Scones
Drop Scones
Durango Meatballs
Dutch Oven Pot Roast with Sour Cream and Mushroom Gravy
E
Easy Onion Rolls
Elk Enchiladas
Elk Piccata
English Toffee Cookies
F
Fabulous French Toast
Famous Kelly Pumpkin Pie
Fettuccine with Bay Scallops and Shrimp
Forgotten Kisses
French Country Style Chicken
Fried Apples
Frittatas
Frozen Cranberry Salad
Fudgy Brownies
G
Gabby's No-Peek Prime Ribber
Garlic and Chili-Rubbed Buffalo Steaks
Gayle s Chicken Tortilla Soup
Genoa Candy Dance Fudge
German Cabbage Burgers
German Chocolate Cheesecake
German Potato Salad
Glen Canyon Dip
Gluhwein
Gourmet Grits Casserole
Gourmet Tenderloin with Wine Sauce
Great Salt Lake Taffy
Green Chicken Enchiladas
Green Chili and Bean Soup
Grilled Chicken with Herbs
Grilled Stuffed Onions
Grilled T-Bone
Grilled Teriyaki Fish
Grilled Trout Fillets with Tomato Butter
Gym Rat s Oven Baked Chicken Strips
H
Halibut Supreme
Ham Quiche Biscuit Cups
Ham Spread
Hearty Basque-Style Casserole
Hearty Potato-Ham Chowder
Herbed Vinaigrette Dressing
Here s to the USA Crostini
Homemade Chicken Noodle Soup over Mashed Potatoes
Hoppin John Squares
Hot & Spicy Ribbon Chips
Hot Apricot Buttered Rum
Hot Artichoke Dip
Hot Crab Open Faces
Hot Mushroom Turnovers
Hot and Spicy Onion Rings
I
Independence Day Barbecue Spareribs
India Slaw Salad
Indian Paintbrush Fruit Salad
Irish Coffee
Italian Hero Loaf
Italian Zucchini Crescent Pie
J
Jealous Bourbon BBQ Sauce
Johnny Cakes
Jumbo Double Chocolate Chip Cookies
K
Khemosabi Quiche
L
Lamb Stew with Garlic and Pinot Noir
Lemon Bars
Lemon Garlic Shrimp
Let Freedom Ring Buttermilk Drop Biscuits
Let Them Eat Cake
Light and Healthy Bean Soup
Lime Slush
Lion House Pie Dough
Long s Peak Baked Beans
Low Fat Stir-Fried Veggies
Luscious Lemon Cake
M
Magic Cookie Bars
Mahi Mahi with Low-Fat Cucumber Sauce
Make Ahead Macaroni Frankfurter Bake
Mango Salsa
Marbleized Brownies
Marco Polos
Margarita Pie
Marinated Grilled Flank Steak
Meatloaf in an Onion
Mediterranean Grilled Veggies
Melt-Aways
Mexicali Rice
Mexican Chicken Chile Pepper-Tortilla Soup
Mexican Quiche
Milk Chocolate Cheesecake
Million Dollar Spaghetti
Miners Turkey Burgers with Black Bean Salsa
Miniature Crab Cakes
Miniature Reubens
Miracle Caramel Corn
Mixed Berry Crisp
Molly Brown
Munsterrela Chicken Breast
Mushroom and Barley Soup
N
Nevada Heat Chili Fries
Nevada Ranch Woman s Charcoal Broiled Blue Cheese Steaks
Nevada Rancher's Cactus Salsa
No Crust Pecan Pie
No Knead Hot Rolls
Nutmeg Spinach Souffle
O
Onion Cracker Bread
Onion Soup Basquaise
Orange Carrot Cake
Oriental Carrots
Our Grandma Adelaide s Old-Fashioned Plum Pudding
Oven Fried Fish
P
Pack Creek Campground Shoo Fly Pie
Parmesan Fries
Pasta Salad with Roasted Asparagus
Peach Dessert Cake
Peaches with Sour Cream and Strawberries
Peanut Butter Pie
Pecan Pie Surprise Bars
Penne Pasta with Gabby's Fresh Mushroom-Meat Sauce
Peperonata
Pepper Steak
Perfectly Roasted Chicken
Pickaroon Potatoes
Pike s Peak Spiked Apple Crisp
Pioneer Carrot Cake
Pioneer Molasses Cookies (Gingersnaps)
Pizza Fondue
Poached Breast of Chicken with Citrus-Garlic Sauce
Popovers
Pork Chops and Potatoes Bake
Pork Tenderloin a la Creme
Porky Pineapple Spareribs
Porter House Oatmeal Cranberry Cookies
Portobello Mushrooms with Ratatouille and Spinach
Portuguese Sopas
Potato Bisque
Potato Cheese Muffins
Prairie Schooners
Prospector s Gold Nuggets
Pumpkin Cheesecake
Pumpkin Sumpthin
Q
Quick Yeast Raised Pancakes
R
Red Mountain Stuffed Pork Chops
Red Peppers and Yellow Squash
Rhubarb Crunch
Ribs Diablo
Roast, Dutch Oven Style
Roasted Duck, Nevada Style
Roasted Leg of Lamb with Raspberry Glaze
Rocky Mountain Blueberry French Toast
Rocky Mountain Campfire Chili
Rocky Mountain Quiche
Rollin Pin Strawberry Pie
Roughcut Cactus and Egg Omelet
S
Salmon with Cilantro Sauce
Saucy Blueberry Lemon Muffins
Saucy Cowgirl s Deviled Red Potato Salad
Savory Gruyere Cheesecake
Shepherd s Pie
Shorty s Beer Batter Shrimp Poor Boys
Shorty s Scramble
Shrimp Cocktail "Martini Style"
Shrimp Newburg
Shrimp Tomato Aspic
Shrimp in Jackets
Silver State Beef Short Ribs
Silver State Potatoes
Sirloin Tips of Beef
Skillet Cabbage
Skillet Pork Chops
Sky-High Biscuits
Slimscrumptious Chinese Chicken Salad
Sloppy Joe Biscuit Bake
Smoked Chicken Pesto Quesadillas
Smothered Yardbird
Sock-It-To-Me Cake
Soda Cracker Pie with Berries
Sopapillas
Speedy Little Devils
Spicy Avocado Salad
Spicy Bean and Beef Pie
Spicy Black Bean and Corn Salsa
Spicy Garlic Chicken Pizza
Spicy Gazebo Springs Chicken
Spicy Green Beans
Spicy Southwestern Chowder
Spicy Southwestern Potato Salad
Spicy Southwestern Taco Salad
Spinach Salad with Black Pepper Dressing
Spinach-Cream Cheese Enchiladas
Split Pea Soup with Ham
Spudnuts
Stacey's Western Baked Omelette
Steak Dinner in a "Pot"
Steak on the Stick
Steamboat Alfredo
Sting of the Bee Cake
Strawberries Divine
Strawberry Cheesecake Smoothie
Strawberry Glazed Cheesecake
Strawberry Tiramisu
Strawberry-Spinach Salad with Honey Pecan Dressing
Stuffed French Toast with Strawberries
Stuffed Manicotti
Stuffed Yellow Summer Squash
Stuffing for Fish
Summer Pizza
Sundance Chicken Hash
Sunny Fruit Fiesta
Sweet Sausage Bowties
Sweet and Sour Pork
T
Taco Seasoning Mix
Tarragon Beefsteak Salad
Taste of the Rockies Casserole
That Old Italian Guy s Fast Pesto Sauce
The Alpine Village Chicken Supreme Soup
The Best of All Chocolate Chip Cookies
Thirty Second Dynamite Dinner
Three Colored Rice
Toffee Crunch Trifle
Tomatoes Baked in Sour Cream
Trailer Treat
Triple Lemon Ripple Cake
Turkey Tetrazzini
Turtle Cake
Turtle Cheesecake
Twilight in the Rockies Cocktail Kebabs
U
Ugly Duckling Pudding Cake
Ultimate Jambalaya
Un-Apple Pie
Unforgettables
Upside Down German Chocolate Cake
Upside-Down Apple French Toast
Utah Valley Applesauce Bread
Utah s Famous Green Jell-O with Cheese
V
Virginia City Creamy Goat Cheese Mashed Potatoes
W
Wagon Wheel Cookies
Walnut Streusel Muffins
West Coast Wrangler s Camp-out Quickie
Western Style Barbecue Sauce for a Crowd
Working Barn Stew
Z
Zane's Catfish BLT's
---
Cook'n Is Several Products in One!