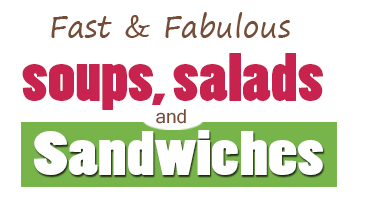 By Gwen McKee, Barbara Moseley

---

List Price: $17.21

Your Price:

$13.78

You Save: 20%

---

NOTE: You must have Cook'n installed to use this download!

---

112 delicious soup recipes
107 freash salad recipes
105 mouth-watering sandwich recipes including: hoagies, burger, and wraps
New Cook'n Theme included.
Save time and money by using Cook'n
Fast and Fabulous
Soups, Salads, and Sandwiches
Winning Recipes from Hometown America
Soups, Salads and Sandwiches...They're Not Just for Lunch Anymore!
Cookbook Ladies Gwen McKee and Barbara Moseley have carefully selected and created 413 outstanding recipes for Soups, Salads and Sandwiches that range from quick grab-and-go to family meals to elegent entertaining.
How about a soup chapter brimming with 112 delicious recipes, including Soups, Bisques, Stews, Gumbos, Chilis, and Chowders?
The 107 salad recipes include such classics as Cobb, Ceasar, and Waldorf...but wait till you see the variety- Green Salads, Fruit & Gelatin Salads, Pasta & Potato Salads, and Coleslaw!
There are 105 recipes that bring new meaning to the word sandwich- Hoagies, Subs & Po-Boys, Wraps, Tea Sandwiches, Burgers, Dogs, and Sliders.
Plus, there are six seasoning mixes, over sixty salad dressings, and even a chapter of desserts to complete the whole experience.
And for those who love to read cookbooks, there are sidebars including helpful hints, historical facts, and fun trivia.
McKee and Moseley have created and edited more than 90 cookbooks and have searched the country for three decades to find the very best recipes. Their criteria? It's all about taste!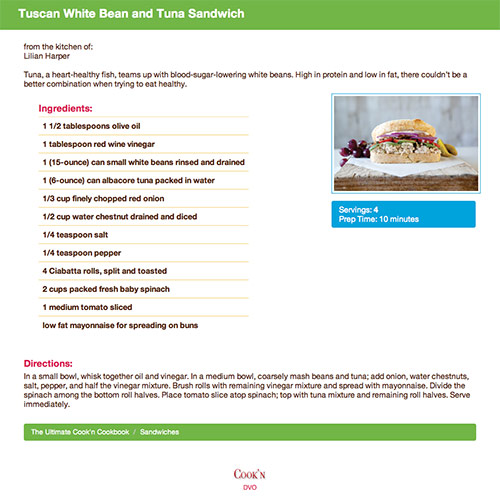 New Fresh theme included. (Recipe pictured not included in this cookbook)
Recipes Included:
Karat Gold Italian Soup
-Mug Tortilla Soup Mix
A
A Beautiful Strawberry Cake
A Dilly of a Salmon Bisque
A Little Chocolate Cherry Trifle
A Mighty Fine Cheddar Cheese Soup
A Mighty Good Mushroom Wrap
A honey of a Strawberry Sandwich
After Thanksgiving Sandwich
Ahoy Mate Oyster Chowder
All American Potato Salad
An Un-beet-able Combo Salad
Apple Cheese Sandwiches
Asian Chicken and Bean Salad
At-The-Ready Soup Mix
Avo-Cosmic Sandwich
Avocado-Mayo Dressing
Awesome Hamburgers
B
BLT Salad
Bacon and Egg Sandwiches
Bacon-Wrapped Cheese Dogs
Baked Ham and Cheese Pizza Pockets
Barbecue Brisket Sandwiches
Basil Trayed Tomatoes
Bayou Fish Soup
Beautiful Watermelon Salad
Beer Brats on the Grill
Best Bay Seasoning Mix
Best Greek Seasoning Mix
Best Italian Seasoning Mix
Best Salad Supreme
Best Taco Seasoning Mix
Best on the Deck Potato Salad
Big Island Chicken Salad
Big Taste Tomato Basil Bisque
Biscuit Burgers
Biscuit Sandwiches
Black Cherry Salad
Black and Blue Sliders
Blender Basil Dressing
Blue Buffalo Chicken Chili
Blue Cheese Burgers
Blue Cheese Salad
Blue Cheese or Roquefort Dressing
Borscht Made Easy
Bread Pudding in a Flash
Broc & Chic Chowder
Brown Derby's Cobb Salad Dressing
Buffalo Chicken on a Roll
Build-Your-Own Tacos
Burgundy Bacon Beef Stew
Busy Mom's Hobo to Go
C
Cabbage Pepper Slaw
Cajun Bean and Chicken Soup
Cajun Burgers
Cantastic Taco Bean Stew
Capt'n's Choice Fish Sandwich
Caribbean Mango Shrimp Salad
Catalina Chicken Salad
Celery Seed Dressing
Celestial Salad
Cheese with Beer Soup
Cheese-Stuffed Burgers
Cheesecake Cookies Muffins
Cheesy Black Bean Soup
Cheesy Corn & Crab Chowder
Chicken Caesar Salad Wraps
Chicken Canoes
Chicken Noodle Veggie Soup Mix
Chicken Salad Sandwiches
Chicken Salad in Tomato Flowers
Chicken Soup with Rivels
Chicken, Cherry, Cheese Salad
Chili Bean Burgers
Chilled Peach Soup
Chilly Cranberry Soup
Chocolate Coconut Macaroons
Chocolate Coffee Ice Cream Pie
Chocolate Kisses Pie
Choice Salad Dressing
Chunky Salsa Chili
Classic Cobb Salad
Classic Pineapple-Orange Salad
Classic Taco Ranch Soup
Cola Beef Stew
Colorful Summertime Salad
Cool Carrot Soup
Cool and Ready Red Pepper Soup
Corned Beef and Cabbage Sandwiches
Corny Chili
Crab Bisque the Easy Way
Crab Louie Salad
Cracker Toffee
Craisins Carrot Tea Sandwiches
Cranberry Carrot Salad
Cranberry Feta Green Salad
Cream of Chicken Corn Chowder
Creamy Apple-Beet Salad
Creamy Chicken Taco Soup
Creamy Chicken and Wild Rice Soup
Creamy Crab Chowder
Creamy Green Yogurt Dressing
Crescent Dogs
Cuban Sandwich
Cucumber Tea Sandwiches
D
Devilishly Delicious Squares
Dog and Cheese Chowder
Dressed Oyster Po-Boys
Dressed Up Hot Dogs
Duke of Windsor Sandwich
E
Easy Ambrosia
Easy Awesome Almond Brittle
Easy Cheesy Veggie Soup
Easy Chicken and Crab Gumbo
Easy Lemon Tea Cookies
Easy Oriental Slaw
Easy Oven Stew
Easy Pepperoni Calzones
Easy Roasted Red Pepper Soup
Egg Drop Soup
Everybody Loves Meatball Subs
Everything-But-The-Kitchen-Sink Soup
Extra Special Egg Salad
F
Fabulous Fontina Salad
Fast Potato and Ham Chowder
Favorite Sloppy Joes
Fit-For-A-King Chopped Salad
Flaky Frogs
Florida Rice Salad
Fresh Cream of Mushroom Soup
Fruit Salad over Grilled Steak
Fruit Salad with Cottage Cheese
Fruit and Nut Slaw
Fruity Chicken Salad
G
Good, Good Goulash
Gotcha Gazpacho
Grapefruit and Avocado Salad
Greek Salad Dressing
Greek Salad of the Gods
Greens, Beans, Carrots, and Things Soup
Griddle Pizza Sandwiches
Grilled Salmon Salad
H
Ham & Cheese Bagels
Ham 'n Cheese Rice Salad
Ham and Asparagus Chowder
Hash Brown Oyster Chowder
Hawaiian Spam Bunwiches
Hearty Bean and Beef Salad
Hearty Home-Style Chili
Heavenly Hawaiian Pie
Hello Jell-O Salad
Hero Gyros
High-Five Peanut Butter Pie
Homemade Mushroom Soup
Honey Apple Coleslaw
Honeycomb Cake
Hot Cheese Sandwich in a Packet
Hot Chic 'n Cheese Packets
Hot Chili for Two
Hot Mini Ham & Swiss Buns
Hotty Toddy Ham Wraps
Hungarian Goulash
I
Ice Cream Sandwich Dessert
In-A-Flash Tortilla Soup
Italian Summer Salad
J
Jolly Good English Pea Salad
Juicy French Dip Burgers
Juicy Pig Hoagies
K
K's Cajun Seasoning Mix
Kangaroo Ranch Dressing
Kicked-Up-A-Notch Egg Salad
Kicky Corn and Chicken Chowder
Kicky Grilled Cheese Sandwich
Kum-Back Salad Dressing
L
Leafy Taco Salad
Lebster Salad Roll
Light Balsamic Vinaigrette
Light Taos Chicken Salad
Loaded Baked Potato Chowder
Lobsta Bisque
Low-Fat Blue Cheese Dressing
M
Macho Meatloaf Sandwich
Mai-Thai Good Shrimp Soup
Make-Ahead Chicken Penne Salad
Mama's German Potato Salad
Mama s Old-Fashioned Stew
Mandarin Spinach Salad
Mandarin Wild Rice Salad
Margarita Salad
Maria's Garlic Tomato Marinade
Marinated Veggie Salad
Mayo My Way
Mesquite Grilled Chicken on a Bun
Mexican Cheeseburgers
Mighty Caesar Subs
Mighty Meaty Chef's Salad
Mighty Meaty Meatball Soup
Milano Chicken Pitas
Mini Crab Melts
Minute Shrimp Bisque
Mix and Bake Cream Cheese Cookies
Mixed Berry Salad
Monte Cristo Sandwiches
Mose's Tuna Salad
Mose s Just Right Coleslaw
Mousse Shots
Muffuletta Salad
Mushroom Hamburgers
N
Naka's Lettuce Sandwich
No Guilt Turkey Burgers
Nutty Chicken Salad
Nutty Cranberry Apple Salad
Nutty Lime Jell-O Salad
O
Olive Nut Spreadwiches
Open-Face Crab English Muffins
Open-Face Roast Beef and Gravy Po-Boats
Open-Face Salmon on Rye
Open-Face Shrimp Sandwiches
Open-Faced Reubens
Oriental Hamburgers
Overnight Cherry Whip Salad
Overnight Chicken Pasta Salad
Overnight Pepperoni Chicken Salad
P
Parmigiana Venison Burgers
Party Summer Salad
Pasta Garden Salad
Peachy Cheese Deckers
Peanutty Apple Salad
Pecan Moons
Pecan Pie Minis
Pepe Meatball Soup
Pepper Snapper Soup
Philly Cheesesteak Sandwich
Pineapple Coleslaw
Pineapple Tuna Salad
Pink Cloud Bing Cherry Pie
Pizza Burgers
Pizza Dogs
Pizza Hoagies
Pizza in a Crescent
Pocket Full of Nuggets
Poppyseed Vinaigrette
Porky Pig Black Bean Stew
Potato Soup in a Jar
Pretty-As-A-Picture Spinach Salad
Q
Queso Wraps
Quick & Thick Tomato Soup
Quick Bean n Bacon Chowder
Quick Chick Navy Bean Soup
Quick Gumbo
Quick-To-Fix Burritos
Quick-To-Fix-Peanut Soup
R
Rainbow Melon Salad
Rainbow Three Bean Salad
Ranch, Bacon, n Tato Salad
Raspberry Vinaigrette
Really Nice Rice Salad
Ribbon Nest Pork Salad
Roast Po-Boys in a Packet
Roasted Corn Soup Topped with Crabmeat
Roasted Vegetable Soup
Russian Tea Room's Russian Dressing
S
Sandwich Cookie Chocolate Nut Bars
Sassy Caesar Salad
Sassy Chicken Salsa Soup
Sauteed Shrimp over Tender Greens
Sea & Cuke Croissants
Sea Scallops and Fried Corn Soup
Secret Broccoli Soup
Sensation Salad Dressing
Short-Cut Chicken Noodle Soup
Short-Cut Shrimp Gumbo
Shrimp 'n Melon Salad
Shrimp Pasta Salad
Simon Says Sample Simple Salmon Salad
Simple Thousand Island Dressing
Simply Italian Salad
Sirloin Beef Salad
Sloppy Joe Phillies
Slow Oven Stew
Slow-Cooker Gumbo
Smooth and Silky Shrimp Bisque
Soup ŕ la Tortilla
Southwest Chicken Caesar Salad
Southwest Chicken Stew
Southwest Slow Cooker Chili
Speedy Chili–Soup
Speedy Red Beans and Rice Soup
Spicy Shrimp Soup
Spinach and Roasted Red Bell Pepper Salad
Splendid Honey Mustard Dressing
Split Pea and Ham Soup
Steak 'n Mushroom Rolls
Steak Strip Meal Salad
Steamin John Soup
Strawberry Brie Salad
Strawberry Pretzel Salad
Strawberry-Pecan Chicken Salad
Stromboli-o-li Bread
Suavy Sweet Potato Soup
Succotash Salad
Summer Fruit Salad
Summertime Tomato & Watermelon Salad
Sun-Dried Tomato Vinaigrette
Supercalifragilistic Cheeseburgers
Superfast Hoagies
Supreme Chicken Salad
Sweet and Sour Chicken Wraps
T
Tall Tex Taco Salad
Tangy Apple Nut Salad
Tangy Chicken Soup
Ten-Minute Cioppino
Terrific Toasted Tuna Melts
The Best Romaine Salad
The Real Deal Basil and Tomato Soup
The State of the Dog
Three Bean Chicken Chili
Tomato Basil Pasta Salad
Tortellini Sorento Soup
Totally Awesome Cake
Touch of Curry Tomato Soup
Touch of Tuscany Salad
Traditional Broccoli Salad
Traditional Club Sandwich
Traditional Green Goddess Dressing
Traditional Vegetable-Beef Soup
Tres Bien French Onion Soup
Tri-Color Pepper Soup
Tropical Waldorf
Tuna-Cone Salads
Tupper's Favorite Pimento Cheese Sandwiches
Turkey Mushroom Soup
Turkey Reubens
Turkey Waldorf Salad
Turkey in the Orchard Salad
Two-For-One Rib-Eye Sandwiches
Two-Step Stew
V
Veggie & Cheese Muffuletta
Veggie Cheeseburgers
Veggie Wedges
Veggie-Tortellini Chowder
Vichyssoise
Vidalia Onion Vinaigrette
W
West Coast Focaccia Wedges
West Indies Crab Salad
Western Cheese Corn Soup
Whatevahyagot Fruit Salad
White Bean Soup
White Chili in a Bread Bowl
Wilted Greens n Bacon Salad
Winning Grilled Cheese
Wrap Around the Pepperoni
Z
Zesty Meatless Chili
---
Cook'n Is Several Products in One!