Best of the Best
from the
Deep South
By Gwen McKee and Barbara Moseley

---

List Price: $20.53

Your Price:

$16.42

You Save: 20%

---

NOTE: You must have Cook'n installed to use this download!

---

More than 400 of the Deep South's most popular recipes
Recipes that are easy to follow and edited for clarity.
Photographs and illustrations showcasing places and attractions in the Deep South.
Fascinating history and trivia about the region scattered throughout.
New Cook'n Theme included.
Save time and money by using Cook'n
Best of the Best
from the
Deep South
Come home to the Deep South where hospitality and southern cooking are a way of life.
In this first volume of their regional series, they proudly present the special flavors of cooking in the Deep South. Here, food is more than a necessity of life, it is a celebration of life. Want to learn the secret of how Louisianians prepare great gumbo? Or why Alabamians have every right to brag on their fried chicken and tomato pie? Or how Mississippians can serve you the most delicious plate of fried catfish with creamy coleslaw and hush puppies?
McKee and Moseley have created and edited more than 90 cookbooks and have searched the country for three decades to find the very best recipes. Their criteria? It's all about taste!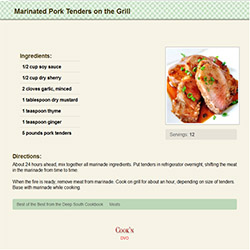 New Southern theme included. (Recipe pictured not included in this cookbook)
Recipes Included:
A
Alabama Blue Ribbon Banana Pudding
Alligator Creole
Almond Topped Crab Quiche
Amaretto Cake
Amaretto Punch
Ambrosia Crunch
Apple Pie in Cheddar Cheese Pie Pastry
Apple Spoon-Ups
Applesauce Muffins
Apricot Nut Bread
Apricot Pineapple Salad
Asparagus Supreme
Asparagus and Tomato Slices
Authentic Southern Soft Teacakes
B
Bacon Quiche
Bacon Tomato Dip
Bacon-And-Egg Stuffed Tomatoes
Baked Chicken Breasts
Baked Chicken Breasts
Baked Liver and Onions (with Bacon)
Baked Potato Salad
Baked Spaghetti
Baked Turkey
Banana Split Dessert
Bananas Foster Bread Pudding
Barbecued Baked Beans
Barbecued Brisket
Bean Salad
Beef Stroganoff
Beef Tips with Wine
Beignets
Best Brisket Ever
Best Ever Apple Cobbler
Bing Cherry Salad
Black-Eyed Pea Dip
Black-Eyed Pea Salad
Blackened Catfish
Blintz Souffle
Blue Ribbon Chili
Blueberry Salad
Bob s Barbecued Shrimp
Bourbon Balls
Bread Pudding with Glazed Cream (from Le Ruth s)
Breakfast Pizza
Broccoli Casserole
Broccoli-Cheese Soup
Broccoli-Chicken-Ham Pizza
Brownies in a Jar
Butter Churn Croutons
Butter Creme Brownies
Butter Pecan Turtle Cookies
Buttercup Biscuits
Butterfingers Cake
Buttermilk Orange Rolls
Butterscotch Squares
C
Cabbage Casserole
Cafe Brulot
Cajun Crawfish Cornbread
Cajun Eggs
Cajun Peppered Shrimp & Grits
Candied Carrots
Caramel-Nut Pound Cake
Caroline s Mashed Potatoes
Carrot Cake
Catahoula Court-Bouillon
Catahoula Dirty Rice
Catfish Cakes
Celery Seed Dressing for Fruit Salad
Cheesecake
Cheesy Corn Spoon Bread
Cherry Jubilee Parfait
Chess Squares
Chicken Biscuit Pot Pie
Chicken Crescents
Chicken Fried Steak and Cream Gravy
Chicken Parmesan
Chicken Pie-Pinwheel Crust
Chicken Salad Supreme
Chicken Salad in Raspberry Ring
Chicken Sauce Piquante
Chicken and Artichoke Casserole
Chicken and Dumplings
Chicken and Sausage Casserole
Chicken and Sausage Jambalaya
Chicken a la King
Chicken, Mushroom, and Artichoke Bake
Chicketti
Chocolate Almondines
Chocolate Chip Pie
Chocolate Chubbies
Chocolate Cookie Sheet Cake
Chocolate Cream Cheese Brownies
Chocolate Orange Truffles
Chocolate Pie
Chocolate Sin
Chocolate Syrupy Brownies
Chocolate and Peanut Butter Mousse
Chocolate Eclair Cake
Chocolate Eclairs
Chocolate-Covered Cherry Pie
Christopher s Favorite Shrimp, Crab, and Cheese Casserole
Chunky Baked Potato Soup with Cheese and Bacon
Chunky Venison Chili with Dumplings
Coca Cola Cake
Coca Cola Salad
Coconut Cookies
Coffee Rum Punch
Colossal Cookies
Comes the Sun
Corn Casserole
Corn Dip
Corn Salad
Corn Soup
Corn and Crabmeat Soup (Acadian)
Corn and Crawfish Chowder
Cornbread Salad
Country Club Squash
Cousin Patty s Carrot Souffle
Crab and Shrimp Lasagna
Crabmeat Caroline
Crabmeat Imperial
Crabmeat au Gratin
Crabmeat or Crawfish Bisque
Crackling Cornbread
Crawfish Dog
Crawfish Fettuccine
Crawfish Etouffee
Crawfish Etouffee a la Arceneaux
Crazy Cocoa Krisps
Cream of Broccoli Soup
Creamy Chicken Enchiladas
Creamy Scalloped Potatoes
Creamy Spinach Casserole
Creole Corn Soup
Creole Grits
Creole Marinated Crab Claws
Creole Shrimp
Creole Shrimp Spaghetti
Crispy Eggplant
Crispy Fried Okra
Crockpot Crab Dip
Crunchy Hot Chicken Salad
Crusty Peach Cobbler
Crepes Suzette
Cucumber Sandwiches
Curried Chicken and Apple Soup
D
Death by Chocolate
Deep-Dish Chicken Pie
Delicious Crawfish Dip
Delmonico Baked Creole Eggplant
Down in Dixie Bourbon Pie
Down-Home Cheddar Cheese Soup
Dressing for a Crowd
Dunleith Cheese Ring
E
E-Z Peanut Butter Cookies
Easy Ambrosia Salad
Easy Chicken and Dumplings
Easy Chop Suey
Easy English Pea Casserole
Educated Hush Puppies
Eggnog Cakes
Eggs Gifford
Eloise s Tomato Aspic
Elvis Presley Cake
English Pea Salad
F
Farmhouse BBQ Muffins
Favorite Pancakes
Fig Cake
Firecracker Casserole
First Place Chicken Casserole
Football Casserole
Forever Amber
French Banana Eclair
French Fried Pickles
Frenchies
Fresh Apple Cake
Fresh Strawberry Cake
Fresh Tomato-Rice Soup
Fried Green Tomato Casserole
Fried Green Tomato Sandwich
Fried Green Tomatoes
Fried Shrimp
G
Garlic Cheese Ball
Garlic Cheese Biscuits
Giant Cookie Pizza
Glazed Sausage and Apples
Glazed Sweet Potatoes
Gourmet Noodles
Green Beans Wrapped in Bacon
Green Beans and Stewed Potatoes
Green Goddess Salad Dressing (Assaisonnement a la Deesse Verte)
Grillades
Grillades and Garlic Cheese Grits
Grilled Chicken
Grilled Duck Breasts
Grilled Pork Loin with Honey Sauce
H
Ham and Eggs Breakfast
Hash Brown Potato Casserole
Heavenly Hash
Heavenly Hash Cake
Homemade Boursin
Homerline s Blueberry Pie
Honey Mustard Chicken
Horseradish Salad
Hot Fudge Sundae Cake
Hot Pepper Jelly Salad
Hot and Spicy Cabbage
Hotel Natchez Bread Pudding with Bourbon Sauce
Hummingbird Cake
Huntsville Chess Pie
I
Irish Cream Cheesecake
Italian Chicken Delight
Italian Cream Cake
J
J C s Creole Jambalaya
Jane's Broccoli Dip
Jan s Fig Cake
Jeff Davis Custard
Jezebel Sauce
Judy s Chocolate Crinkle Cookies
K
Kay s Corn Casserole
King Cake
Knock You Nakeds
Kum-Back Salad Dressing
L
Lasagna
Lazy Betty
Lazy Peach Cobbler
Lemon Apricot Cake
Lemon Chess Tarts
Lemon Ice Box Cake
Lois Apricot Casserole
Lottie s Pecan Chip Pies
Luscious Chocolate Cake
M
Mama's Depression Fried Fritters
Mama s Pralines
Mandarin Pork Chops
Manicotti
Mardi Gras Madness
Margaret's Tangy Meatballs
Marie's Chocolate Chip Cheese Ball
Marinated Broccoli and Cauliflower Salad
Marinated Pepper-Crusted Beef Tenderloin
Marinated Pork Tenders on the Grill
Marshmallow Brownies
Martha s Toffee Candy
Mary Mahoney s Bread Pudding
Mary McDonald s Sour Cream Coconut Cake
Meatballs in Brown Gravy
Meatloaf Stuffed Tomato
Microwave Pecan Pralines
Microwave Roux
Mile High Pie
Millionaire Pie
Mississippi Catfish Fillets
Mississippi Delta Duck
Mississippi Fried Chicken
Mississippi State Chicken-On-A-Stick
Mississippi State Sin
Mock Filet
Montgomery Caviar
Mose s Buttermilk Pie
Mrs Burton s Neshoba County Red Mud Cake
My Favorite Coconut Cream Pie
My Granny s Green Beans
My Potato Salad
N
Nanny s Caramel Pie
Natchitoches Meat Pies
New Year s Black-Eyed Peas
Nutty Broccoli Salad
O
Okra and Tomatoes Creole
Old Settlers Baked Beans
Onion Casserole
Onion Pie
Onion Soup
Onioned Potatoes
Orange Almond Salad
Orange Pecan Pralines
Orange Rolls
Orange-Coconut Balls
Oreo Cookie Pie
Oven Baked Catfish
Oven Beef Stew
Oven-Roasted Sweet Potatoes and Onions
Overnight Apple-French Toast
Oyster Spaghetti
Oyster Stew
Oysters Oregano
P
Pain Perdue (Lost Bread or French Toast)
Pappy's Hot Toddy
Pascagoula Shrimp Boil
Peach Buttermilk Ice Cream
Peanut Butter Pie
Peanut Butter Turtles
Pecan Pie Cake
Pecan Rolls
Pecan Slice Torte
Pepper Jelly
Pepper Jelly Puffs
Pepper Steak
Pineapple-Coconut Pie
Pink Party Pinwheels
Poppy Seed Chicken
Pork Chop Casserole
Pork Chops in Mushroom Gravy
Pork Chops with Apples, Onions, and Raisins
Pork Rub
Pork Tenderloin with Mustard Sauce
Pot Roast
Potato Chip Shortbread Cookies
Praline Cheesecake
Praline Ice Cream Sauce
Q
Quick Chicken and Broccoli Crepes
Quick Potato Soup
Quicky Chili
R
Race Track Slaw
Rack of Lamb
Ratatouille
Red Bean Soup
Red Beans and Rice
Red Pepper Bisque
Red-Neck Spaghetti Sauce
Reuben Pie
Rice Ambrosia
Rice Salad
Ro-Tel Roast
Roasted Garlic Soup
Rockefeller Sauce
Romaine Salad
Romantic Raspberry Chocolate Meringues
Roux
Rump Roast with Gravy
Remoulade Sauce
S
Sam s Ole Time BBQ Sauce
Sand Tarts
Santa Claus Whiskers
Sausage Cheese Biscuits
Sausage Coffee Cake
Sausage, Red Beans, and Rice Casserole
Sausage-Grits Casserole
Sauteed Mushrooms
Seafood Cocktail Sauce
Seafood Gumbo II
Seafood Mousse
Seafood Salad
Seagrove Shrimp
Sensation Salad Dressing
Shortbread Toffee Squares
Shrimp Balls
Shrimp Boats
Shrimp Creole
Shrimp Dip
Shrimp Mold
Shrimp Mousse
Shrimp Salad Stretched
Shrimp Scampi
Shrimp and Caper Salad
Shrimp and Rice Casserole
Shrimp with Eggplant Casserole
Skillet Potato Pie
Skillet Salad
Smothered Chicken
Smothered Doves and Mushrooms
Smothered Quail
Sour Cream Coffee Cake
Sour Cream Pound Cake
Southern Champagne Punch
Southern Cornbread
Southern Pecan Chicken
Southern Tea
Southern Tomato Pie
Southern-Style Greens
Spaghetti Carbonara
Spaghetti Salad
Spaghetti Sauce
Spicy Catfish Amandine
Spicy Crawfish Pasta
Spicy Fried Chicken
Spicy Fried Crawfish Tails
Spicy Meat Loaf
Spinach Casserole
Spinach Pauline
Spinach Stuffed Manicotti
Spinach-Strawberry Salad
Spinch Cheese Pastries
Spoon Yeast Rolls
Squash Dressing
Squash Morelle
Steamed Redfish with Creole Sauce
Stewed Fresh Potatoes
Sticky Bones
Stir-Fry Chicken, Broccoli, and Rice
Strawberries Over Snow
Strawberry Angel Pie
Strawberry Bread
Strawberry Cream Cake
Strawberry Pie
Strawberry Pizza
Strawberry Pretzel Salad
Stuffed Baked Eggplant or Mirlitons
Stuffed Bell Peppers
Stuffed Flounder
Stuffed Peppers with Shrimp and Rice
Succotash
Sue s Hot Mixed Fruit
Summer Cucumber Soup
Summer Trifle
Sunday Night Show-off
Swamp Water
Sweet Potato Casserole
Sweet Potato Muffins
Sweet Potato Pie
Sweet Potato Souffle
Sweet and Sour Beets
Sweet and Sour Sausage
Sweet and Sour Slaw
Swiss Steak
T
Tailgate Vegetable Salad
The Best Fried Chicken
The Best Pecan Pie
The Grand Dining Room s Uncle Bud's Seafood Gumbo
The Ultimate Pumpkin Pie
Tiny Pecan Muffins
Toasted Butter Pecan Cake
Toffee Pecan Bites
Tomato Gravy
Tommy s Beef Jerky
Tommy s Terrific Trout
Tony s Deep-Fried Turkey
Traditional Southern Cornbread Dressing
Treasures
Trout Amandine
Turtle Cake
Turtle Sauce Piquant
Twenty-Four Hour Spinach Salad
U
Upside-Down Apple Cake
V
Vegetable Beef Soup
Venison Pepper Steak
Vidalia Onion Potato Salad
W
Waldorf Chicken Salad
Wash Day Cake
Watermelon Cake
White Chocolate and Macadamia Cookies
White Corn Casserole
Z
Zucchini-Corn Casserole
---
Cook'n Is Several Products in One!