Recipe Hall of Fame
Dessert
Cookbook
By Gwen McKee, Barbara Moseley

---

List Price: $25.49

Your Price:

$20.32

You Save: 20%

---

NOTE: You must have Cook'n installed to use this download!

---

Over 300 of the most requested and memorable desserts
Desserts for all seasons
Includes old fashioned favorites and new quick and easy desserts
New Cook'n Theme included.
Save time and money by using Cook'n
Hall of Fame Desserts Cookbook
Winning Recipes from Hometown America
What's for dessert? A strawberry shortcake! A flaky apple pastry! A light souffle! How about cheesecake? Or let's just have some cookies and ice cream! No matter what dessert you choose, you'll find the BEST recipe for it in this book.
From old standards like Red Velvet Cake and Old-Fashioned Lemon Meringue Pie, to quick and easy favorites like Apple Spoon-Ups and Lazy Betty, to new and exciting creations like Pastry Tulip Cups and Mocha Polka Walnut Torte, each of these incredibly delicious desserts will inspire a standing ovation.
Following the success of The Recipe Hall of Fame Cookbook, which sold over 200,000 copies in its first year, this newest book in the Recipe Hall of Fame Collection is sure to become a classic. Chosen from the more than 4,000 dessert recipes in our Best of the Best State Cookbook Series, each of which is already a chosen favorite from their state, these 318 recipes are the most popular, most requested, most memorable, knock-your-socks-off desserts ever!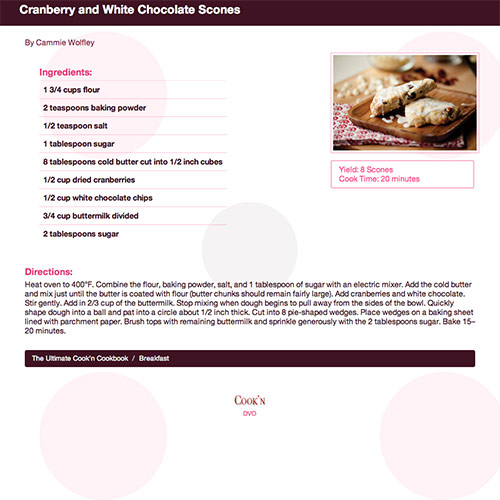 New Pink Chocolate theme included. (Recipe pictured not included in this cookbook)
Recipes Included:
7-Up Pound Cake
A
Adobe Bars
African Queen
Almond Apricot Delights
Almond Brittle
Almond Buttercream Cake
Almond Cake with Raspberry Sauce
Almost Better Than Harrison Ford Cake
Amaretto Bread Pudding
Amaretto Cake
Amaretto Cheesecake
Amaretto Cream Puffs
Amaretto Dessert
Ambrosia
Angel Food Cake
Angel Food Charlotte Russe Cake
Angel Food Orange Delight
Angle Pie
Annie's Apple Pudding
Apple Cheesecake
Apple Crisp
Apple Dumplings
Apple Ice Cream Sauce
Apple Spoon-Ups
Apple Turnovers
Apricot Almond Cake
Apricot Cheesecake
Aunt Clara's Peach Ice Cream
Aunt Eileen's Peach Cake
B
Baby Ruth Bars
Bailey's Irish Cream Turtle Torte
Banana Split Pie
Bavarian Apple Torte
Best-Ever Thumb Print Cookies
Black Bottom Cupcakes
Black Bottom Pie
Black Forest Cake
Black Forest Cheesecake
Black Forest Trifle
Black Magic Cake
Blackberry Jam Cake with Caramel Icing
Blackberry Pie
Blueberry Cheesecake Macadamia
Blueberry Cream Pie
Blueberry Dessert
Blueberry Sour Cream Pie
Bride's Bread Pudding
Brown Sugar Pound Cake
Brownie Meringues
Brownie Swirl Cheesecake
Burnt Caramel Cake
Buster Bar Dessert
Butter Brickle Ice Cream Pie
Butter Pecan Turtle Cookies
Butterfinger Cookies
Butterscotch Cheesecake Bars
C
C's Pound Cake
Candy-Counter Cookies
Caramel Apple Cake
Caramel Delight
Carrot Cake
Case's Orange Pound Cake
Chambord Melba Sauce
Charlotte Russe with Raspberry Sauce
Cherry Cake with Sauce
Cherry Divinity
Cherry Surprises
Cherry-Berries on a Cloud
Chess Cake
Choco-Chewies
Chocolate Amaretto Cake
Chocolate Cherry Cake
Chocolate Chess Bars
Chocolate Cookie Sheet Cake
Chocolate Coronet
Chocolate Cream Cheese Brownies
Chocolate Delicious
Chocolate Dipped Strawberries
Chocolate Dumplings
Chocolate Fudge
Chocolate Marshmallow Slices
Chocolate Revel Bars
Chocolate Sherry Cream Bars
Chocolate Squares
Chocolate Torte Royal
Chocolate and Peanut Butter Truffles
Chocolate-Glazed Shortbread Cookies
Chunky Watermelon Sherbet
Cinnamon Logs
Cinnamon Walnuts
Classic Cranberry Cake with Sauce Topping
Coconut Bonbons
Coconut Cookies
Coconut Macaroons
Coconut Pound Cake
Coffee Toffee Ice Cream Pie
Cornflake Macaroons
Country Apple Pie with Lemon Glaze
Country Raisin Gingersnaps
Cranberry-Glazed Cheese Pie
Cream Cheese Cookies
Cream Cheese Cupcakes
Creamed Pecan Nuts
Crispy Candy Bars
Creme De Menthe Bars
Crepes Suzette
D
Date Pudding II
Death by Chocolate
Deep-Dish Cherry Pie
Deluxe Chocolate Marshmallow Bars
Devil's Food Drop Cookies
Dirt
Do-Nothing-Cake (Pineapple Goody Cake)
Down in Dixie Bourbon Pie
Dynamite Chocolate Chip Cookies
E
Easter Nests
Easy Almond Rum Cake
Easy Cheesy Lemon Bars
Easy Lemon Bars
Easy Toffee
Edelweiss Torte
Eden Shale's Cheesecake
Effie Romberger's Old-Fashioned Rice Pudding
Eggnog Cakes
Elegant Pumpkin Pie
English Toffee
Extra Special Chocolate Chip Cookies
F
Fantasy Fudge
Five-Flavor Pound Cake
Forgotten Kisses
Four-Layer Cherry Pie
Frangelico White and Dark Chocolate Mousse
French Chocolate Ice Cream
French Pears
French Silk Chocolate Pie
Fresh Coconut Cake with Rum and Orange Filling
Fresno Apricot Bars
Frozen Creme de Menthe Pie
Frozen Kahl a Cake
Frozen Key Lime Pie
Frozen Lemon Crunch
Fruited Ice
Fudge Truffle Cheesecake
Fudge Upside Down Cake
Fudgy Iced Brownies
Fudgy Peanut Butter Cake
G
Georgia Peanut Brittle
German Chocolate Angel Pie
German Chocolate Cheesecake
German Chocolate Upside-Down Cake
Gillie Whoopers
Glazed Strawberry Pie
God's Country White Chocolate Cheesecake
Gold Brick
Golden Sugar Cookies
Goof Balls
Goofy Bars
Gourmet Peach Pie
Grammy's Chocolate Pie
Gran Sally's Bread Pudding
Grand Marnier Cake
Grandma's Bread Pudding
Grasshopper Pie
Guess-Again Cookies
H
Hawaiian Caramac Brownie Wedges
Hawaiian Dump Cake
Heath Bars
Heavenly Cherry Angel Food Trifle
Heavenly Coconut Cream Cake
Hershey Kiss Pie
Holiday Chocolate Cake
Homestead Inn Banana Pudding with Walnut Crust
I
Ice Cream
Ice Cream Sugar Cookie Sandwiches
Impossible Buttermilk Pie
Incredible Edibles
Italian Cream Cake
J
Judy's Chocolate Crinkle Cookies
K
Kahl a Pecan Pie
Kahl a-Filled Cookie Cups
Key Lime Cake
King Cake
Kolachy
L
Lace Cookies
Layered Banana Pudding
Lazy Betty
Lemon Apricot Cake
Lemon Fluff
Lemon Jelly Cake
Lemon Lush
Lemon Whipper Snappers
Lemon-Crusted Fresh Blueberry Pie
Lime Angel Dessert
Lime Cheesecake
Linzer Tarts
Loch Ness Bars
Lonesome Cowboy Bars
Love Notes (Lemon Bars)
Luscious Chocolate Cake
M
Mamie's Pineapple Orange Cake
Mammy's Strawberry Shortcake
Margarita Pie
Mexican Wedding Cakes
Mexico City Earthquake Cake
Microwave Pineapple and Apple Dump Cake
Mile-High Raspberry Pie
Milk Chocolate Candy Bar Cake
Millionaire Pie
Miracle Butter Cake
Mississippi Mud Cake
Mocha Nut Torte
Mocha Polka Walnut Torte
Molasses Cookies
Moon Cake
Mother's Fruitcake
Myrtle's Famous Banana Cake
Mystery Pecan Pie
N
No Cook Cake
O
Oatmeal Pecan Dreams
Old-Fashioned Lemon Meringue Pie
Old-Fashioned Lemon Sauce
Old-Fashioned Sugar Cookies
Orange-Coconut Balls
Oreo Cheesecake
P
Pastry Tulip Cups with Caramelized Apple Filling
Patrick's "A Bit O' Green Cake"
Pawleys Island Cobbler
Peach Cobbler
Peach Cream Pie
Peach Crisp with Maple Sauce
Peach Meringue Bars
Peaches and Cream Cake
Peaches and Cream Souffle
Peanut Buster Dessert
Peanut Butter Blossoms
Peanut Butter Bon Bons
Peanut Butter Brownies
Peanut Butter Cups
Peanut Butter Pie
Peanut Butter Pie II
Peanut Butter Sheet Cake
Peanut Pie
Pear-Raspberry Cobbler
Pecan Cocoons
Pecan Crunchies
Pecan Pie Squares
Perfect Cake
Perfect Custard Pie
Pineapple Cheese Torte
Pineapple Upside-Down Cake
Pineapple-Rhubarb Pie
Pistachio Delight
Pistachio Dessert
Pistachio Pineapple Dessert
Pina Colada Cake
Pina Colada Fruit Dip
Plantation Pecan Crunch
Plum Nutty Cake
Polar Creams
Polynesian Cake
Pound Cake Squares
Praline Cheesecake
Pralines
Pretzel Dessert
Pumpkin Cake in a Jar
Pumpkin Cheesecake Bars
Pumpkin Cheesecake with Bourbon Sour Cream Topping
Pumpkin Jellyroll
Pumpkin Pudding Cake
Punch Bowl Cake
Puppy Chow for People
Q
Quick Apricot Crunch Cake
Quickie Italian Cream Cake
R
Raisin Cream Pie
Raleigh House Buttermilk Pie
Raspberry Sherry Trifle
Raspberry Topped Cheesecake
Raspberry-Filled White Chocolate Bars
Red Hot Apple Crepes
Red Velvet Cake
Rhubarb Torte
Ricotta Raspberry Tart
Rouge Rum Cake
Royal Hawaiian Pie with Blueberries
S
Salted Nut Rolls
Scintillating Lemon Pie
Seduction Cake
Sherwood Forest Orange Cream Sauce
Snicker Bars
Snicker Cake
Sopapillas
Sour Cream Apple Pie
Sour Cream Lemon Pound Cake
Speedy Little Devils
Strawberry Angel Pie
Strawberry Cake
Strawberry Glazed Cream Cheesecake
Strawberry Marbled Cheesecake
Strawberry Pizza
Strawberry Tiramisu
Surprise Lemon Pudding Under Golden Cake Topping
Sweet Potato Pie
T
The Attic's Almond Amaretto Ice Cream
The Grand Finale Grand Trifle
Threshers' Spice Cake
Tin Can Ice Cream
Toffee Crunch Trifle
Tornadoes
Trifle
Triple Crown Pie
Triple-Dipped Strawberries
Tutti-Frutti Cake
Twinkie Treat
U
Upside-Down Apple Cake
W
Watermelon Sorbet
White Chocolate Mousse with Strawberry Sauce
White Turtle Cake
Whoopie Pies
Will's Ice Cream Cake
Without Rival Chocolate Fudge Kahl a Cake
Y
Yummy Cherry Bars
---
Cook'n Is Several Products in One!