The Recipe Hall of Fame Cookbook
Winning Recipes from Hometown America
By Gwen Mckee and Barbara Moseley

---

List Price: $15.26

Your Price:

$12.20

You Save: 20%

---

NOTE: You must have Cook'n installed to use this download!

---
The Recipe Hall of Fame Cookbook
Winning Recipes from Hometown America
Remember when taste was the most important thing about food? These 450 Hall of Fame selections from the Best of the Best State Cookbook Series are those recipes that consistently deliver the most tasteful dishes. These are the recipes that families have enjoyed over and over again. All the recipes in this series are already winners. Each superb dish is a classic. They are unquestionably the BEST of the Best of the Best!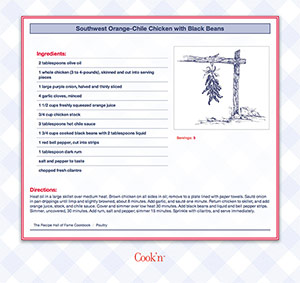 New Fresh theme included. (Recipe pictured not included in this cookbook)
Recipes Included:
A Very Special Rum Cake
Alabama Banana Pudding
All-Time Favorite Lemon Squares
Almond Crunch
Amaretto Cake
Amaretto Cheese Pie
Annie s Mexicorn Dip
Apple Cream Pie
Apricot Baked Ham
Apricot Butter Bars
Apricot Nectar Cake
Aunt Judy s Italian Cake
Aunt Pittypat s Homemade Peach Ice Cream
B
Baby Broccoli Muffins
Bacon Filled Cherry Tomatoes
Baked Apple Pancake
Baked Boston Scrod
Baked Chicken Breasts (Microwave)
Baked Flounder with Shrimp Sauce
Baked Lemon Pudding
Baked Potato Soup
Baked Sweet Potatoes and Apricots
Barbecue Shrimp
Barbecued Chicken
Barbecued Green Beans
Barbecued Meatballs
Barbeque Rub
Barbequed Pork Loin Baby Back Ribs
Bean Chalupa
Beef Stroganoff
Beef Tips in Wine
Beehives
Beer Batter Fish
Beer-in-the-Rear Chicken
Beet Jelly
Benne Seed Wafers
Best Bar-B-Que
Best Ever Banana Bread
Best-Ever Apple Cobbler
Better Than Sex Cake
Bing Cherry Pie
Black Forest Cookies
Blintz Souffle
Blueberry Delight
Boiled Shrimp
Bread Pudding with Glazed Cream (from Le Ruth s)
Breakfast Pizza
Bridesmaid s Luncheon Chicken Salad
Broccoli Salad
Broccoli Souffle Restaurateur
Broccoli Swiss Bake
Broccoli-Onion Deluxe
Broiled Stuffed Flounder
Buckeyes
Burning Love Chocolate Cream Cake
Buster Bars
Butter Churn Croutons
Butter Dips
Buttermilk Pie
C
Caesar Salad
Calabacitas
Candy-Pecan Clusters
Capitol Hill Bean Soup
Cappuccino Mix
Carrot Cake
Carrots and Celery Au Beurre Tarragon
Catfish Sesame
Cattlemen s Club Twice-Baked Potatoes
Champagne Nectar Punch
Chattanooga Chew Chews
Cheese Bennes
Cheeseburger Pie
Cheesecake Pie
Cheesy Chicken (Microwave)
Chicago-Style Pizza
Chicken Breasts Eden Isle
Chicken Broccoli Quiche
Chicken Florentine with Mushroom Sauce
Chicken Puffs
Chicken Salad Supreme
Chicken Stoltzfus and Pastry Squares
Chicken and Dumplings
Chicken and Sausage Jambalaya
Chicken in a Package
Chicken with Almonds and Water Chestnuts
Chili
Chocolate Buttercream Squares
Chocolate Cake
Chocolate Chip Cake
Chocolate Chip Pudding Cookies
Chocolate Kiss Cookies
Chocolate Meringue Pie
Chocolate Raspberry Cheesecake
Chocolate Sin Raspberry Truffle Brownies
Chocolate Eclairs
Cincinnati Chili
Cinnamon Cheese Coffee Cake
Coconut Pie
Coconut-Sour Cream Layer Cake
Coffee Punch
Cold Peach Soup
Comptroller of Public Accounts Lemon Gold Cake
Connecticut Coastline Seafood Chowder
Cookie Monster Fruit Salad
Copper Penny Carrots
Corn Soup
Country Apple Biscuits
Country Fried Chicken
Cowboy Casserole
Crab Bisque Thirty-Seventh
Crab Stuffed Mushroom Caps
Crab or Shrimp Mousse
Crabmeat Mornay
Crabmeat a La Landry
Cranberry Meat Balls
Cranberry Sour Cream Swirl Salad
Crawfish Etouffee
Crawfish Etouffee a la Arceneaux (Microwave)
Cream Cheese Brownies
Cream Soup Mix
Cream of Corn Soup
Creamy Baked Chicken Breasts
Creamy Broccoli Soup
Creamy Dijon Potato Salad
Creamy Grilled Potatoes
Crowd-Pleasing Casserole
Crunch-Topped Sweet Potato Casserole
Crustless Quiche
Crusty Corn Casserole
Crusty Crab Points
Crusty New Potatoes
Cucumber Mousse
D
Death by Chocolate
Dee s Baked Alaska
Delectable Sour Cream Pound Cake
Delicious Company Potatoes
Deviled Crab
Devonshire Potato and Mushroom Pie
Dirt Cake
Doves Alfred
Down East Blueberry Crisp
Dream Fruit Dip
E
Earthquake Cake
Easy Boiled Custard
Easy Corn on the Cob
Easy Flounder Fillets
Easy Italian Beef
Easy Rice Casserole
Eggplant-Zucchini Parmigiana
Eggs A La Buckingham
Elegant Baked Fish
Elegant Filet Mignon
Elsie s Gingerbread
Excellent Meat Loaf
F
Fantastic Fruit Salad With Banana Sauce
Farm-Raised Catfish Williamsburg
Fettuccine Primavera
Fettuccine with Zucchini-Basil Sauce
Finger Lickin Spareribs
Flan Cafe
Football Casserole
French Mint Tea
French Onion Soup
French Oven Beef Stew
French Silk Pie
Frenchies
Fried Apples
Fruit Pizza
G
Garden Chicken Pie
Ginger Snaps
Glazed Honey Bars
Golden Anniversary Punch
Golfer s Chicken
Gourmet Chicken Spaghetti
Gourmet Potatoes
Grandma BB s Pineapple Fritters
Great Lakes German Potato Salad
Great New Way to Bake the Turkey
Green Enchiladas
Grilled Duck Breasts
Grilled Fresh Tuna
Grits Casserole
Guaranteed Good Gazpacho
Gulf Shrimp Divine
H
Half-Way-to-Heaven Bars
Harvard Beets
Hawaiian Chicken
Heavenly Hash Cake
Heavenly Pie (Lemon Ice Box Meringue)
Heidelberg Soup
Holiday Squash
Holly s "Best" Apple Pie
Homemade Boursin
Hominy Cheese Casserole
Honey Pecan Chicken
Honey-Glazed Pineapple Carrots
Horseradish Salad
Hot Brownie with Fudge Sauce
Hot Buttered Rum
Hot Cheese in a Jar
Hot Chicken Salad
Hot Perked Party Punch
Hot Spinach Artichoke Dip
Hotel Natchez Bread Pudding with Bourbon Sauce
Hummingbird Cake
Hurricane Oatmeal Cake
I
Ice Box Pudding
International Bean Dip
Iowa Pride Chess Pie
Irish Cream
J
J&J s Basil Cream Dressing
Jalapeno Cornbread
K
Kahl a Mousse Cheesecake
Kentucky Ambrosia Salad
Key Lime Pie
Killer Peanut Butter and Fudge Ripple Pie
King Ranch Chicken Casserole
Knock You Nakeds
K s Cajun Seasoning
L
Lasagna Pie
Legendary Crab Rounds
Lemon Cream Cheese Bars
Lemon Cup Cake Pudding Quickie
Lemon Drop Cookies
Lemon Pie with Blueberry Sauce
Linguini Pesto
Lone Star Chicken-Fried Steak
Louisiana Pralines Microwave
Low Country Fettuccini
Lundi Red Beans and Rice
Luscious Lentil Soup
M
Mamaw s Shrimp Gumbo
Margarita Pie
Marie Wallace s World s Best Cookies
Maw Maw s Apricot Strudel
Meatballs Diablo
Melt in Your Mouth Chocolate Coconut Macaroons
Melt-In-Your-Mouth Blueberry Cake
Memree s Soppin Shrimp
Mexican Lasagna
Mexican Omelet
Microwave Candy Bark
Microwave Chicken Kiev
Microwave Roux with Vegetables
Mild Tomato Aspic Salad
Mile-High Rhubarb Pie
Mini Pizzas
Mint Julep Kisses
Mock Filet
Mock Oyster Dip
Momma Rogers Melt in Your Mouth Butter Biscuits
Monterey Chicken
Monterey Chicken Rolls
Moon Bars
Mousse in a Minute
Mrs McKenzie s Wine Jelly
My Sunday Roast
N
New Orleans Patties
No-Yolk Mayonnaise
O
Old Settler s Baked Beans
Old-Fashion Strawberry Shortcake
Old-Fashioned Oatmeal Cookies
Onion Pie
Orange Balls
Orange Breakfast Treat
Orange Charlotte
Orange Pork Chops
Orange-Almond Salad
Out-of-This-World Pie
Overnight Layer Salad
Oyster Stew
Ozark Chicken Casserole
Ozarks Smoked Turkey
P
Pan-Roasted Vegetables
Parmesan Chicken
Party Apple Salad
Party Chicken Pineapple Cakes
Pascagoula Shrimp Boil with Peppy Seafood Sauce
Pasta Salad Italiano
Paul Bunyan s Split Pea Soup
Pawleys Island Inn Crab Cakes
Peach French Toast
Peach Muffins
Peanut Butter Cookies
Peanut Soup
Pears Melba
Pecan Tassies (or Lemon Tassies)
Pennsylvania Dutch Green Beans
Pennsylvania-Dutch Potato Pancakes
Pepper Cheesecake
Pepper Steak
Pesto Chicken with Bow Tie Pasta
Phyllis Race Day Pie
Pineapple Cheese Ball
Pineapple Crunch Coffee Cake
Pineapple Pie
Pineapple Upside Down Cake
Pizza Dip
Pina Colada Wedges
Plain People s Lemonade
Plains Cheese Ring
Popovers Fontaine
Pork Chops Hawaiian
Pork Chops in Mushroom Gravy
Pork Fajitas
Pork Loins and Fried Apples
Pork Tenderloin
Pork Tenderloin with Mustard Sauce
Potato Cheese Soup
Potatoes Appleyard
Praline Confection
Prosciutto-Parmesan Pull-Apart Loaf
Pull-Apart Coffee Cake
Pumpkin Bowl Stew
Pumpkin Chiffon Pie with Peanut Crust
Pumpkin Pie Cake
Q
Quick Jell-O Salad
Quick Lemon Cheesecake
R
Ranch Dressing
Ranch Hand Mexican Pie
Raspberry Cream Cheese Pie
Raspberry Pretzel Salad
Rip s Barbecued Chicken (Texas Style)
Rocky Road
Romantic Raspberry Chocolate Meringues
Route Diner Philly Chicken
Ruth s Smashed Potato Bites
S
Salmon Steaks with Soy Marinade
Salmon with Cilantro Sauce
Saucy Blueberry Lemon Muffins
Sauerkraut Balls
Sausage Spinach Bread
Sausage and Rice Casserole
Sausage-Cheese Balls
Sea Island Shrimp Spread
Seafoam Salad
Seafood Pasta Salad
Seafood Supreme with Pasta
Sensation Salad Dressing
Seven Layers of Sin Bars
She-Crab Soup
Shepherd s Pie
Sherried Hot Fruit
Shoe Peg Relish Salad
Shortbread Toffee Squares
Shrimp Bisque in Puff Pastry
Shrimp Stir-Fry with Lemon
Shrimp and Crabmeat au Gratin
Simply Great Pineapple Cake
Simply Scrumptious Virginia Bay Scallops in Wine Sauce
Simply Southwest
Six Weeks Muffins
Sloppy Joes
Smoked Chicken Pesto Quesadillas
Smoked Salmon Dip
Smothered Fish
Smothered Steak Daufuskie Style
Snapper with Sour Cream
Snicker Apple Salad
Sooner Salsa
Sour Cream Cashew Drops
Sour Cream Chicken Enchiladas
Sour Cream Raisin Pie
Southern Peach Cobbler
Southwest Orange-Chile Chicken with Black Beans
Spaghetti Carbonara
Spaghetti Pie
Spiced Peaches
Spiedino Di Mare
Spinach Casserole
Spinach Madeleine
Spinach Pie Superb
Spinach Souffle
Spinach Stuffed Tomatoes
Spinach and Strawberries with Poppy Seed Dressing
Stir-Fry Chicken
Stormy Weather Chili
Strawberry Bread
Stromboli
Stuffed Baked Eggplant or Mirlitons
Stuffed Cabbage Rolls
Stuffed Green Peppers
Stuffed Pork Chops
Summer Tomato Salad with Brie
Supreme Beef Casserole
Swedish Meat Balls
Sweet Potato Bisque
Sweet Potato Pie
Sweet and Tangy Beans
Sweet n Sour Sauce
Swiss String Beans
T
Taco Pie
Taco Seasoning Mix
Taco Soup
Tennessee Fried Corn
Tex-Mex Dip
Texas Black-Eyed Pea Dip
Texas Brisket
Texas Crab Grass
Texas Pecan Torte
Texas Strudel
The Apple Barn Fresh Apple Pound Cake
The Best Pecan Pie
The Society Hill s Philadelphia Phenomenon Cheese Steak
The World s Best Sugar Cookies
Tiny Pecan Muffins
Tiramisu
Toffee Ice Cream Pie
Tollville Strawberry Pie
Too Easy Tamale Dip
Topsy Turvy Pecan Apple Pie
Tortillitas
Tramp Eggs
Traverse City Cherry Berry Pie
Turkey Jambalaya
Turkey a La King
Turtle Cake
V
Veal Parmigiana
Vegetable Bars
Vegetable Soup
Vegetables in Wisconsin Beer Batter
Vegetarian Lasagna
Venison Meat Balls
W
Waffled French Toast
Wake Up Casserole
Walking Taco
Wasp s Nest Cake
Welcoming Wine
White Bean Chili
White Chocolate Chunk Cookies
Wild Rice
Wild Rice Chicken Casserole
Wild Rice and Pork Chop Casserole
Wild Strawberry Dessert
Working Barn Stew
Working Man s Roast
World s Best Pimento Cheese
Y
Ye Olde Coffee Shop s Pineapple Delight
Yellow Shrimp Risotto
Your Own Butter
Z
Zucchini Deluxe
---
Cook'n Is Several Products in One!