Want New Ideas for Taco Filling?
Turnip Tuesday, tilapia Tuesday, tempeh Tuesday, tuna Tuesday, tangerines Tuesday, or maybe taco Tuesday. When it comes to planning dinner, taco Tuesday works for me. How about you?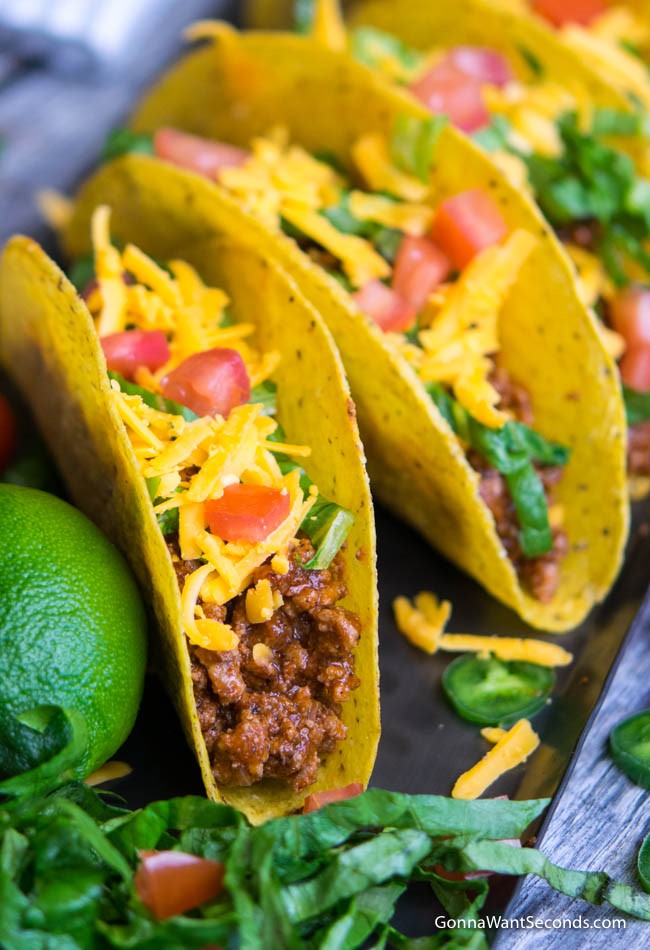 I say this because Linda of Food Storage Moms just sent me her newsletter with 20 different ways to serve that proverbial favorite, tacos. So I thought you might appreciate these new ideas for taco filling...fun and tasty ways to jazz up that proverbial favorite.
I like her approach: "This collection of 20 awesome taco recipes will take your Taco Tuesday planning to a new level. Whether you're a meat lover, seafood lover, or vegetarian, there's a recipe here for everyone. If you're dairy-free, you'll find a range of recipes with crunchy and fresh veggies for delicious taco toppers.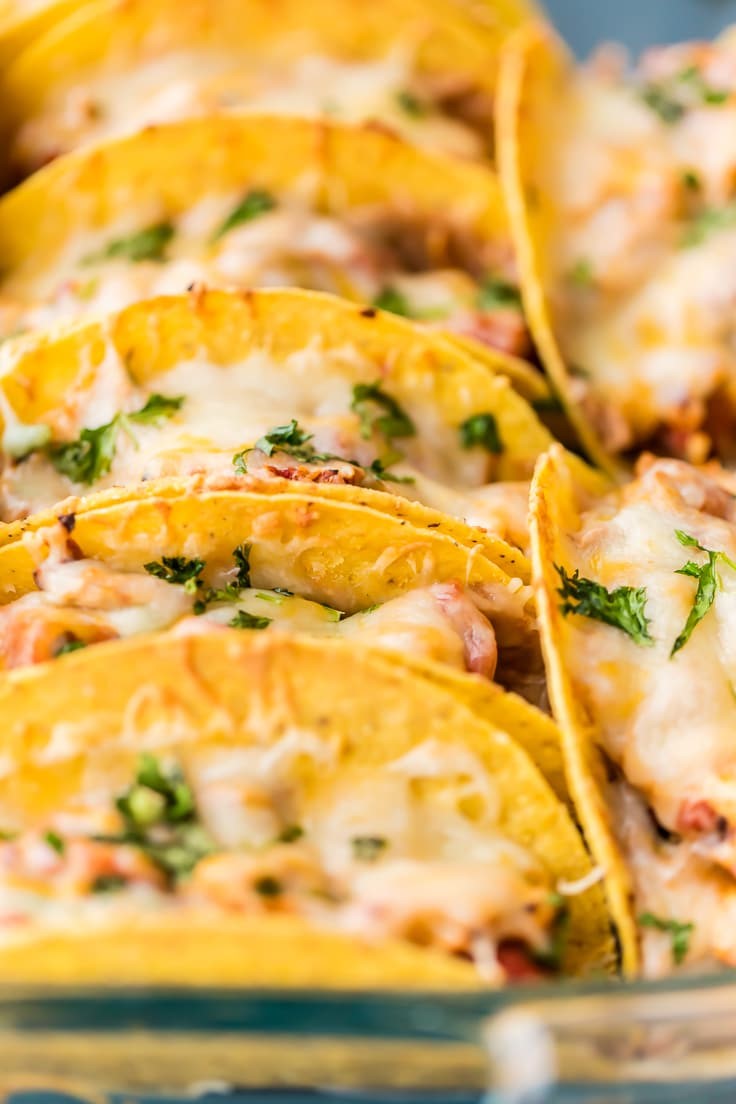 "You'll find slaws and pickled veggie toppings that add a tangy and spicy flavor to the mix. Hardshell, soft shell, or a combo of both are given modern makeovers with new ways to fuse the two for the ultimate taco eating experience. If you're looking for taco inspiration, check out these Taco Tuesday recipes for a new flavor kick!"
What Linda shares comes from food sites found all over the Internet. See if there isn't something here that might interest you or your family. In the interest of space, I offer just a few of her suggestions, so if you want to see them all, just go to her site, www.foodstoragemoms.com.
Vegan BBQ Mushroom Tacos. It's delicious, the way the smoky mixture of spices coats the portobellos and shiitakes. This is an outstanding vegan taco mixture and comes from Ashley of the Blissful Basil website. I chose this because I hear all the time from our Cook'n readers that more vegan and vegetarian recipes would be greatly appreciated. Note: If you don't have shitake mushrooms available, baby bellas or just the common white mushrooms are a good substitution.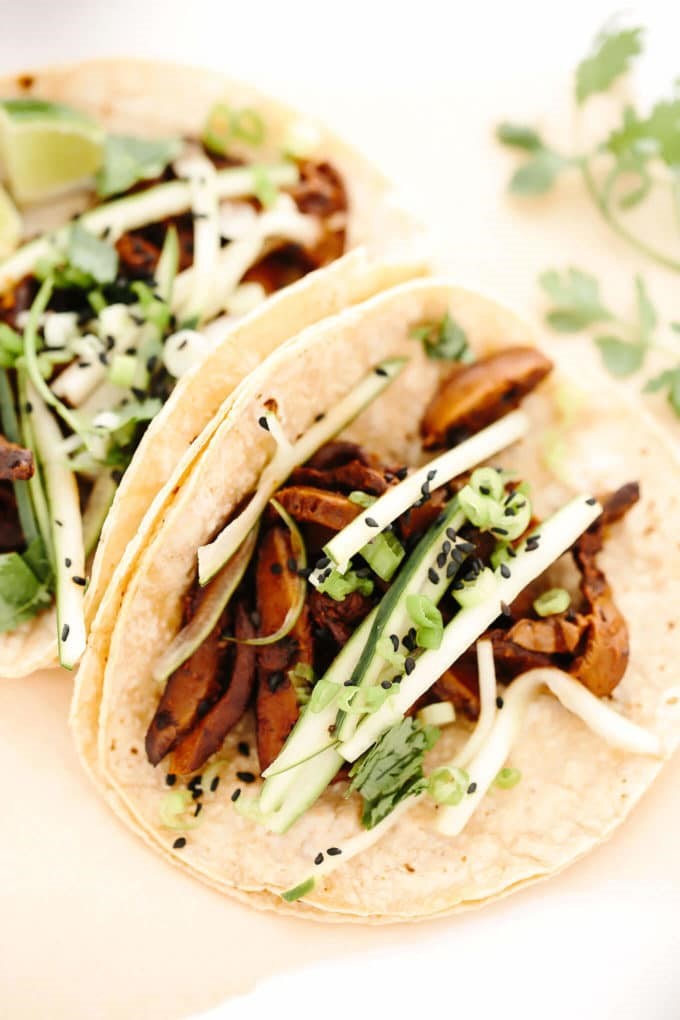 Vegan BBQ Mushroom Tacos
Prep time:
Cook time:
Yield:
Serving size:
1
Calories per serving:

765.888




Ingredients:
1
large
cucumber
trimmed, seeded, and julienned
1/2
cup
water
1/2
cup
apple cider vinegar
2
teaspoons
pure
maple syrup
1/2
teaspoon
fine
sea salt
divided, plus more to taste
4
medium
portobello mushrooms
stemmed, cleaned (i.e., gills removed), and thinly sliced
1
pound
shiitake mushrooms
stemmed and thinly sliced
1 1/2
tablespoons
smoked paprika
1
teaspoon
onion powder
1/2
teaspoon
garlic powder
1
tablespoon
sugar
2
cloves
garlic
minced
1
tablespoon
olive oil
1/3
cup
favorite
barbecue sauce
plus more for serving
3
tablespoons
water
12
small
corn tortillas
3
scallion
very thinly sliced
cilantro
optional
sesame seeds
optional
Directions:
1. Start by preparing the pickled cucumbers. In a large glass jar, stir together the julienned cucumber, filtered water, vinegar, maple syrup, and 1/4 teaspoon of the sea salt. Secure the lid, and shake for 10 to 15 seconds to mix. Refrigerate for at least 30 minutes, or until ready to assemble.
2. In a large re-sealable bag, whisk together the smoked paprika, onion powder, garlic powder, the remaining 1/4 teaspoon sea salt, and the coconut sugar. Add the sliced mushrooms, seal the bag, and toss to coat.
3. In a large nonstick skillet, heat the olive oil over medium heat. Add the garlic and saute for 30 seconds, or until just beginning to soften. Add the seasoned mushrooms and cook for 5 minutes, stirring frequently.
4. In a medium bowl, whisk together the barbecue sauce and water. Pour over the mushrooms, cover, reduce the heat to medium-low, and simmer for 10 minutes, or until firm-tender, stirring occasionally. Remove the lid and continue to cook for another 5 minutes, or until most of the liquid has absorbed and the mushrooms lose most of their glossy sheen, stirring occasionally. Season with more sea salt to taste.
5. Meanwhile, heat a small skillet over medium-high heat and warm the tortillas, one at a time, for 10-20 seconds on each side, or until softened. Wrap in foil to keep warm until ready to serve.
6. Spoon a bit of the BBQ portobellos into each warm tortilla. Drizzle with more barbecue sauce, to taste. Top with the pickled cucumbers, scallions, cilantro (if using), and sesame seeds (if using).
7. Serve immediately.

Recipe formatted with the Cook'n Recipe Software from DVO Enterprises.
Add Recipe to Cook'n
And one more that's healthy and so tasty, Lemon Butter and Grouper Tacos. Fish and lemon go hand-in-hand and the grouper is simply prepared by searing it in butter, lemon juice, salt and pepper. Averie, of the site Averie Cooks (www.averiecooks.com) says she thinks it's a disservice to do too much to fresh fish. I heartily agree. Doing so masks the natural flavors. Simple, clean, and easy is the way to go with fresh fish (AND it stays healthier that way).
By the way, if you don't have grouper, you can easily use cod, halibut, salmon, or even trout. This taco is outstanding due to its unusual supporting cast of other ingredients.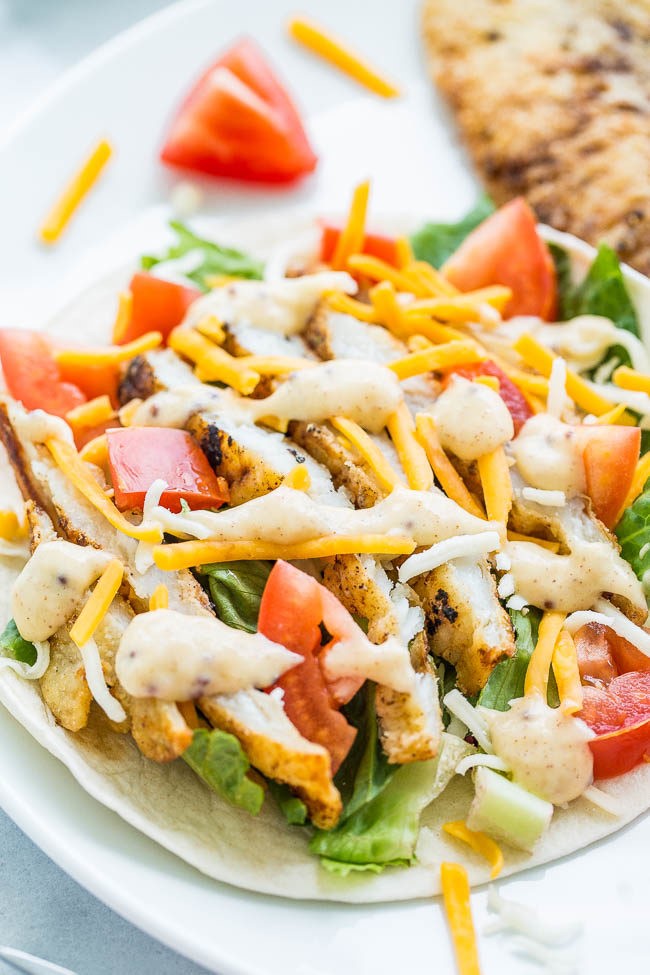 Lemon Butter Grouper Tacos
Prep time:
Cook time:
Yield:
Serving size:
1
Calories per serving:

554.71




Ingredients:
3
tablespoons
butter
flour
for lightly dredging and coating fish
2
large
grouper filets
(about 1 1/2 pounds)
1
lemon
juiced, about 3 to 4 tablespoons
salt
to taste
pepper
to taste
taco shell
or fajita shells
1
cup
chopped
Romaine lettuce
or iceberg
1
tomato
diced
1
cup
shredded
cheese
(cheddar, Monterrey Jack, etc.)
1/4
cup
Dijon style mustard
2
tablespoons
raw
honey
or to taste
1
tablespoon
lemon juice
or to taste
salt
to taste
pepper
to taste
Directions:
1. To a large skillet, add the butter and heat over medium-high heat to melt butter.
2. Dredge fish through flour, coating both sides.
3. Add fish to skillet, season with salt and pepper, and cook for about 3 to 4 minutes on first side, or until nicely seared and lightly golden browned.
4. Flip fish, season with salt and pepper, squeeze the lemon over the fish (use caution because the lemon juice will bubble up when it hits the hot skillet) and cook for about 2 to 3 minutes on second side, or until fish is lightly golden browned on both sides and cooked through. Serve immediately if desired.
5. To make the fish tacos, lightly warm each taco shell momentarily on a dry skillet over medium-high heat before adding lettuce, sliced fish, sprinkling with tomatoes, and cheese; set aside while you make the sauce.
6. To a small bowl, add the mustard, honey, lemon juice, salt, pepper, and whisk to combine. Taste, check for flavor balance, and make any desired tweaks. Drizzle sauce over tacos and serve immediately. Fish will keep airtight in the fridge for up to 3 days and sauce will keep airtight in the fridge for up to 1 week.

Recipe formatted with the Cook'n Recipe Software from DVO Enterprises.
Add Recipe to Cook'n
Linda also suggests adding shrimp the next time you make a chicken taco. Then top it all with pineapple salsa (she found that idea on the site, Spaceships and Laserbeams, www.spaceshipsandlaserbeams.com).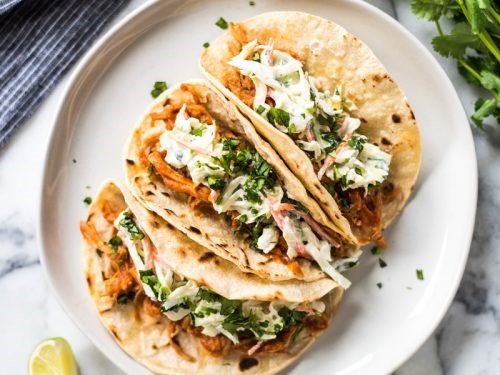 And here's one last idea: The next time you serve pulled pork sandwiches, reserve some for Taco Tuesday. That savory and tangy pulled pork makes a killer taco when topped with broccoli or cabbage slaw! A clever new idea, right?
Sources:
www.isabeleats.com
www.averiecooks.com
www.blissfulbasil.com
www.thecookierookie.com
www.gonnawantseconds.com

Alice Osborne
Weekly Newsletter Contributor since 2006
Email the author! alice@dvo.com