Orzo Coconut Curry Soup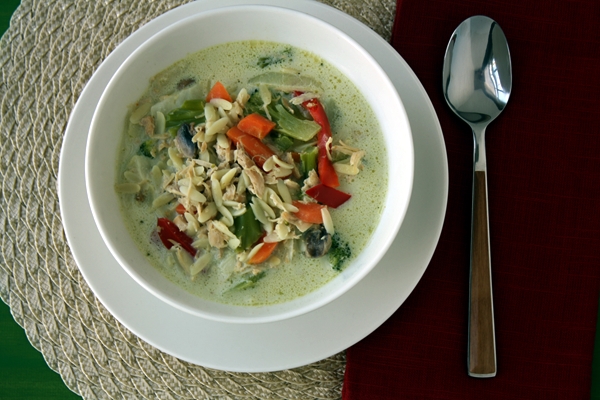 Serves:
4
For a side soup, sometimes I leave the chicken out. With the chicken, you have a hearty main dish soup.
Prep Time:
Cook Time:
Total Time:
Ingredients:
1/2

cup

orzo

2

cans

light

coconut milk

4

tablespoons

green thai

curry paste

1

cup

chicken stock

1

teaspoon

fish

sauce

1

frozen package frozen stir-fry

vegetable

2

cups

cooked shredded

chicken

1

lime

, juiced
Directions:
1 Cook orzo according to instructions on package, and then set aside.
2 In a large pot over medium-high heat, whisk together the coconut milk and the curry paste until smooth.
3 Stir in the chicken broth, fish sauce, frozen vegetables and shredded chicken.
4 Bring to a boil, then reduce heat and simmer on low until frozen vegetables are cooked through.
5 Stir in the cooked orzo and the lime juice. Serve warm.

Notes
This recipe is a great way to use up leftover rotisserie chicken. Thai curry paste: I used green, but yellow or red would work. The 4 tablespoons of curry paste to 2 cans of coconut milk was in line with the directions on the Thai curry paste package. I thought the quantity provided a mild heat, but you may want to adjust more or less depending on your heat tolerance. Frozen vegetables: I used a stir fry variety with broccoli, peppers, carrots, mushrooms, and water chestnuts.
Add Recipe to Cook'n
---