Wild Yeast Hunting for Bakers
If you're into making sourdough, you might want to take up a new hobby... hunting. The best part is that you can hunt in the comfort of your very own home. No need to pack up gear or go out in the wee hours of the morning. Really, all you need is
• a plastic or glass container with a loose-fitting lid,
• a wooden or plastic spoon,
• cloth
• water
• flour
This concept is starting from scratch quite literally.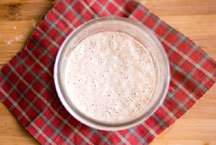 Yeast floats in the air all the time. This saves you from having to buy it at the store:
To get the process started, mix equal amounts of flour and water in the container (about 2 cups). Place a cloth or loose-fitting lid over it and let it sit on the counter. You'll want the gasses to have a chance to escape. The catching of the wild yeast hunting has begun. Let it sit for 24 hours. Pour out 1 cup of mixture and add one more cup of water and flour. It will begin to be foamy.
Leave on counter for 5 days. Feed every day as was done above. Empty half, add another cup water and flour. If liquid forms, stir it. The mixture will become yellow and have consistency of batter. It will smell sour. Store it in the fridge and feed once a week or keep on counter and feed everyday.
THE BIG QUESTION: Are any of you thinking "Ewww! When I leave stuff on the counter there's always mold and fungus and who knows what else! No thank you, I just don't want to be putting that in my mouth!"
Fair question, had the same myself. Apparently starch in the flour is too much for most bacteria. Also, the alcohol and lactic acid that the yeast and lactobacilli create help keep the other bacterias at bay.
Tips:
• DO NOT EAT THE STARTER. Obviously after it's baked it's fine, but don't eat the hooch. KEEP AWAY FROM CHILDREN
• The starter will have more flavor after a few weeks. Wild yeast apparently already has a stronger flavor, but it will intensify.
• One person said wild yeast rises slower. I don't know if it's true or not, but another source also said to never feed active, store-bought, yeast to the starter as it has a faster metabolism and will starve the wild yeast.
• Once again, no metal (lids included)
• One source said that if you add vitamin C, it helps the yeast. Boil potato in unsalted water. Mix the water (after it has cooled) into your sourdough.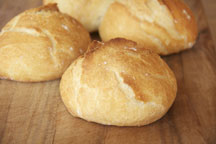 ---
References:
http://science.howstuffworks.com/innovation/edible-innovations/sourdough2.htm
http://girlsguidetobutter.com/2011/09/how-to-capture-and-care-for-wild-sourdough-culture/
Outside image:
http://www.joejaworski.com/bread/stalking.jpg
On counter image:
http://dianeyoon.files.wordpress.com/2012/12/dsc05822.jpg?w=529&h=355
Bread image:
http://www.halfbakedharvest.com/wp-content/uploads/2012/11/IMG_75271.jpg
---
---
---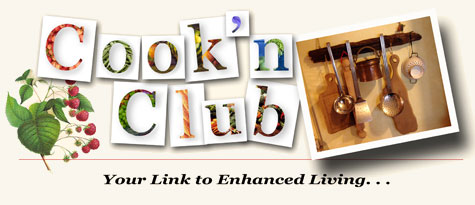 Contribute to the Cook'n Club!
DVO would love to publish your article, prose, photography and art as well as your cooking, kitchen and nutrition tips, tricks and secrets. Visit the Newsletter Submission / Win Win for All section in our Forum for more information and details.