We have diabetes on both sides of my family, and I'm border-line, so not surprisingly I've been interested in recipes that ward the condition off, for a long time. The other day I was going through my Aunt Annie's collection of recipe books, booklets, and magazines and found an old edition of Taste of Home. After flipping through it, I understood why she kept it: it was full of low sugar, low salt, low fat, and diabetic exchange recipes.
Many people are not aware that diabetics should eat a low sodium diabetic diet. They only know that people with diabetes need to eat a low sugar diet. The truth is, in a diabetic diet, low sodium, low fat and low carbohydrates are as important as low sugar.
Re: the sodium issue, the question I had was "How much is too much?" Rachel Meltzer Warren, a New York-based nutritionist and a former editor at Prevention magazine, answered the question: "According to the USDA Dietary Guidelines, all adults over 40—as well as African Americans any age and anyone who has high blood pressure—should consume no more than 1500 mg of sodium per day. That's about 2/3 of a teaspoon of salt, but most of the sodium in our diets doesn't come out of a saltshaker.
About 77 percent comes from processed foods, in products ranging from canned soups and frozen dinners to cereals and breads. My tip is to be an avid label reader, to make sure too much sodium isn't sneaking into your diet. Buy foods with less added salt and supply your own flavor with herbs, lemon juice, and vinegar—all of which contain no (or minute amounts of) sodium."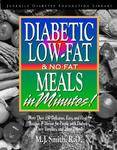 Re: the fat issue, I've found a book you might want to look at (found on Amazon.com, among other places). The recipes look wonderful—using normal ingredients the average person would have on hand, and easy to make as well.
Now let's look at three low sodium, low fat, and low sugar recipes that Aunt Annie had starred in this Taste of Home Magazine I referred to. (She starred recipes when they either tasted incredible or they were incredibly easy to make). She's gone now, so I can't ask her what her stars meant for these particular recipes, but either way, they ought to be good:
Baked Chicken Breasts Supreme
Serves 8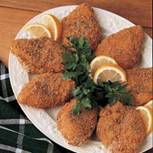 1 ½ C low fat plain yogurt or low fat sour cream
¼ C lemon juice
½ tsp Worcestershire sauce
½ tsp celery seed
½ tsp paprika
1 clove garlic, minced
¼ tsp pepper
8 boneless skinless chicken breast halves
2 C fine dry bread crumbs
In large bowl, combine first eight ingredients. Place chicken in mixture and turn to coat. Cover and marinate overnight in the refrigerator. Remove chicken from marinade; coat each piece with crumbs. Arrange on a shallow baking pan. Bake, uncovered, at 350° for 45 min. or until juices run clear. Diabetic Exchanges: One serving = 3 ½ lean meat, 1 starch, ¼ C skim milk; also 271 calories, 175 mg sodium, 76 mg cholesterol, 22 gm carbohydrate, 32 gm protein, 5 gm fat.

Download this recipe.
5-Bean Soup
Yield: 3 ½ qts, or 14 servings

5 pkg (16 oz each) dried beans: lima, great northern, kidney, pinto, and split peas
3 low-sodium beef bouillon cubes (Shirley J, http://preview.shirleyj.com/files/products/products.php, makes the best tasting and lowest sodium bouillons we've found)
3 Tbsp dried chives
1 tsp dried savory
½ tsp ground cumin
½ tsp pepper
1 bay leaf
2 ½ qts water
1 can (14 ½ oz) stewed tomatoes
Combine beans; divide into four equal batches, about 3 ¾ C each. To make ONE batch of soup: Wash one batch of beans. Place in a large kettle; add enough water to cover. Bring to a boil; cook for 3-4 min. Remove from heat; cover and let stand 1 hr. Tie spices in a cheesecloth bag. Drain and rinse beans. Return to kettle; add spices and water. Bring to boil. Reduce heat; cover and simmer 1 ½ hrs or until beans are tender, stirring occasionally. Remove spices. Add tomatoes and heat through. Diabetic Exchanges: One serving (1 cup) = 2 starch, 1 vegetable, ½ meat; also 191 calories, 175 mg sodium, 0 mg cholesterol, 35 gm carbohydrates, 13 gm protein, 1 gm fat.

Download this recipe.
Wild Rice Salad
Serves 6

1 C uncooked wild rice
2 C diced cooked chicken
1 ½ C halved green grapes
1 C sliced water chestnuts, drained
¾ C light mayonnaise
1 C cashews, optional
Lettuce leaves
Cook rice according to package directions, omitting salt. Drain well; cool to room temperature. Spoon into a large bowl; add chicken, grapes, water chestnuts and mayonnaise. Toss gently with a fork. Cover and chill. Just before serving, add cashews if desired. Serve on lettuce leaves or line a bowl with lettuce leaves and fill with salad. Diabetic Exchanges: One serving (prepared without cashews or salt) = 2 lean meat, 1 starch, 1 fruit, 1 vegetable, 1 fat; also 318 calories, 229 mg sodium, 38 mg cholesterol, 40 gm carbohydrate, 19 gm protein, 10 gm fat.

Download this recipe.
---
(If YOU have a smart idea, won't you share it? Life is so much easier and we accomplish so much more when we pool our resources. And after all, we're all in this together. So email
patty@dvo.com
or
alice@dvo.com
with YOUR Smart Ideas!)
---
Contribute to the Cook'n Club!
DVO would love to publish your article, prose, photography and art as well as your cooking, kitchen and nutrition tips, tricks and secrets. Visit the Newsletter Submission / Win Win for All section in our Forum for more information and details.
---