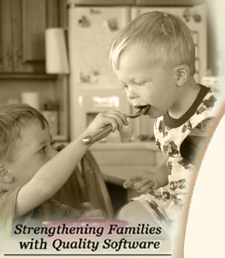 Cook'n Club Home
Subscribe Now!

Cook'n Forum
HomeCook'n Archive
Give-Aways

I have spent the last 2 hours reading your newsletter and wonderful recipes. I have already printed a whole bunch I want to try. I love them because they are using ingredients one has on hand. I love that and just wanted you to know how much we appreciate all your hard work in putting together this newsletter. Thank you very much.

Anna

Volume I - November 13, 2009
Fresh Steamed Shrimp
Thanks to our wonderful Cook'n Reader Suzanne Utnage for the delicious tip!
---
I really love fresh shrimp.  I like to steam it myself and I use 2 packs of the Shrimp & Crab Boil Seasoning that I get right off the shelf at the grocery store.  Well after I bought my steamer, I wanted to use it, rather than boiling.  I looked through the book that came with my steamer, but there was absolutely nothing in it to give me an idea of how to use the herb packets in the steamer.  

I read the back & sides of the box, in case there might be something on there that was specific to steamers, since I knew the season packet had to be submerged in the water.  All I got from it, was how to steam or boil the shrimp.  At this point, I took a giant leap of faith.  I filled my steamer with the maximum amount of water.  Submerged the seasoning packets in the water.  Then put the pieces of the steamer together just like I normally would to steam something.  I then turned it on and set it for the required amount of time to steam shrimp as directed in the Oster Steamer book and let steam.

At first I was worried that this would some how damage my steamer. But then I told myself that this thing is made really well.  The water well is sealed up really well and it really should not cause any problems.  When the timer went off, I tried one of the shrimp right away.  (Boy, was it hot!!)  It did not taste as seasoned, as I like it, so I put it back in for another 3-4 minutes.  This time, it tasted great.

After my steamer cooled down, I was prepared for damage.  I took it apart.  Dumped the water.  Rinsed out the inside of the water well with a little vineger (about 2 Tbsp) and it was just like brand new!!  I really love that Oster steamer.  I just thought you might like to share that tip with others who love seasoned, steamed shrimp as much as I do.

Suzanne Utnage
---
Contribute to the Cook'n Club!
DVO would love to publish your article, prose, photography and art as well as your cooking, kitchen and nutrition tips, tricks and secrets. Visit the Newsletter Submission / Win Win for All section in our Forum for more information and details.
---
---