Your choice of seasonings should complement rather than mask the flavor of greens, whether served raw or cooked. For salads, use light yet flavorful vinaigrettes to bring out and enhance innate flavors. If the green is bitter or spicy, incorporate sweetness into the vinaigrette. For delicate lettuces, dressings ought to be light enough not to crush the green itself. Let's get specific:

Bitter Greens
(chicory, dandelion, radicchio, escarole, frisee, endive): Season with garlic, olive oil and bold vinegars. Pair with citrus fruit, hard-boiled eggs, aged hard cheeses, and sweet, salty or smoky meats, fish and cheeses.

Sweet Lettuces and Greens
(pea shoots, sunflower shoots, red and green butterhead, red and green romaine, Lolla Rossa, oak leaf, tango, mache): Season with fresh herbs, light oils, and seet and light vinegars. Pair with mild cheese, shallots and fruit.

Spicy Greens
(mustard, cress, mizuna, sorrel, turnip greens, chrysanthemum—edible and not the same as the flower): Season with bold oils, garlic, curry powder, minty herbs and bold spices such as cumin, rosemary, basil and chile. Pair with cooked onions and smoky meats, fish and cheeses.

Sturdy Greens
(arugula, amaranth, orach, spinach, beet greens, chard, kale, baby bok choy): Season with garlic, chile, herbs and bold oils. Pair with butter, cream sauces, cheese, citrus fruits, and smoky meats and fish.
Now let's look at how we cook these babies: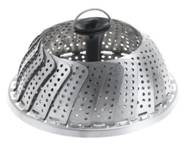 Steaming:
This is the quickest and most nutritious way to cook greens—in a perforated basket over boiling water—and it is particularly good for varieties with a high water content, such as spinach, kale, chard, and collards.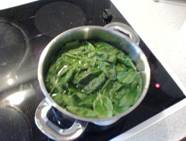 Blanching:
Light blanching before seasoning or additional cooking, such as sautéing, helps set the green color. To blanche whole heads or separated leaves, briefly immerse them in boiling water or stock (6-10 seconds), just until they turn bright green; drain immediately.

Roasting:
Yes, greens can be roasted, and they are delicious treated this way! Roast small whole heads or wedges of greens such as escarole, frisee and radicchio until tender. Lightly coat them with olive oil, herbs, garlic, salt and pepper, and place them in a shallow, heavy baking dish. Bake at 375° F, turning them every 10 min., until tender. The baking time varies with the size and tenderness of the green.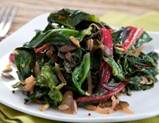 Braising:
Same deal as roasted, this touch is just delicious! Sturdy greens such as escarole, bok choy and radicchio can be braised to make them tender. Cook whole heads, wedges or leaves in small amounts of chicken, vegetable or meat stock in a covered pan in the oven at 350° F. or over low heat on the stove. Season the cooking juices with herbs, spices, and garlic. (Hint: for less muss and less fuss, try Shirley J Beef and Chicken Bouillons — LOW sodium, incredibly tasty, and super substitutes for stock:
Low Sodium Bouillon
.)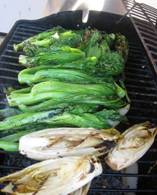 Grilling:
Who would have thought greens could be grilled as well? Small whole heads of greens such as radicchio and bok choy can be grilled. Briefly blanch the greens; then lightly coat them with oil and seasonings such as garlic, dried chiles, fresh herbs, lemon pepper, savory spices, salt and pepper. Cook them over mesquite or on a gas grill. Whole heads can usually be placed directly on the grill; very small heads and leaves should be placed in a grilling basket.
---
Contribute to the Cook'n Club!
DVO would love to publish your article, prose, photography and art as well as your cooking, kitchen and nutrition tips, tricks and secrets. Visit the Newsletter Submission / Win Win for All section in our Forum for more information and details.
---
---