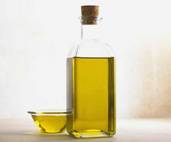 Have you ever wondered
how long olive oil can be stored, and how long does it keep?
I have, and I found the answer (not hard to find answers anymore, thanks to the Internet!): Commercial olive oil should be stored in a cool, dark place, away from heat and light, in a tightly closed container. Experts vary on how long they say it will keep this way—from six months to two years. I'd err on the side of caution here.
If you live in a region that is hot and humid, or if you use olive oil infrequently, you can also store it in the refrigerator to extend its shelf life. It turns cloudy when it's cold but this doesn't affect taste. The cloudiness disappears when the oil warms up to room temperature.
You can tell when olive oil is beginning to deteriorate by tasting it. If it has lost its sweet olive flavor and leaves an unpleasant aftertaste, it's time to toss it. To determine if olive oil has spoiled, smell it. If it has a pungent, harsh odor, it's rancid and should also be tossed. Now here are two authentic olive oil recipes:
Fettunta
(Tuscan Garlic Bread)
Toast old bread, preferably over an open fire, rub it with fresh garlic - the toast will act as a grater, and season with salt and pepper
Drizzle freshly pressed olive oil over it.
Olivada
An Italian olive spread, which is generally a simple combination of pureed Italian black olives, olive oil and black pepper.
Have you ever wondered
why recipes call for unsalted butter and then have you add salt as another ingredient?
I have, and I found the answer (again, not that tough, thanks to the Internet): By using unsalted butter, you can more closely control the amount of salt in a recipe. This is particularly important in baked goods. A small amount of salt may be needed but if you use regular butter when the recipe calls for unsalted, the additional salt it contains could affect the taste of the finished product.
For instance: One cup of regular butter contains 1,984 mg of sodium, while one cup of unsalted butter contains just 32 mg of sodium. The amount of sodium in 1 teaspoon of salt is 2,325 mg. So if a recipe calls for 1 C of unsalted butter and you substitute regular butter, consider reducing the amount of salt added by approximately ¾ teaspoon. Now just for fun, here's a great cookie recipe calling for unsalted butter, courtesy of the Land O'Lakes website:
Frosted Lemon Cookies

2 1/2 cups all-purpose flour
1 1/2 cups sugar
1 cup LAND O LAKES® Unsalted Butter, softened
2 eggs
1 tablespoon freshly grated lemon peel
1 tablespoon lemon juice
1 1/2 teaspoons cream of tartar
1 teaspoon baking soda
1/4 teaspoon salt
Glaze
2 1/2 cups powdered sugar
1/4 cup lemon juice
Heat oven to 400°F. Combine all cookie ingredients in large bowl. Beat at low speed, scraping bowl often, until well mixed. Drop dough by rounded teaspoonfuls, 2 inches apart, onto ungreased cookie sheets. Bake for 6 to 8 minutes or until edges are lightly browned.
Meanwhile, combine all glaze ingredients in small bowl; stir until smooth. Frost warm cookies with glaze. Sprinkle with additional lemon peel, if desired.

Download this recipe.
---
Contribute to the Cook'n Club!
DVO would love to publish your article, prose, photography and art as well as your cooking, kitchen and nutrition tips, tricks and secrets. Visit the Newsletter Submission / Win Win for All section in our Forum for more information and details.
---
---