Every once in a while we yearn for something a little different from what we've always been cooking or baking. So we go hunting. We found these two really good (and different) recipes on the About.com site.
The puff pastry recipe is truly easy. The raisin-filled turnover cookie is a little time-consuming, but we were in the mood, so we didn't care. Let us know what you think and send us YOUR "different" recipes if you'd like to share them with our DVO family of readers.
Easy Mango Puff Pastry Turnovers
Makes 8 to 10 turnovers
My mango turnover recipe was inspired by the traditional guava turnover. I prefer mangos, so why not make a mango turnover? These sweet treats can be served as an after dinner dessert, afternoon snack with coffee, or for breakfast. In this recipe, cashews are optional. If you are allergic to nuts, leave them out. Also, follow the manufacturer's directions for handling the puff pastry.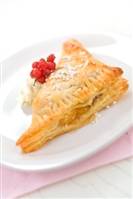 1 pound frozen puff pastry (thawed and cut into 4 inch squares)
Ground cinnamon, nutmeg, and cloves to taste
1 cup mango preserves or jam
1/4 cup cashews (chopped)
1 egg beaten
confectioner sugar for dusting baked turnovers
butter to grease the cookie sheet
parchment paper
1. Grease a cookie sheet and line with parchment paper.
2. In a bowl, mix the mango preservers (or jam if you can't find preserves) with the chopped cashews. Set aside.
3. Lightly sprinkle each pastry square with spices (cinnamon, nutmeg, and cloves to taste).
4. Put 1 1/2 tablespoons of mango mix in the middle of each pastry square.
5. Brush the edges of the pastry with the beaten egg. Then fold over to form a triangle, enclosing the mango mix.
6. Place the pastries about 2 inches apart on the prepared cookie sheet.
7. Refrigerate for 30 minutes. Meanwhile, preheat oven to 350 degrees Fahrenheit.
8. After 30 minutes, take out the cookie sheet with turnovers. Place in the preheated oven and bake for 25 to 30 minutes, or until lightly golden.
9. Remove from the oven. Dust with confectioner sugar. Allow to cool before serving.

Download this recipe.
Raisin-Filled Turnover Cookies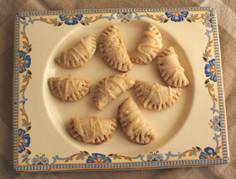 Cookie Dough:
1 cup sugar
1/2 cup shortening
2 eggs
1 teaspoon vanilla
2 1/2 cups all-purpose flour *see note below for self-rising flour
1/2 teaspoon salt
1/4 teaspoon baking soda
milk
sugar
Raisin Filling:
2 cups chopped or ground raisins
3/4 cup sugar
3/4 cup water
1/2 cup chopped walnuts
Mix 1 cup sugar, the shortening, eggs and vanilla. Stir in flour, salt and baking soda. Cover and refrigerate for at least 1 hour. Prepare Filling.
In a saucepan, combine raisin filling ingredients. Cook, stirring constantly, until mixture thickens. Cool completely.
Heat oven to 400°. Roll dough about 1/16-inch thick on a floured surface. Cut into 3-inch rounds or squares. Spoon about 1 teaspoon raisin filling onto one side of each circle leaving enough of an edge to seal. Fold dough over filling; pinch edges to seal. Place cookies about 1 inch apart on ungreased baking sheets. Brush with milk and sprinkle with sugar.
Bake until lightly browned, about 8 to 10 minutes. Immediately remove from baking sheet. Drizzle with icing if desired. Makes about 4 1/2 dozen raisin turnover cookies. *If using self-rising flour, omit salt and baking soda.

Download this recipe.
---
(If YOU have a smart idea, won't you share it? Life is so much easier and we accomplish so much more when we pool our resources. And after all, we're all in this together. So email
patty@dvo.com
or
alice@dvo.com
with YOUR Smart Ideas!)
---
Contribute to the Cook'n Club!
DVO would love to publish your article, prose, photography and art as well as your cooking, kitchen and nutrition tips, tricks and secrets. Visit the Newsletter Submission / Win Win for All section in our Forum for more information and details.
---