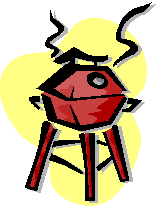 The weather is still warm but we have noticed a distinct lack of bar-b-que odors in the neighborhood lately. In order to eek out as much summer as we can, here are a few recipes that you may not have tried grilling this summer. We can't wait to try them this week-end!
Grilled Potato Salad
Yield: Serves 6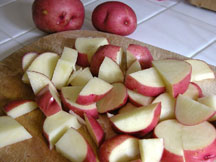 1-1/2 lbs. red potatoes, not small new potatoes, sliced 1/4 –inch thick
1/2 cup chopped kalamata olives
1 Tbs. fresh rosemary, finely chopped
3/4 cup olive oil, plus 2 Tbs.
3/4 cup apple cider vinegar
2 tsp. Dijon mustard
salt and pepper to taste
non-stick cooking spray
1. Preheat grill.
2. Wash red potatoes and pat dry.
3. Slice potatoes into 1/4" thick disks.
4. Toss them in 2 tablespoons olive oil and salt and pepper in a large mixing bowl.
5. Spray the grill grates with the non-stick cooking spray and lay potato slices down.
6. Grill 5-8 minutes per side.
7. Meanwhile, in a small mixing bowl whisk together mustard, vinegar, oil salt and pepper to make a vinaigrette.
8. Stir in rosemary and olives.
9. When potatoes are tender, transfer them back to the large mixing bowl and pour vinaigrette over them and toss well while still warm. The potatoes will absorb the vinaigrette.

Download this recipe.
Grilled Fruit Kabobs
Serves: 12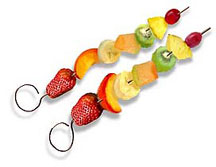 6 firm apricots
4 slightly firm peaches
4, 1-inch pineapple slices
4 tangerines
4 firm bananas
4 apples
Grand Marnier cream sauce:
3 Tbs. lemon juice
2/3 cup unsalted butter
1 cup powdered sugar
3 Tbs. Grand Marnier (or go without)
1-2 Tbs. orange juice
2 Tbs. grated orange rind
1/2 cup heavy cream
Cut apricots in half and remove pits.
Cut peaches in eighths (or quarters, depending on size).
Cut pineapple in chunks.
Peel tangerine and cut in quarters.
Peel bananas and cut into 1-inch chunks.
Peel apples and cut into eighths.
Put apples, peaches and bananas in bowl with lemon juice and coat thoroughly.
Place a mixture of fruits on each skewer.
To make sauce, melt butter, sugar, orange juice and orange rind in small sauce pan and stir until melted and then add Grand Marnier. Grill kebabs over medium heat, basting frequently.
Combine remaining sauce with 1/2 cup cream and serve with hot kabobs.

Download this recipe.
Pizza Vegetariana
Serves 4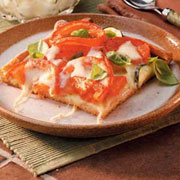 2 10 oz. cans refrigerated pizza dough
14 oz. can Italian style diced tomatoes, well-drained
14 oz. can artichoke hearts, well-drained and chopped
2 cups shredded low-fat mozzarella cheese
7 oz. jar pesto
7 oz. jar roasted peppers, well-drained and chopped
Fire up your grill to medium-low.
Unroll the dough and cut each in half.
Coat four pieces of foil with cooking spray and put dough on each.
Press dough into 8-inch circles.
Coat with more spray.
Invert onto the grill and peel off the foil.
Grill for 1-2 minutes, or until just brown on bottom.
Invert onto a cutting board.
Spread 1/4 of the pesto on each.
Add everything else, cheese last.
Put the pizzas back onto the grill and close the lid and top vents.
Grill for 3-5 minutes, or until the cheese is melted and the crusts are brown.
Cut each pizza into 4 slices.
---
Contribute to the Cook'n Club!
DVO would love to publish your article, prose, photography and art as well as your cooking, kitchen and nutrition tips, tricks and secrets. Visit the Newsletter Submission / Win Win for All section in our Forum for more information and details.
---
---