Information courtesy of Care2.

Fresh mint is the perfect ingredient for a great summer meal. Whether it's served in a fruit salad, spring roll, fruit punch, or paired with a vegetable (see recipes below), this versatile herb is a great complement to a warm, sunny day. It's an easy plant to grow — just be careful you don't plant too much, and be aware you'll need to thin it out as it spreads like crazy.
In addition to its gorgeous taste and fragrance, mint is believed to hold potent healing properties. Most commonly used to settle stomachs and sooth the digestive tract, some studies have even suggested that mint may contain anti-cancer properties due to a phytonutrient it contains–perillyl alcohol.
Mint has been used for centuries for its healing powers, taste and aromatic qualities, and even has its place in ancient Greek mythology. According to legend, the green, fragrant herb used to be a beautiful nymph named Menthe. She was turned into a plant by jealous Persephone who didn't appreciate her husband Pluto's affection towards Menthe. Pluto could not turn the plant back into a nymph, but he could give it an appealing aroma.
The history, smell, taste – everything about mint makes me happy. So naturally we were delighted when we stumbled across this simple, mint and eggplant recipe from a cooking blog, "White on Rice Couple". It's a new way to enjoy this herb, and all the ingredients can be grown locally and bought from any farmers' market! Here is that recipe along with some others to enjoy on a sunny day–or whenever:
Roasted Eggplant with Mint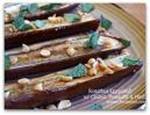 Eggplant, smaller varieties sliced in half, larger sliced into 1/2" thick slices
Fresh Mint
Olive Oil
Sea Salt
Fresh Cracked Black Pepper
1. Pre-heat oven to 350º F. Lay the eggplant on a sheet pan with the mint, toss with olive oil and season with salt and pepper. If you are using small halved eggplants, lay them so that they are skin side down.
2. Roast until eggplants are a light golden brown and soft (can be anywhere from 30 min - 1 hr depending on your eggplants and their thickness.) You do not need to flip them during roasting.
3. Double check finished eggplants for seasoning and serve with the crispy mint leaves.
I cut up the roasted mint and eggplant and used it in a salad with some fresh mozzarella, tomatoes, and a little more fresh mint. This recipe is also really good plain!

Download this recipe.
Raspberry Mint Punch
(adapted from PlanTea)

3 sprigs of fresh mint leaves
1 cup fresh or frozen raspberries
1 cup water
1 1/2 quarts lemonade
Fresh mint for garnish
Bring water to a boil, add mint leaves and steep for five minutes. Strain and cool. Stir in berries and add mixture to the lemonade. Chill for at least two hours to allow flavors to blend. Serve in tall glasses with ice, garnished with a mint leaf. Serves 6-7.

Download this recipe.
Spring Roll (Salad) with Tofu
(adapted from Eat. Drink. Better.)
A great way to enjoy this herb fresh, without any cooking, is in spring rolls. Toss together the following ingredients and put in a rice paper roll–or skip the rice paper roll and eat a healthy salad version. You can vary the portions depending on your tastes.

Green cabbage
Romaine lettuce
Fresh mint leaves
Fresh basil leaves
Carrot
Green onion
Peanuts
Sesame seeds
Mung bean sprouts
Vermicelli noodles (cooked according to package)
Extra firm tofu (sautéed in soy sauce, ginger, a tsp. of canola oil, and a drop of sesame oil)
Serve with your favorite Asian dressing or peanut dressing.

Download this recipe.
---
Contribute to the Cook'n Club!
DVO would love to publish your article, prose, photography and art as well as your cooking, kitchen and nutrition tips, tricks and secrets. Visit the Newsletter Submission / Win Win for All section in our Forum for more information and details.
---
---