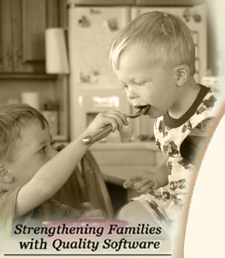 Volume I - June 26, 2009
Simple, But Unbelievable Salsas
by Alice Osborne and Patty Osborne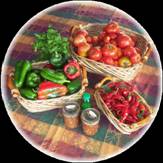 Tomatoes and other garden treats will be ready before we know it. What a better way to use some of this bounty than in a variety of salsa recipes?
We found these on the Spark People website, and just know you'll be jazzed to have them:
Slow Cooker Salsa Chicken
Serves 6

4 boneless, skinless chicken breasts
1 cup salsa
1 package reduced sodium taco seasoning
1 can reduced fat cream of mushroom soup (condensed)
1/2 cup reduced fat sour cream
Add chicken to slow cooker. Sprinkle taco seasoning over chicken. Pour salsa and soup over chicken. Cook on low for 6 to 8 hours. Remove from heat and stir in sour cream. Serve with rice.
NOTES:
You may use half the packet of taco seasoning, which would reduce the sodium content.
Some slow cookers cook faster than others. Newer ones cook a bit faster and you may have to adjust your cooking time based on that!
Amount Per Serving: Calories: 157.2, Total Fat: 3.3 g, Cholesterol: 63.4 mg, Sodium: 654.2 mg, Total Carbs: 6.7 g, Dietary Fiber: 0.9 g, Protein: 24.3 g.

Download this recipe.
Cream Cheese and Salsa Pinwheels
Serves 4 at 24 slices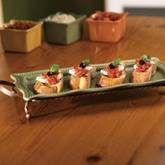 4 fat-free white flour tortillas (or whole wheat)
8 tbsp light cream cheese
8 tbsp salsa
Let cream cheese sit out until room temperature. (For a quickie, you can put it in the microwave for a couple seconds until soft.) Mix cream cheese and salsa together until easily spreadable.
Place 2 tbsp of mixture on each of the 4 tortillas and spread across each entirely. Secure with toothpick, place in refrigerator, and let chill. (The chilling may be omitted if preferred.) Remove rolls from refrigerator and slice to 1 inch thickness.
Amount Per Serving: Calories: 125.0, Total Fat: 3.3 g, Cholesterol: 7.5 mg, Sodium: 475.0 mg, Total Carbs: 20.0 g, Dietary Fiber: 1.5 g, Protein: 4.5 g.

Download this recipe.
Summer Cucumber Salsa
Serves 6
A new twist on salsa—great for using cukes from the garden in the summer!

3 medium-large cucumbers
3 small-medium tomatoes
1 green bell pepper
1/2 cup red onion
2 jalapeno peppers
2 Tbsp minced cilantro
2 Tbsp minced fresh dill
3 squeezes of lime juice (either from wedges or a lime-bottle)
(20 minute prep-time is for chopping up all the ingredients.)
Peel cucumber (can leave the peel on if you prefer). Remove seeds from cucumber and discard; chop remaining cucumber flesh into small pieces. Remove seeds from tomatoes and discard. Chop remaining flesh into small pieces. Remove seeds from bell pepper and discard. Chop bell pepper into small pieces. Remove seeds from jalapeno peppers and chop into very small pieces (or mince). Chop red onion into small pieces. Mince cilantro and dill.
Combine all chopped veggies in a large bowl. Add cilantro and dill and mix together well. Add a few squeezes of lime juice and mix together again.
Serve with your choice of tortilla chips (not included in nutritional information). We use baked chips to make the recipe a little more healthy. We've found this salsa tastes great on baked "Scoops" chips, or corn tortilla chips with the "hint of lime" flavor.
Amount Per Serving: Calories: 44.4, Total Fat: 0.5 g, Cholesterol: 0.0 mg, Sodium: 9.4 mg, Total Carbs: 9.8 g, Dietary Fiber: 2.5 g, Protein: 2.0 g.

Download this recipe.
Triple Great Salsa
Serves 8

3 cups diced tomato (canned or fresh)
3/4 cup finely diced onion (I like to mix white and red onion for a better flavor)
1 jalapeno (or serano) pepper, seeded and finely diced
1/4 cup fresh cilantro
2 garlic cloves, diced
juice from 1/2 a lime
1/2 tsp salt
Combine all ingredients in a medium bowl. Cover and let sit in the fridge for at least 12 hours before serving to allow the flavors to meld. Serve with tortilla chips or as a topping for fajitas, tacos, and quesadillas.
Amount Per Serving: Calories: 33.9, Total Fat: 0.2 g, Cholesterol: 0.0 mg, Sodium: 285.8 mg, Total Carbs: 8.2 g, Dietary Fiber: 0.4 g, Protein: 1.1 g.

Download this recipe.
Salmon with Summer Tomato Salsa
Serves 4, 4-oz filets

4 (4 ounce) fillets salmon, skin removed
1 cup chopped fresh tomato
1/2 Hass avocado, chopped
1 garlic clove, crushed
1 Tbsp balsamic vinegar
1 tsp olive oil
1/2 cup cooked corn kernels
1/4 cup minced red onion
1/4 cup chopped fresh cilantro
salt and pepper, to taste
1 lime, cut in wedges
Preheat oven to 325 degrees. Combine all ingredients (except salmon fillets and lime) in small bowl and refrigerate for 30 minutes. Bake salmon for 15-20 minutes, or until cooked thoroughly. Serve salmon surrounded by the salsa and lime wedges.
Can serve salmon either hot or cool. Serving cool salmon with salsa is a great summer recipe; just refrigerate until cool.
Amount Per Serving: Calories: 253.5, Total Fat: 9.9 g, Cholesterol: 75.9 mg, Sodium: 187.9 mg, Total Carbs: 11.2 g, Dietary Fiber: 3.0 g, Protein: 30.6 g.

Download this recipe.
---
Contribute to the Cook'n Club!
DVO would love to publish your article, prose, photography and art as well as your cooking, kitchen and nutrition tips, tricks and secrets. Visit the Newsletter Submission / Win Win for All section in our Forum for more information and details.
---
---