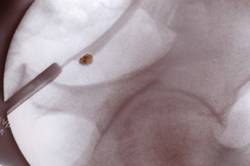 Alice knows first hand about kidney stones — her husband had a doozey of an attack and had to go to the hospital over them. Ever since, she's been very interested in what causes them and what can be done to prevent them. Not surprisingly, we've heard from many of you that this is a concern you have, as well. That said, let's look at this little pain in the… well, you know…
Healthy lifestyle is KEY to avoiding kidney stones, period. And
the number one risk factor for kidney stones?
Not drinking enough water
. If you aren't drinking enough, your urine will simply have higher concentrations of substances that can form stones.

How do you know if you are drinking enough water? Your urine should be a light yellow. Every person's water requirement is different, depending on your particular system, weight and activity level, but simply keeping your urine light yellow will go a long way toward preventing kidney stones.
Remember to increase your water intake whenever you increase your activity, and when you're in a warmer climate. (By the way, if you happen to be taking any multivitamins or B supplements that contain vitamin B2—riboflavin—the color of your urine will be a very bright nearly fluorescent yellow and this will not allow you to use the color of your urine as a guide to how well you are hydrated.) Waiting until you feel thirsty is often too late. Thirst usually signifies dehydration.
Other risk factors:
Being sedentary. You're more prone to kidney stones if you're bedridden or very sedentary for a long period of time, partly because limited activity can cause your bones to release more calcium.


High blood pressure. It doubles your risk for kidney stones.


Digestive problems. Changes in the digestive process affect your absorption of calcium and other minerals.


A diet high in sugar. Sugar upsets the mineral relationships in your body by interfering with calcium and magnesium absorption. Not only does sugar and high fructose corn syrup lead to obesity and diabetes, but also the current over-the-top consumption of these unhealthy sugars by children is a large factor in why children as young as age 5 or 6 are now turning up with kidney stones.


Diets high in processed salt. Salt increases the amount of calcium and oxalate in your urine. And processed foods are extremely high in salt.


Consumption of soy. This predisposes you to developing kidney stones due to high levels of oxalate present in many varieties of soybeans. (One more nail in the coffin for non-fermented soy!)


Caffeine. Elevated urine calcium is the issue, putting you at higher risk for kidney stones. The good news is that these factors are so correctable. So let's dedicate the remainder of 2009 to healthier eating and living and we'll be preventing kidney stones along the way!














---
Contribute to the Cook'n Club!
DVO would love to publish your article, prose, photography and art as well as your cooking, kitchen and nutrition tips, tricks and secrets. Visit the Newsletter Submission / Win Win for All section in our Forum for more information and details.
---
---