"White" Oughta Mean
White
!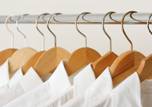 To be officially in summer means the "official OK" to wearing our summer white clothing again (like we need an "official OK," but hey, it's good to know how things are done, right?). Only trouble is, whites don't seem to stay white very long!
Here are our best tips for keeping those whites looking as crisp and pristine as they do the first day you bought them, without resorting to harmful chlorine bleaching.
Commercial Bleaches

It is best to avoid most commonly available bleach, sodium hypochlorite, a moderately toxic chlorine salt that can bond with other chemicals to form cancer-causing organochlorines in the wastewater system.

"Natural oxygen safe bleaches" are commercially available (found primarily in the health food store marketplace), and are based on hydrogen peroxide. The best choice is to buy commercial non-chlorine bleaches instead of making your own version using store-bought 3 percent hydrogen peroxide because commercial brands, such as Seventh Generations's Non-Chlorine Bleach–Free & Clear include oxygen bleach stabilizers to help reduce the product's reactivity in the environment.

Tip:
Adding ½ cup of lemon juice to the rinse cycle of a medium load of whites will lightly bleach the clothing. This technique is especially effective on clothes that are then hung to dry on the line.

Soften Your Water
The minerals in hard water can gray clothes. If you have very hard water, add ½ cup of vinegar to your rinse water.

Brighten Whites
To brighten whites, and if you don't have hard water, use the might of minerals in your wash cycle. Add ½ cup borax or washing soda (both are available in the laundry section of your supermarket) to a medium load of laundry.
About Light
Note:
Read clothing labels, as some direct you to dry the clothes outside of direct sunlight. On the other hand, storing whites in the dark can cause yellowing. A rule of thumb is that natural fibers love the sun and hanging them outside to dry on the line is to their benefit.
SUNBURN SOOTHERS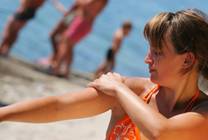 Sometimes, despite our best intentions and slathering ourselves with sunblock, we still get a painful sunburn. Ouch! We know sunburn not only causes skin cancer, it can also prematurely age and damage our skin. So what do we do? Resort to natural help, of course.
Soothe your sunburn safely with these great ideas: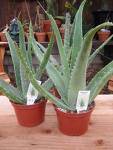 Easy Sunburn Salve
Just snip a leaf off an aloe vera plant (some of us keep them growing in the kitchen for just this purpose; it's great for kitchen-accident burns, too) and spread the jellylike sap evenly over your burned areas. If you don't have an aloe vera plant, buy the pure gel and use that instead.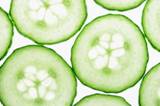 Cucumber Body Pizza:
(Adapted from The Herbal Home Spa, by Greta Breedlove, Storey Books, 1998).
If you have sunburn or the "itchies" from bug bites or poison ivy, this is just about the simplest way to find cooling relief that we've ever run across. It's refreshing, draws out the itch, and it isn't messy. All it takes is cucumber. Can you guess from the unusual name how it works?

Thinly slice 3-5 cucumbers and place on a plate.

Lie face down in a comfortable position in a warm place. Have a friend place cucumber slices all over the back side of your body, so they are just touching but not overlapping. Use about half the total slices.

Rest quietly, 10 - 20 minutes to allow the juice of the slices to penetrate your skin.

Remove slices, change positions (turn over) and apply the rest of the slices to your front side. Relax 10 - 20 minutes. You may want to rinse off afterwards, but it is best not to shower for at least four hours, as the cucumber will continue to work on the skin during that time.
Sunburn Healing Bath
In a handkerchief tied with string or a muslin teabag, place the following:

1/4 cup rolled oats
1/8 cup whole milk powder
1 teaspoon tea leaves, green or black
3 drops lavender essential oil
2 drops peppermint essential oil
Run a tepid to cool bath and soak along with this bath bag. Use it as a compress to spread healing, cooling relief all over.

Download this recipe.

Tea Compress
Store used teabags in the fridge and apply as a cold compress to burned skin.
---
(If YOU have a smart idea, won't you share it? Life is so much easier and we accomplish so much more when we pool our resources. And after all, we're all in this together. So email
patty@dvo.com
or
alice@dvo.com
with YOUR Smart Ideas!)
---
Contribute to the Cook'n Club!
DVO would love to publish your article, prose, photography and art as well as your cooking, kitchen and nutrition tips, tricks and secrets. Visit the Newsletter Submission / Win Win for All section in our Forum for more information and details.
---