As you know, at Cook'n Club, we're not just interested in great-tasting food, we're also interested in food that's great for you. And a food that's really a champion for good health as well good taste is GARLIC. So in last newsletter and this week's, we want to share garlic information and some terrific
garlic recipes
.
How to Roast Garlic: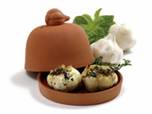 Roasted garlic is excellent in your baking, in sauces, and on pizzas. It is very mellow and milder than raw garlic. In fact, raw garlic is two to four times stronger. You can use roasted garlic in any recipe calling for garlic but since it is milder, you may want to use more.
We prefer to roast garlic in a garlic baker (see below). A garlic baker is a glazed clay dish with a clay cover. It traps the heat and cooks the garlic in a hot environment. Since you are cooking whole garlic in a covered dish, little odor escapes into your kitchen. Garlic can also be baked wrapped in aluminum foil.
Cut the tops off the garlic so that they can lay flat. Drizzle a tablespoon or two or olive oil over the cut bulbs. If you are wrapping your garlic bulbs in aluminum foil, bake for an hour at 350 degrees or until the garlic is soft and can be pressed out of the cloves. If you are using a garlic baker, you will not have to bake as long or as hot: about 45 minutes at 325 degrees.
Allow the garlic to cool and then remove cloves from head as needed. Garlic may be stored in a tightly covered container in the refrigerator for several days. To puree, crush garlic cloves with the flat of a knife.
To serve on bread, spread the bread with cream cheese, squeeze garlic from a clove onto the bread, and spread.
The Advantages of Garlic Presses, Slicers, and Graters:

A Garlic Press
crushes garlic to achieve the strongest garlic flavor. In a paste-like consistency, it distributes evenly throughout your cooking.

A Garlic Slicer
allows you to slice garlic paper thin and without getting garlic juices on your hands.

A Very Fine Grater
allows you to grate garlic to a very fine consistency for maximum garlic flavor. A garlic grater is perfect for grating garlic, nutmeg, ginger, and citrus. It's features:
Wide cutting surface is ideal for efficiency and ease of use.

Razor sharp, non-clogging blades.

Stainless steel filled handles guarantee a water tight seal.

The non-slip end provides leverage.

The offset construction allows for a catch space under the grater.

Creamy Garlic Italian Dressing on Spinach & Mushroom Salad

We made this creamy smooth garlic dressing for a simple spinach and mushroom salad. We used roasted garlic for a mild flavor that allowed the spinach and mushrooms to shine through. It was wonderful.

For the Salad

1 pound spinach greens
1/2 pound mushrooms

1. Wash and drain the spinach green. Arrange the greens on serving plates.
2. Clean and slice the mushrooms. Divide the mushrooms between the plates.
3. Drizzle with dressing.

For the dressing

2/3 C mayonnaise
1/3 C sour cream
2 tsp white vinegar
1/4 tsp dry mustard
1/4 tsp dry basil
1/4 tsp dry oregano
1 pinch salt
2 cloves roasted garlic
About 2 Tbsp milk

1. Stir together mayonnaise, sour cream, mustard, basil, oregano, and salt.
2. Squeeze roasted garlic from the cloves. Mix garlic with the other ingredients. Add enough milk to reach desired consistency. Store in a refrigerator covered for up to ten days.



Download this recipe.
---
Contribute to the Cook'n Club!
DVO would love to publish your article, prose, photography and art as well as your cooking, kitchen and nutrition tips, tricks and secrets. Visit the Newsletter Submission / Win Win for All section in our Forum for more information and details.
---