Sometimes, in the name of provident living and responsible frugality, we scrimp on some things. Here are three baking staples you really don't want to go the cheap route on, and why:
Top Quality Cinnamon

The easiest upgrade to your baking may be top quality cinnamon. It can make a magical difference.
A good cassia Korintje cinnamon is smooth and slightly sweet with little bite--not astringent with a chemical taste. If you taste it with your finger, it will be strong but spicy-pleasant. Cheap cinnamon tastes like it came from a drug store.
Top Quality Cocoa
A good quality cocoa adds the mellow richness of good chocolate to your baking. It tastes like chocolate, not chocolate flavor. Most of the cocoa that you buy in the stores has a cocoa butter content of 8% to 10%. A dark cocoa from Holland has 24% cocoa butter. A medium cocoa from France has 16%. A great cocoa will make a difference in your baking.
A Good Dough Conditioner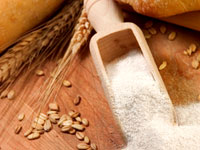 Our grandmothers added a spoonful of lemon juice to their bread dough. It lowered the pH of the dough and yeast works best in a slightly acidic environment.
A good dough conditioner does the same thing, making a more acidic dough. It also helps the proteins come together into longer gluten strands for a better texture and more rise to the dough. And because it is hygroscopic, your bread doesn't dry out as quickly.
The bottom line:
Dough conditioner will help your loaves rise higher, make your bread less crumbly, and keep it fresh longer—excellent reasons to include it in your baking staples.
---
(If YOU have a smart idea, won't you share it? Life is so much easier and we accomplish so much more when we pool our resources. And after all, we're all in this together. So email
patty@dvo.com
or
alice@dvo.com
with YOUR Smart Ideas!)
---
Contribute to the Cook'n Club!
DVO would love to publish your article, prose, photography and art as well as your cooking, kitchen and nutrition tips, tricks and secrets. Visit the Newsletter Submission / Win Win for All section in our Forum for more information and details.
---