We always seem to feel that the best way to get a healthy dose of greens is through a salad. While that is a good start, we believe that there is more than one way to incorporate them into our recipes. Try these for an exciting change of pace.
Savory Spinach and Bread Pudding
From Emeril Lagasse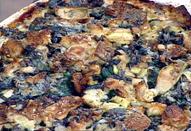 1/4 cup extra-virgin olive oil
2 1/2 pounds spinach, washed (3 cups cooked and roughly chopped)
2 cups chopped yellow onions
1 tablespoon roughly chopped garlic
1 tablespoon plus 2 teaspoons Italian seasoning
2 1/2 teaspoons salt
1 1/4 teaspoons freshly ground black pepper
3 (8 1/2-ounce) cans quartered artichoke hearts, tough outer leaves removed
6 large eggs
3 cups heavy cream
2 cups milk
2 tablespoons fresh lemon juice
12 to 14 cups cubed (1-inch) day-old French bread (about 1 loaf)
1 pound Brie, rind removed and cut into 1/2-inch cubes, optional
1/2 cup freshly grated Parmesan
1/4 cup minced fresh parsley leaves
Preheat the oven to 350 degrees F. Grease a 9 by 13-inch baking dish with 1 tablespoon olive oil.
Bring a medium pot of water to a boil. Add the spinach and cook until just wilted, about 30 seconds. Drain and rinse with cold water. Once cool, squeeze as much water from spinach as possible then roughly chop and reserve.
Heat 1 tablespoon olive oil in a large skillet over medium-high heat. Add the onions and cook until golden brown and tender, about 5 minutes. Add the garlic, 2 teaspoons of Italian seasoning, 1/2 teaspoon salt, and 1/4 teaspoon pepper, and cook, stirring, until the garlic is fragrant, about 30 seconds. Add the artichokes and cook, stirring, another 2 minutes. Remove from the heat and reserve.
Combine the eggs, cream, milk, lemon juice, remaining 1 tablespoon Italian seasoning, remaining 2 teaspoons salt, and remaining 1 teaspoon pepper in a large bowl. Whisk to combine. Add the bread, spinach, artichoke mixture, brie, 1/4 cup Parmesan, and parsley and stir to combine. If bread does not absorb all of liquid immediately then let rest until this happens, about 20 minutes.
Pour the bread pudding mixture into the prepared dish. Sprinkle remaining 1/4 cup Parmesan over the top and drizzle with remaining 2 tablespoons olive oil. Bake until firm in the center and golden brown, about 1 hour. Serve warm.

Download this recipe.
Spinach Fettuccine with Sauteed Vegetables, Artichoke Hearts, and Shredded Mozzarella
Recipe courtesy Robin Miller
12 ounces spinach fettuccine
1 tablespoon olive oil
1/2 cup sliced red onion
2 cloves garlic, minced
2 cups asparagus cut into 1-inch pieces
1 medium carrot, cut diagonally into 1/4-inch-thick slices
1 cup sliced button or cremini mushrooms
1 (14-ounce) can artichoke hearts, drained and cut in half
1/2 teaspoon salt
1/2 teaspoon freshly ground black pepper
1 (28-ounce) can diced tomatoes
1 cup shredded part-skim mozzarella cheese
Cook the pasta according to the package directions. Drain, let cool to room temperature, transfer to a large zip-top plastic bag and seal.
Meanwhile, heat the oil in a
large skillet
over medium heat. Add the onion and garlic and cook, stirring, for 1 minute. Add the asparagus, carrot, mushrooms, and artichoke hearts and cook, stirring a few times, until the vegetables are crisp-tender and the mushrooms release their juices, about 5 minutes. Add the salt and pepper and stir to coat.
If you're stopping here:
Let the pasta and vegetables cool to room temperature. Transfer them separately to large zip-top plastic bags or containers and refrigerate for up to 3 days or freeze up to 3 months. There's no need to thaw before continuing.
When you're ready to eat:
Transfer the vegetables to a large saucepan and stir in the tomatoes.
Set the pan over medium-high heat and bring to a simmer (or reheat both together in the microwave for about 3 minutes on HIGH). Add the fettuccine and simmer for 2 minutes to heat through (or microwave for an additional 2 minutes). Serve topped with the mozzarella.

Download this recipe.
This recipe isn't "green", but it is good — and good for you!
Cauliflower Gratin
From the Barefoot Contessa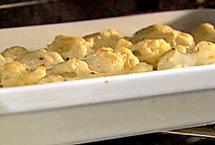 1 (3-pound) head cauliflower, cut into large florets
Kosher salt
4 tablespoons (1/2 stick) unsalted butter, divided
3 tablespoons all-purpose flour
2 cups hot milk
1/2 teaspoon freshly ground black pepper
1/4 teaspoon grated nutmeg
3/4 cup freshly grated Gruyere, divided
1/2 cup freshly grated Parmesan
1/4 cup fresh bread crumbs
Preheat the oven to 375 degrees F.
Cook the cauliflower florets in a large pot of boiling salted water for 5 to 6 minutes, until tender but still firm. Drain.
Meanwhile, melt 2 tablespoons of the butter in a medium saucepan over low heat. Add the flour, stirring constantly with a wooden spoon for 2 minutes. Pour the hot milk into the butter-flour mixture and stir until it comes to a boil. Boil, whisking constantly, for 1 minute, or until thickened. Off the heat, add 1 teaspoon of salt, the pepper, nutmeg, 1/2 cup of the Gruyere, and the Parmesan.
Pour 1/3 of the sauce on the bottom of an 8 by 11 by 2-inch baking dish. Place the drained cauliflower on top and then spread the rest of the sauce evenly on top. Combine the bread crumbs with the remaining 1/4 cup of Gruyere and sprinkle on top. Melt the remaining 2 tablespoons of butter and drizzle over the gratin. Sprinkle with salt and pepper. Bake for 25 to 30 minutes, until the top is browned.
Serve hot or at room temperature.
---
Contribute to the Cook'n Club!
DVO would love to publish your article, prose, photography and art as well as your cooking, kitchen and nutrition tips, tricks and secrets. Visit the Newsletter Submission / Win Win for All section in our Forum for more information and details.
---
---