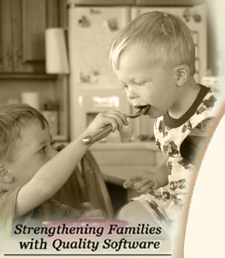 Cook'n Club Home
Subscribe Now!

Cook'n Forum
HomeCook'n Archive
Give-Aways

I have spent the last 2 hours reading your newsletter and wonderful recipes. I have already printed a whole bunch I want to try. I love them because they are using ingredients one has on hand. I love that and just wanted you to know how much we appreciate all your hard work in putting together this newsletter. Thank you very much.

Anna

Volume I - October 23, 2007
SMART Ideas!
Handy Kitchen Tools and Tips
by Alice Osborne
Handy kitchen tools do double-duty:

Use a melon baller to take the stems off tomatoes for less waste.

AND:



Core apples easily by cutting them in half, then scooping out the core with a melon baller.


Use an egg slicer to cut kiwi fruit.



Onion talk: To avoid cutting onions, garlic, peppers and other spices every time you cook just prepare a big batch in advance. Use onions, green peppers, red peppers, garlic, tomato paste, and other spices like basil, oregano, pepper and blend to a paste in a blender.

Freeze the paste in ice cube trays and store them in a ziplock bag in the freezer. Each cube is a serving so you don't have to keep cut vegetables in the fridge and speed up your cooking by getting exactly the amount of spices you need. If you are cooking 4 servings use 3-4 cubes depending on how spicy you like it.

OR…

After chopping or mincing onions or green peppers I put them in freezer bags and press them flat. Makes breaking off the amount needed easy. In fact… Many people object to chopping onions because it takes time and makes you cry and this is a shame as loads of dishes require chopped onion as a basis.

So to avoid this task every time you cook, take 20 onions or so, chop them all and freeze them in a plastic bag. Any time a recipe requires onion, just take a handful out of the freezer.

AND…



To chop onions the easy way, start by cutting off the stem end, then peel the skin back to the root, KEEPING THE SKIN ATTACHED. Holding the skin to steady the onion, cut in half nearly to the root end, then at right angles to the first cut, 3 or 4 more cuts nearly to the root end. Next, still holding the root end by the skin, slice finely across the onion from the stem end, the result will be nicely chopped onion. And it takes longer to explain than to do it!

To remove the odor after cutting an onion, rub your hands over a stainless steel spoon or a stainless steel kitchen faucet.




---
(If YOU have a smart idea, won't you share it? Life is so much easier and we accomplish so much more when we pool our resources. And after all, we're all in this together. So email patty@dvo.com or alice@dvo.com with YOUR Smart Ideas!)


---
Contribute to the Cook'n Club!
DVO would love to publish your article, prose, photography and art as well as your cooking, kitchen and nutrition tips, tricks and secrets. Visit the Newsletter Submission / Win Win for All section in our Forum for more information and details.
---