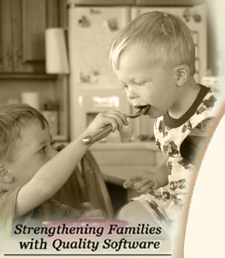 Cook'n Club Home
Subscribe Now!

Cook'n Forum
HomeCook'n Archive
Give-Aways

I have spent the last 2 hours reading your newsletter and wonderful recipes. I have already printed a whole bunch I want to try. I love them because they are using ingredients one has on hand. I love that and just wanted you to know how much we appreciate all your hard work in putting together this newsletter. Thank you very much.

Anna

Volume I - October 23, 2007
Spice Organizer
Hi Dan,

I'm looking for a spice organizer for my kitchen. we use plenty of spices in our middle east cuisine and as many kinds of spices that I have I still couldn't find a proper tool to store 'em which will not only look nice in my kitchen but will provide me with easy access to them when cooking. I currently keep them in their plastic bags which makes them lose their freshness after some time. Your the best man to ask. Any particular item you recommend?

Many thanks,

Hana
---
Hi Hana,
I like to store my spices in clear glass spice bottles. They fit on a turntable which conveniently sits by my stovetop for easy access. I love to be able to see the spice and grab it for quick use. The glass bottles are also airtight and keep the herbs and spices fresh longer.
The only other thing I would prefer, if space allowed, would be a spice drawer. You can find drawer organizers for this. I think it would be great to have all of my seasonings in one place. Currently my turntable rack only holds 16 jars, so I also have a cupboard shelf devoted to spices.
You can do a search for spice racks by typing in "spice organizer" in google.com or your favorite search engine. You'll find plenty of choices to fit your decor, needs, and budget.
Hope this helps,
Desi @ DVO
---
Contribute to the Cook'n Club!
DVO would love to publish your article, prose, photography and art as well as your cooking, kitchen and nutrition tips, tricks and secrets. Visit the Newsletter Submission / Win Win for All section in our Forum for more information and details.
---
---