We are well aware that the very thought of Halloween can make some people crazy. However, for the rest of you, we can't let this holiday pass by without giving you some ghoulish ideas.
We found this delightfully awful "recipe" along with something a little sweeter, from the one-and-only, Martha Stewart and had to pass it on. These icecube eyeballs will be just what your young as well as old friends will love to see bobbing in their "All Hollow's Eve" drinks. Personally, we can't wait to try this
Halloween recipe
it ourselves. Happy Haunting!
Eyeball Highball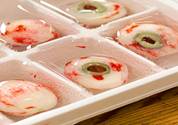 Trim the stem and root ends of a radish (make sure it's small enough to fit the individual section of an ice-cube tray), and use a paring knife to scrape off most of the red skin. Leave just enough red to give the radish a veined appearance.
Rinse the radish off, and use a small melon baller to cut 1/2-inch-diameter hole into the radish. Fit an olive, cut side out, into the hole, and place the radish in the ice-cube tray. Repeat this process until the tray is full, then pour water over the eyeballs, and freeze.
Now for somthing a little friendlier...
Pumpkin Cupcakes
Servings: 18
2 cups all-purpose flour
1 teaspoon baking soda
1 teaspoon baking powder
1 teaspoon coarse salt
1 teaspoon ground cinnamon
1 teaspoon ground ginger
1/4 teaspoon freshly grated nutmeg
1/4 teaspoon ground allspice
1 cup packed light-brown sugar
1 cup granulated sugar
1 cup (2 sticks) unsalted butter, melted and cooled
4 large eggs, lightly beaten
1 can (15 ounces) pumpkin puree
1. Preheat oven to 350 degrees. Line cupcake pans with paper liners; set aside. In a medium bowl, whisk together flour, baking soda, baking powder, salt, cinnamon, ginger, nutmeg, and allspice; set aside.
2. In a large bowl, whisk together, brown sugar, granulated sugar, butter, and eggs. Add dry ingredients, and whisk until smooth. Whisk in pumpkin puree.
3. Divide batter evenly among liners, filling each about halfway. Bake until tops spring back when touched, and a cake tester inserted in the center comes out clean, 20 to 25 minutes, rotating pans once if needed. Transfer to a wire rack; let cool complete
4. Add your favorite cream cheese frosting and enjoy!

Download this recipe.