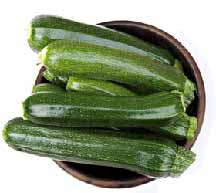 Zucchini is a remarkable vegetable. We love to grow it because it grows so well. It's amazing how much can be harvested from a single plant. As you set out to check the progress of your garden and pull back the big green leaves of the zucchini plant there you will find cute little zucchini's.
Within a couple of days, they will be just the right size for picking. Then a couple of days later you have zucchini the size of baseball bats. Then you start the phone calls to the neighbors "can you use any zucchini?" Often the response is "I already have more than I can handle, I was hoping you could use some of mine."
Zucchini is a squash best used while it is still fairly petite. It reminds me a little bit of tofu in that it doesn't have a lot of flavor on its own but it absorbs the flavoring of the other vegetables and spices that you use with it. Since it is so prolific, you may be wondering what else I can do with this stuff? I thought I would try to add a few more recipes to your collection and make you a "Zucchini Houdini."
Many people shred and freeze zucchini in freezer bags. If you do this make sure you drain off some of the excess liquid before using.
Zapple Pie
This filling tastes like apples. This is a good recipe to use up those overgrown zucchini with.
8 cups of zucchini (peeled, seeded and sliced)
1/3 cup lemon juice
1 ½ cups sugar (divided)
2 Teaspoons cinnamon
½ Teaspoon nutmeg
½ cup of flour
In a large sauce pan, cook zucchini chunks and lemon juice over medium heat for about 5 – 7 minutes until the zucchini is tender. Add one cup sugar, cinnamon and nutmeg. Stir and cook for 2 minutes. Turn heat to low; add remaining sugar and flour and stir until thickened. Use as a filling for pie, crisp or cobbler.
Zucchini Orange Bread
4 eggs
1 ½ Teaspoons baking powder
1½ cup sugar
¾ cups oil
1 Teaspoon salt
2/3 cup orange juice
2 ½ Teaspoons cinnamon
2 cups shredded zucchini
½ Teaspoon cloves
3¼ cup flour
½ cup chopped nuts
Mix all the above ingredients as listed above. Bake in a greased loaf pan at 350 degrees for 40 – 60 minutes or until an inserted toothpick comes out clean.
Mexican Zucchini Lasagna
This recipe comes from the 9/16/09 edition of the Salt Lake City Deseret News. You will never know you are eating zucchini.
2 Teaspoons olive oil
1 ½ cup chopped onion
3 cups of diced zucchini
2 ½ Teaspoons ground cumin
1 – 14.5 oz can diced tomatoes with chilies
1 – 15 ounce can black beans, rinsed
1 – 11 ounce can of corn (drained)
½ cup chopped cilantro
1 – 10 ounce can mild enchilada sauce
5 – 8 inch whole wheat tortillas
1 bag shredded reduced fat cheddar cheese
low fat sour cream
Pre-heat the oven to 400 degrees. Coat a 3-quart round baking dish with non stick spray.
Heat oil in a large skillet over medium-high heat. Add onions and sauté for 5 minutes or until zucchini is tender. Stir in tomatoes, beans, and corn and enchilada sauce; bring to a simmer. Remove from heat and stir in cilantro.
Put one tortilla in baking dish. Top with 1 ½ cups zucchini mixture. Sprinkle approximately ¼ cup of cheese. Repeat layers 4 times. Cover with foil and bake at 400 degrees for 20 – 25 minutes until bubbly around the edges and the cheese is melted. Cool 5 minutes and cut into wedges. Serve with sour cream.
Zucchini Brownies
½ cup butter or margarine
1 Teaspoon baking soda
½ cup cooking oil
½ Teaspoon baking powder
1½ cup granulated sugar
½ Teaspoon salt
¼ cup brown sugar
½ cup cocoa
2 eggs (beaten)
1 Teaspoon cinnamon
½ Teaspoon vanilla
2 cups grated zucchini
½ cup buttermilk
1 cup chopped nuts
2½ cups flour
1 cup chocolate chips
Preheat oven to 350 degrees. In a large mixing bowl, cream butter, oil and sugars. Beat in eggs, vanilla and buttermilk. In a separate bowl, combine dry ingredients then gradually stir dry ingredients into liquid mixture. Stir in zucchini.
Pour batter into a greased baking pan, a 12"x16" deep cookie sheet works well. Sprinkle with nuts and chocolate morsels. Bake for 25 – 30 minutes. Cut squares when cooled.
Zucchini Casserole
6 sliced small zucchini
½ cup chopped onion
1 can cream of chicken soup
1 cup low fat sour cream
1 cup shredded carrots
½ cup melted butter
1 (8 ounce) pkg. herb seasons stuffing
Cook zucchini in water for 5 minutes and drain. Combine the soup, sour cream then stir in carrots and squash
Stir butter into stuffing mix. Spread ¾ of the stuffing in bottom of 9x12 inch pan; add squash and add the rest of stuffing on top.
Bake covered at 350 degrees for 25 minutes. Uncover and continue cooking for another 5 minutes.
---
* DVO welcomes your kitchen hints and cooking or nutrition questions! Email us and we'll post your hints and Q/A's in upcoming newsletters! *