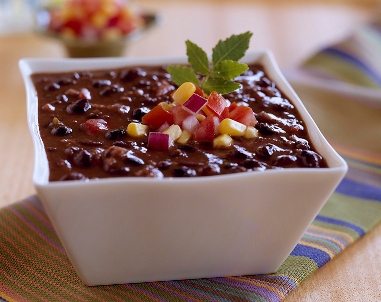 We're partial on making our own tacos, enchiladas and burritos at home. Making our Mexican dishes at home allows us to make these dishes just the way we like them. I must admit that I have been a little frustrated in the past because making side dishes seemed like such a chore. I had it in my mind that I had to cook beans and rice all day, that is, if we wanted a real dinner not just ala carte.
I found through the help of daughters and daughter-in-laws that bean dishes do not have to be time consuming. The secret is buying your beans canned and adding all the ingredients to them to give them that great south-of-the-border taste. These Mexican side dishes are easy and healthy.
Let me share some "oh so good" bean and rice recipes. Like many of you, I much prefer non-instant rice. Rice, unlike beans, doesn't take a lot of time to cook. Brown rice is the healthiest for you but white rice has been enriched, making it almost as healthy. Rice is a good carbohydrate and should be enjoyed. Beans are high quality proteins and should also be a major part of our diet.
I know some of you are concerned about eating all those beans. Well, Beano is product that can be added to your beans dishes to stop the bloating factor! It is important to add a few drops after cooking so you don't cook out the enzymes that are found in Beano. Also, when using canned beans make sure you rinse them off, this will also help with the inflated feeling that can come with beans.
Next time you are making tacos, enchiladas and burritos at home remember you can make these Mexican side dishes without being in the kitchen all day.
Quick Black Beans
2 Teaspoons canola oil
2 cloves garlic (minced)
1 small red onion (chopped)
1 Teaspoon cumin
1/3 cup water
1/4 cup chopped fresh cilantro
2 Tablespoons lime juice
2 Teaspoons chili powder
2 cans (15 ounce) black beans (Rinsed and drained)
In a skillet add the oil and onions and sauté for 3-4 minutes. Add the garlic and cumin and chili powder. Stir in the beans and water. Simmer 20 minutes, or until the beans are heated through and most of the liquid is evaporated. Remove from heat and stir in lime juice and cilantro.
Quick Pinto Beans
2 Teaspoons olive oil
1 medium onion
2 cloves of garlic (minced)
1 (15 ounce) tomato sauce
1 Tablespoon brown sugar
1 Teaspoon chili powder
2 – 3 drops hot pepper sauce
2 Tablespoons canned, diced green chili peppers
2 cans (15 ounce) pinto beans (drained and rinsed)
In a large pan heat the oil and sauté onions and garlic. Add the tomato sauce, canned chili peppers, brown sugar and spices. Mix well. Add beans and bring to a boil over medium heat. Reduce heat and simmer for 20 minutes.
Lime—Cilantro Rice
2 cups long grain white rice
¼ cup cilantro
2 Teaspoons oil
4 cups of cold water
Juice of 2 limes
3 – 4 cloves of garlic
Heat the oil in a skillet. Add rice, chopped cilantro and minced garlic sauté for 3 – 4 minutes, stirring frequently. Add cold water and lime juice. Bring to a complete boil and simmer for 25 minutes or until all the liquid is absorbed.
Green Rice
2 cups white rice
4 Teaspoons chicken bouillon
4 garlic cloves minced
¼ cup chopped cilantro
1 small can green diced chilies
1 Teaspoon salt
1 Tablespoon butter or olive oil
1 small onion
In a blender or food processor, blend the cilantro, onion and green chilies. In a saucepan bring the rice and water to a boil. Add the remaining ingredients. Reduce heat and simmer for 30 minutes or until all the water is absorbed.
Red Beans and Rice
2 (15 ounce) cans of kidney beans (drained and rinsed)
¼ cup water
2 or 3 drops of Tabasco sauce
1 small green pepper
1 small onion (chopped)
1 stalk of celery (chopped)
3 garlic cloves
½ pound of Andoville sausage sliced
1½ Teaspoon Creole seasoning
Place all ingredients in a slow cooker and cook for 2 – 3 hours. Serve over rice.
Low Fat Refried Beans
2 (15 ounce) cans of pinto beans (drained and rinsed)
1 Teaspoon onion salt
3 cloves of garlic (minced)
½ Teaspoon cumin
2 – 3 drops of hot sauce
¼ cup water
Mix all ingredients together and simmer until the water is absorbed. Mash in blender or food processor. Reheat if needed and serve hot.
---
* DVO welcomes your kitchen hints and cooking or nutrition questions! Email us and we'll post your hints and Q/A's in upcoming newsletters! *